Opting for a steady income and professional growth
Eastside residents share their stories of working for major companies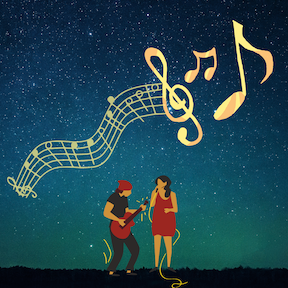 Electricity employee's job gives him time to enjoy his hobbies
By Thomas Davila
Some people live to work. Others work to live.
Frank Martinez works to fight.
He enjoys practicing combat sports in his free time, along with making music.
He works in the claims department at one of the few landmarks in the city of Rosemead. The Southern California Edison building is a large off-white building with dark glass next to Kingerman Park on Walnut Grove Avenue, about 6.5 miles west of Cal State LA.
In an interview on Zoom, Martinez shared information about his job with UT Community News.
How long have you worked for Southern California Edison?
"I have worked for Edison for 16 years. I started working there as a temp… A few years after working as a temp, I was interviewed for a position that I did not know much about. I have been working in the claims department for 14 years."
Do you like working for Southern California Edison?
"Yes, I do, because it allows me to pursue other passions and hobbies of mine." 
"When I am not in the office handling claims, I play the guitar, and have been doing so for the past 30 years. I also practice Muay Thai- kickboxing, and work out a lot."
"I used to do Muay Thai and Kickboxing competitively but cannot anymore due to numerous injuries and surgeries, including a form of arthritis."
Does the fact that you do Muay Thai, Kickboxing and working out affect your arthritis? 
"It does. I thought the doctor that diagnosed me was going to say that 'you can't do this stuff,' but he was like 'you need to do this stuff, because it helps keep your joints stay lubricated.'"
How is the commute to work from wherever you live?
"I don't live too far from the office in Rosemead. As of right now, we are working from home, because of the COVID-19 pandemic, but before that, I was driving to the office five days [each week]. I just had to deal with basic everyday traffic."
Do you need certain qualifications or a high educational background to be able to do what you do at SCE?
"That was a blessing in disguise. The two years that I worked as a temp at Edison helped me gain the skills that I needed to do what I do at Edison now."
What has changed in your job and/or industry over the years and how does it affect the public?
"I don't think my job has changed over the years. But, the industry as a whole has changed due to the presence of social media. People find out about things like flex alerts because of social media."
"Flex alerts are voluntarily performed among consumers as a way to conserve electricity, especially during peak times such as in the summer or during the recent heat wave. These alerts are important to know about, so people will know how to conserve energy."
El Monte big box employee progresses in his career and receives recognition at work
By Vincent Moc
As much as one may want to work for a mom-and-pop shop or a homegrown company, sometimes job satisfaction and career growth can also come from large retailers that can offer steady pay and benefits.
That's what Christian Rodriguez, an operations assistant manager at the Home Depot in El Monte, has learned.
Rodriguez, who lives in Glendale, said he started working at Home Depot about 13 years ago. His job involves protecting the assets of the store, customer service and taking care of associates.
"I worked my way up and got promoted from the Monrovia location," said Rodriguez in a recent interview with UT Community News.
What are some struggles you faced as a manager and how did you overcome them?
"Employees calling out due to COVID, product constraints, and a shortage of materials" were some major recent issues. "We have not overcome these struggles. It is still ongoing."
What is the business model?
"We follow the Valley Wheel for our business model. The wheel consists of values: excellent customer service, building strong relationships, entrepreneurial spirit, respect for all people, creating shareholder value, doing the right thing, and giving back."
What's an accomplishment you're proud of?
"I got an executive award from the CEO for taking care of people. I was awarded a trip to Montana for one week."
What led you to go into management at the company?
"I was going to school and I saw opportunities: The values of the company and them taking care of us.