First Asian-themed exhibit at Oxy Arts in Eagle Rock helps heal community after racist texts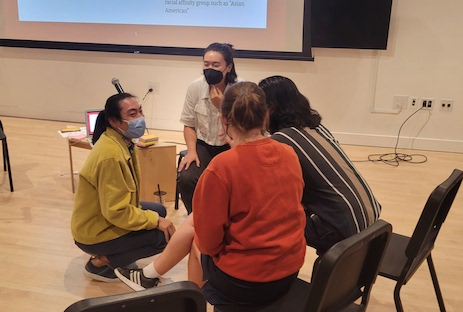 Dozens of people gathered around windows at the Oxy Arts Gallery in Eagle Rock last month.
But they didn't see faces staring back. They saw a collection of multicolored post-it notes filled with self-reflections and memories about race, identity and unity in their lives.
This activity was part of an 
event
 at Oxy Arts to complement an
exhibit
running through November 18 called, "Voice a Wild Dream: Moments in Asian American Art & Activism."
It is the first time an Asian-specific exhibit has been featured through Occidental College in this capacity, according to Urban & Environmental Policy (UEP) Professor Martha Matsuoka, who moderated the discussion. Some students said such an exhibit is long overdue and said it could be part of a turning point for the college, which was criticized over its handling of racist texts last year.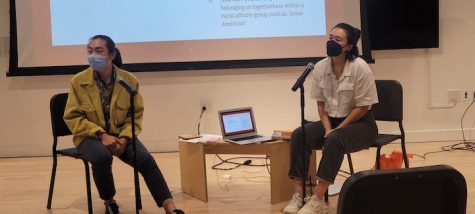 Two researchers and Occidental College students, Nora Fujita-Yuhas and Nathan Tam, ran the reflections activity at the event and shared findings from their research about Asian American community activism and solidarity.
"It was really special. Having graduated, my community looks different now so I really appreciate this space and it brings back a lot of intellectual curiosity for me," Fujita-Yuhas told UT Community News. "The fact that people were willing to share really meant a lot."
In her research thesis, Fujita-Yuhas — who works as the community youth organizer at the Center for Pacific Asian Family in L.A. — interviewed Asian American and South Asian activists and leaders to explore the relationship between their political consciousness and conceptualizations of solidarity with Black American communities. 
Tam, who is working to complete his thesis research before graduating next year, said his research focuses on the history of Chinese America and factors that affect the social bonding of "community." He references sites of community in urban Chinatowns in American history and explores the development of Asian American racial identity in unconventional spaces.
Some students said they related while others learned about cultures considered "invisible" at times.
"We got to discuss what we experienced in our own lives in a way you wouldn't usually see. People are not always open to discussing race, but I felt comfortable in that space to share, and learned a lot about Asian American history that I didn't know," said Eddy Valdez, an Occidental College student, who attended the event.
The exhibit features work from artist Kris Kuramitsu.
"Students seeing themselves represented like this in public spaces is really key, and we haven't had that at Oxy," Matsuoka said. "I always tell my students you just have to fill the space. It's probably one of the first times that we had Asian American students talking about Asian American things in an Asian American space. That is why it was meaningful to me."
"Hearing their individual stories and research was really powerful," she added.
Occidental College officials received criticism from students over the administration's delayed response to Occidental students' racist and violent text messages against Asian Americans last year. The messages, which read, "All Asian people need to die," were condemned by Occidental months after they were sent. The college ultimately determined the students were not subject to discipline — citing they did not contain a credible threat of violence on its website. Since then, the college has held meetings or workshops on race and equity and other changes have been proposed.
The president of the college, in a statement on its website, said, he "has condemned the text messages as being antithetical to Oxy's values. The hateful anti-Asian speech they contained is extremely damaging and hurtful to our community. It undermines and contradicts what we stand for as an institution."