Police foot patrols proposed for Eagle Rock and Highland Park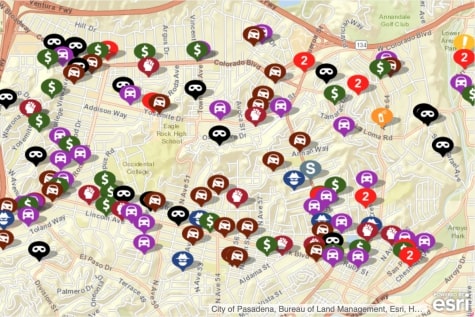 Eagle Rock and Highland Park may soon have more police presence.
Earlier this year, Eagle Rock's neighborhood council discussed a proposal to bring a designated foot patrol to the community.
Eagle Rock is approximately 10 minutes away from its nearest police station — or longer depending on traffic, according to Fernando Ochoa, lead officer of Eagle Rock for the Los Angeles Police Department.
When his car gets called away for a violent crime outside of Eagle Rock, it could take "up to 20 minutes" to return.
"That's always been my issue, and I've always told my community members that it could be delayed," Ochoa said. "Because, Living in Eagle Rock, it's kind of like a double-edged sword. It's one of the nicest places to live. You don't have the same amount of violent crime, if any violent crime. So the resources that you would want here, to keep it that way, they get called away."
He said that the LAPD's resources tend be allocated more to other parts of L.A. that are considered "high crime areas" such as the Rampart and Newton divisions. 
In order to resolve this issue, Ochoa proposed that one of the eight cars used in the Northeast division be solely dedicated to Eagle Rock "on an overtime basis."
A similar proposal was approved for $500,000 to be allocated for a foot patrol in Highland Park on North Figueroa Street between Avenue 50 and Avenue 60 for two years, according to Ochoa. The patrol typically runs four days out of the week, allowing officers to work overtime.
"It's really had a big effect on crime in that area. It's almost, I want to say, non-existent when the car is there," said Ochoa, who works the Highland Park beat himself.
Ochoa hopes that Councilmember Jose Huizar will approve the proposal for a patrol on Colorado, Eagle Rock and York boulevards. But the decision, he said, is up to the councilman.
Laura McKenney, a spokesperson for Huizar, said in an email to the UT that his office is "in active discussions with the LAPD to determine a budget and identify what resources are needed based on their priorities." 
She said that once a plan is finalized that an update will be provided.
Community News reporters are enrolled in JOUR 3910 – University Times. They produce stories about under-covered neighborhoods and small cities on the Eastside and South Los Angeles. Please email feedback, corrections and story tips to [email protected]
About the Writer
Marisa Martinez, Audio Editor
Marisa Martinez is a senior at Cal State LA majoring in Journalism. She has served as managing editor, editor-in-chief, digital editor and now audio editor...