SoCal Nigerian community and fans enjoy Burna Boy at the Hollywood Bowl
Erik Adams, Community News Reporter
November 9, 2021
A funk-laden groove and fiery background stage graphic came to a sudden halt. He waited for a few beats then said: "For those of you who don't know, they call me Burna Boy." 
The audience's cheers were clear. They did, in fact, know.
The Hollywood Bowl hosted Nigerian singer and rapper Burna Boy for an impassioned two-and-a-half-hour performance on Oct. 8, in which thousands of fans were witnesses to messages that spoke louder than the music itself. 
Throughout the performance, Burna Boy treated the audience as more than onlookers; They were collaborators in the singer's overall message. "Everybody's fist up in the air," the Nigerian singer said later in his set. "We're about to do some protest music."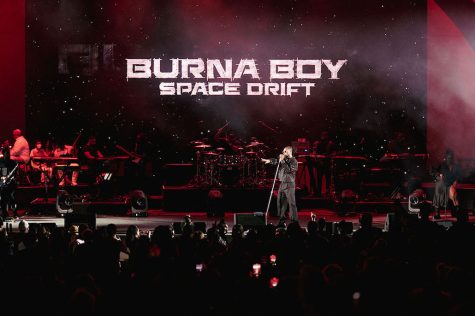 Burna Boy has gained a worldwide audience. He won a 2020 Grammy Award for "best global music album." With sudden powerful jabs building up to crescendos, Burna's band played a tight and ultra rhythmic blend of soul, R&B, Afro-fusion beats, and funk. 
Jeanne Enearu, a concert-goer from Nigeria, was singing along to almost every song during the performance.
"He talks about what's going on in Nigeria," she said. "He talks about power. He talks about youth standing up for themselves." 
The can't-miss moment of the night was when Burna Boy stopped the set to tell the history of his homeland as he prepared to perform, "Another Story."
It began with a monologue about British colonialism in Nigeria.
A video was projected, showing archival footage and scans of old newspaper clippings related to the subject, an audio track played, switching from what sounds like a century-old informational piece about Nigeria's formation into a modern interjection offering a more nuanced, critical historical analysis of the country's origins.
"To understand Nigeria," the audio said, "you need to appreciate where it came from."
"So let's establish a simple truth," the voice says. "The British didn't travel halfway across the world just to spread democracy."
It was a business deal and the Royal Niger Co., absorbed by Unilever almost a century ago, helped make it happen.
The audience was quiet and engaged, noted Nanna Bonney, a fan.
"That was really impactful," Bonney said.  "It really gave me chills." 
"They know that knowledge is power. A tree without roots can never stand," Burna said to the crowd at one point in the performance; a sentiment that echoed several times throughout the show.
Enearu said that no matter which language Burna Boy vocalizes in, "English, Pigeon English, indigenous language," that message of education and empowerment still shines through. 
"He wants everyone to understand…To reach out to everyone," she said.
Burna Boy's smile throughout the performance acted as a confirmation of his passion for his presence on that stage. A choir dressed in white, dancing in rhythm and harmonizing with one another stood in the corner of the stage. The audience frequently cheered and sang along with Burna's lead. These components, mixed with the Bowl's natural ambiance, created a spiritual-like event for many fans. 
At one point, he stopped the set to address the crowd. "Can you guys keep a secret?" he asked. "This is the place I've always wanted to perform at. And when I say always, I mean always."
That pumped the crowd up like much of his commentary.
Burna Boy's last song of the night, "Ye," is one of his most famous.
"Everybody was still very energetic and still very into it" toward the end of the show, said Ire Omitowojau, a University of Southern California student from Maryland whose parents are from Nigeria.
She said that "Ye" demonstrates how music is a universal language: "The chorus is like 'ye ye ye,' and I feel like that is something that can translate to any language…Anyone can sing that song."
Community News produces stories about under-covered neighborhoods and small cities on the Eastside and South Los Angeles. Please email feedback, corrections and story tips to [email protected]