Weaving together culture and a colonialist past
Natural History Museum spotlights Pacific Islander tapa and woven mats
Brightly patterned fabrics made of plant fiber — one with maroon and black leaves contrasting with a cream background, for instance — are used for clothes, bedding and wall hangings in some Pacific Islander cultures.
Those fabrics, called tapa, and woven mats are on display this month to honor Asian American and Pacific Islander Heritage Month at the Natural History Museum of Los Angeles County.
The exhibit, The Fabric of Community: Tapa and Woven Mats from the Pacific Islands, is an informative exhibit that is available online for virtual viewing indefinitely.
Tapa is a traditional fabric popularly used in the Pacific Islands that is made from softened and beaten tree bark. Woven mats from the Islands are often created from the leaves of pandanus trees. This historical use of plant fibers to create tapa and woven mats is still used today in different Pacific Islands cultures for marriages, funerals, and even fashion.
"People now still wear tapa in a number of places, particularly in Tonga, where the beaten bark tradition has always remained very, very strong in the culture, and even through colonialism," said Amy Gusick, associate curator of anthropology at the museum.
Gusick, who has been working at the National History Museum since 2018, said the museum's work almost came to a halt when COVID-19 struck because its employees were in the middle of doing outreach to Pacific Islander community members to authenticate the exhibition.
Thankfully, the National Endowment for the Humanities provided a grant that allowed the museum to use time during the pandemic to digitize its entire collection of about 450 Pacific Islander artifacts. Digitizing gave the museum a way to share the pieces with researchers, the general public and the Pacific Islander community.
"As a researcher or as someone that is looking for parts of your culture that you might be able to visit or to go make special arrangements to see in a museum, you wouldn't know that we had these,"said Gusick.
In the past, tapa and woven mats were crafted by women as a cooperative effort. According to Gusick, men now also participate: "I do think that men certainly make them now and in the cases of these much larger tapa…I do think it's kind of a community affair."
Gusick refers to the largest tapa the museum holds at 75 feet long and 15 feet wide, from Tonga. This kind of tapa would be considered similar to a "red carpet" for a special event or ceremony.
"It's a very special thing that's put out for the kings or queens, birthdays, or a kind of community-wide celebration," Gusick said.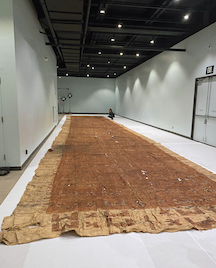 Some members of the Pacific Islander community provided thoughts as part of the exhibit.
"They create dialogue among our community about our cultural ties, our ancestral ties, and our current relations that support and sustain our lives. They are just as much about the future as they are about the current and past relationships that we have nurtured," wrote Asena Taione-Filihia and Lolofi Soakai, who are Tongan.
Katrina Talei Igglesden, who is Fijian, added, "Tapa, to me, is both a way of expressing life and a tangible expression of life."
Elders from the community gave their blessing to the exhibit, which was important to the organizers.
"They were so gracious with their time and so helpful, and just something that we wouldn't have done had we not had their support and assistance throughout this process," she said.
Since there's a large Samoan population in Southern California, Gusick said the museum provides viewers the option to read information about the exhibit in Samoan.
This exhibit also touches on how Europe historically began colonizing the Pacific Islands in the 1500s and collecting tapa and other items were part of that — a fact that the museum calls itself out for.
"The tapa and woven mat collection at NHMLAC is part of this history. From soldiers and medical workers to employees of companies engaging in resource extraction, many visitors collected cultural material from the local communities. Much of this material was donated to American and European museums—including NHMLAC—creating vast collections rooted in colonialism and developed with an outsider's perspective on the culture," the exhibit reads.
Gusick said it was important that the museum acknowledge its role because as an institution, the exhibits that it hosts are often "steeped in colonialism."
She said she understands that the museum can't erase its history and hopes that being transparent about it will help it move forward in an ethical way.