The band that taught me to love myself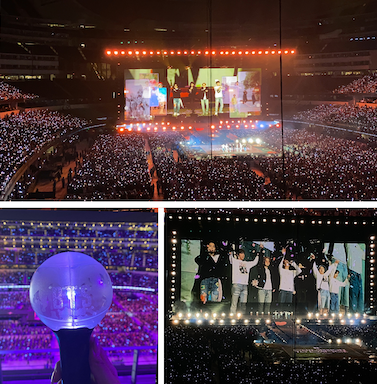 My entire life, I was very insecure about my body.
Being Mexican meant I had more body hair, which is where my insecurities really stemmed from.
I have had bad acne since the fifth grade. I had big, red, angry splotches all over my face that never seemed to go away.
Over time, the feelings began to spread to critique my whole body.
I no longer liked my body. I had gained weight, lost weight, then gained weight again.
I felt like I was always being watched, judged and made fun of behind my back.
It got worse in high school since I became more conscious of my own body as I would compare it to other classmates who I felt were prettier and skinnier than me.
I also always had lingering thoughts in my head like "They're laughing at you" or "Don't do anything stupid."
I hated the feeling of being watched, being judged. Most of all, I hated feeling alone.
A new interest
I was with my family at my cousin's house celebrating Thanksgiving in 2017. Usually, we sleep over afterwards, but sometimes we aren't able to. Luckily, my parents let my sister and I stay that night.
A few hours before we went to sleep, our cousins asked if we wanted to stay up with them since a new music video for this group they liked was dropping.
We agreed and headed to the living room.
"Whose video is it again?" I remember asking.
"It's this K-pop group, BTS. They're coming out with a remix with Steve Aoiki tonight," one of my cousins replied. 
Before I knew it, I had fallen asleep. Someone put a blanket over me.
I groggily awoke to excited chatter from my cousins. I had never seen them so stoked.
That clinched it. I decided to stay awake. 
They refreshed the YouTube channel and played the video.
I was hooked after the first few notes.
I was in awe of what I was seeing. Hypnotized by their dancing, my focus jumped from member to member. They were all very attractive, and that was the first thing I remember thinking.
The way they danced was mesmerizing. The excitement my cousins felt spread to me.
Once I got home the next day, I immediately found myself watching their music videos.
I looked up everything I could about them, learning about each of the members' personalities and listening to all their songs.
I had fallen down that rabbit hole everyone does when they find something they like.
BTS is a South Korean boy band made up of seven different members. They debuted June 6, 2013, and since then, they have gained a massive overseas fan base dedicated to helping them top charts by streaming and buying albums.
Their fanbase is so big that four nights at Inglewood's Sofi stadium wasn't enough for everyone to experience the concert, so the Youtube theater next to it was used to livestream the concert so more fans had the chance to watch it.
BTS's message
Fast forward a few months, I'm still deep in "BTS world" as we call it. I've gotten to know more about them and know the premise of their music.
They talk about being who you are, and to keep going even if you are facing struggles. The time I had found them, they had just begun their "Love Yourself" era, which later took place over the course of two more albums.
Love Yourself. That's not something that was in my vocabulary.
It was more like: Pretend you love who you are even if deep down, you don't want to look at yourself in the mirror. It was like hating your own reflection. Opting to just stay home in bed, rewatching the same show for the nth time.
Smile and laugh but when no one is looking that facade drops. Acting like I'm happy but in reality, I just feel numb. 
Even now, I'm in shock that I found them at the moment I really needed to hear the one thing I struggled with so much.
During my time as a BTS fan, I began to see a change in myself as a person.
I had never really found something I was so vocal about loving. BTS brought out this new side of myself that wasn't afraid to be loud and proud of this newfound interest.
I loved watching their "Run" episodes during my free period at school. I loved catching up on old content. I loved getting to know each member. I loved it all.
Even now, my love for the band hasn't faltered. It is still as strong as it was the day I discovered the music.
I love what they stand for as a group: Being who you are, not being afraid to be your own person. 
It propelled me to just be who I am, uncaring of what others think or say. The only person's opinion that matters is my own.
The members have all been very vocal of struggles they have faced, and it made me feel seen. Someone that is such a prominent figure in the music industry faces difficulties like me. That there was someone in Seoul, South Korea that understands me.
A change
The change in myself started with me singing their praises and spreading their message — even if sometimes I felt like a hypocrite, preaching the one thing I could never find myself doing.
But as time passed, I found myself liking what I saw in the mirror. I didn't care about my weight or my arms. My face started to clear up because of a new medication I was lucky enough to be prescribed.
I found myself at a point in time where I was slowly learning what happiness felt like. 
I felt fresh, renewed and comforted.
My self-hatred slowly dissipated.
I no longer felt alone. I found new friends, other fans, who I'm still close with to this day.
I had gotten tickets for their Love Yourself: Speak Yourself tour in 2019 and remember tweeting out my excitement for getting tickets for both days.
A few days later, I received a message from a girl, Hope, asking me if I indeed got tickets to their Rose Bowl stadium stops and if I'd like to join a group chat she made with other fans.
They were all planning to meet up before the concert and just hang out together. I recall hesitating a bit. After all, I didn't know this girl, but also thinking of how nice it would be to make other friends who were ARMY, the name of the BTS fandom. So I said yes, and to this day, I'm so grateful I did. 
I had found a place where I would be accepted for who I was. People who were understanding of my own struggles. People who felt the same things I was feeling. I learned that I wasn't alone in my struggle, and that these people would be there for me for however long it would take for me to feel happy with who I am.
Coming out
One of the moments I was most thankful for the BTS community is when I was struggling with my sexuality.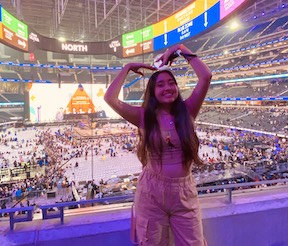 At the time, I didn't know if I was having those regular thoughts when thinking, "Wow, she's pretty." It became more clear as that turned into, "Wow, I kinda wanna date her."
I remember asking on Twitter how people knew they were bi, since I was unsure myself.
A few "mutuals," people who I follow and who follow me back, responded, telling me their stories of when they realized their sexual preferences.
Over time, I began to accept that part of myself. I couldn't really share it with my parents, knowing how they would react, so I told my sister and my second family, ARMY.
On Oct. 8, 2020, I tweeted, "I'm proudly coming out as bi y'all." 
The response was immediate. My mutuals and non-mutuals congratulated me, telling me that I was valid and that they were proud of me. To this day, I sometimes go back to that tweet to look at the replies, tearing up to see the support I was given. 
I finally felt at peace with who I was. 
I'm so grateful that I've found BTS because without the band, I don't think I'd be where I am today. I have a newfound confidence and carry my head high. 
And now, almost five years later, I can honestly say that I am happy with myself. It took some time, and I had many ups and downs. But now I love who I am as a person.
Obviously, I still struggle with insecurity, but it's here for a day then gone the next. I've learned that I shouldn't allow stress and insecurity to run my life. 
To some, it's such a silly interest, something so small in such a big world.
To me, they changed my life. I owe who I am now to them and am forever grateful.