The Golden Eagles Battled in a Five-Set Shootout to Defeat the Seawolves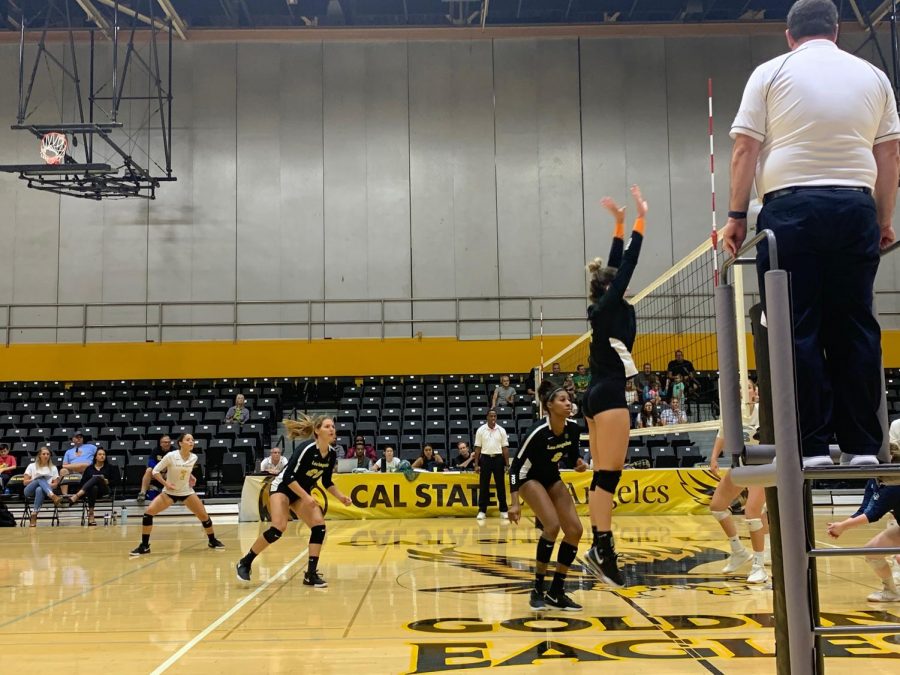 Cal State LA defeated Sonoma State 3-2 in a five-set thriller that could have gone either way on Saturday.
Having played the night before against Humboldt State, the Golden Eagles faced a tough opponent in Sonoma State. The Seawolves showed a lot of ability in the first set winning in high-scoring fashion 31-29, which set the tone for a tough match. 
The Golden Eagles came out stronger in the second, putting a 4-0 lead on the board, and eventually won the set 25-17.
They started strong again in the third set, leading 4-0, but the Seawolves fought back. Cal State LA lost the lead as it found itself down 24-22. The Golden Eagles battled back to tie it at 24-24, but the Seawolves ended the third set with two scores, winning 26-24.
After falling down two games to one, the black and gold showed determination as they defeated Sonoma State in a crucial fourth set 25-19.
Lastly, in the fifth and decisive set, the Golden Eagles led throughout and escaped with a 15-9 victory.  
As a team, the Golden Eagles led 70-53 in kills, and 62-43 in assists. The leaders in kills for the birds were Julia Azevedo with 15, Karla Santos and Alejandra Negron with 13 each, and Mickayla Sherman with 11. Shea McGovern, Cal State LA's setter, had a team-high 30 assists.
"I don't want to make any excuses. I don't know if the game [being] at 3 p.m. did that to us, because it's such a different approach to the game… Starting the game we were just flat. We didn't do well the first game," said Head Coach Juan Figueroa on the team's energy, which he felt was better in the previous match against Humboldt State.
The Golden Eagles' energy is something they want to keep high throughout the season. McGovern admitted that the energy "at the start was a little rocky, not as good as yesterday [against Humboldt], but towards the end it did pick up."
The ladies hope to keep their energy high as they go on the road to play against Stanislaus State on Friday. A program that coach Figueroa admitted is "the best team in the north right now. They're a pretty good team and we have to go there and play some ball."