University announces graduation ceremonies will be postponed
The news comes after Cal State LA graduates shared their disappointment over graduation announcement
After hearing "heartfelt feedback" from students and others in the community, the two graduation ceremonies will be postponed, according to an email to the UT from the Office of Communications and Public Affairs.
"In-person ceremonies for the Class of 2021 and the Class of 2020 will be held at a future date. Our commencement will include guests, the reading of names, and other elements that graduates treasure. We will announce more details soon," said the email.
This update follows the Tuesday campus-wide email covered by the UT, where President William A. Covino announced that the graduation ceremonies would not allow students to bring guests, walk the stage, shake hands, nor hear their names called out.
After that first announcement, graduating students took to the UT and major news outlets like ABC News, Telemundo, and many others to share their disappointment over President William A. Covino's graduation ceremony announcement.
Some students had reacted by sharing how they were upset that they had already paid for regalia, which costs about 60 dollars for the cap, gown and tassel, and about 60 dollars for the sash. Others said they would not attend either way.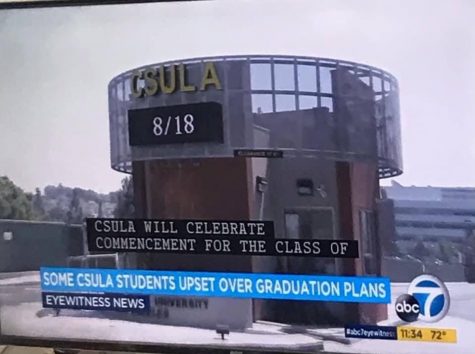 Emily Pocasangre, a graduating sociology major, told the UT she was "disheartened" by the news on Tuesday and would not be attending the ceremony to just get "sun burnt with no applause."
However, Pocasangre was not alone. In an informal Instagram poll conducted by the UT of 232 voters, 88% of students said they would not be attending the graduation ceremonies, while 12% said that they would be.
Graduating students shared their input on the announcement Tuesday through the UT's Instagram.
Responses included students saying it was "ridiculous" and a "huge let down" that they were not going to be given a "proper graduation."
Cheyenne DeWolf, a television and film major, said, "I understand not walking, but like… not even our names? What are we even doing there?"
Many student responses included asking what was the point of going to the graduation ceremony if their families were unable to attend. Some asked why the university had opted for a bigger venue if guest tickets would not be provided.
Pocasangre, the sociology major, said she was not expecting the announcement. "I was hoping for the school to announce how many attendees per graduate, be it 1-3 people, dates for when we would practice entering and walking the stage."
"As a first-generation graduate in a Latinx family, this was just very frustrating to hear," said Pocasangre. "But personally going from having accepted that we weren't going to have a graduation due to the pandemic to then hearing we were and getting all hyped up by the school, only to be disappointed weeks prior, is very heartbreaking for me and my family."
Pocasangre added that she plans on getting her pictures professionally taken and will celebrate by going out to eat with her family.
"I was going to do all these things regardless of a graduation [ceremony] but now they're going to be even more special," said Pocasangre.
"My accomplishment is for my kids. I want them to look up to me and say, 'My mom did it at 36, with five classes, a full-time job, and three kids, then I can do it too,'" said Angelica Ventura, a graduating transfer business administration major.
When Ventura heard the news, she said she was devastated: "I have been crying about it. I took a 10-year break to raise my kids but I always vowed to go back."
Like most students, Ventura said she hoped to at least have two guests during graduation but "didn't expect for them to say we wouldn't get our names announced and not walk the stage."
Ventura said she saw no real point in attending if they were just going to "sit in the sun the whole time while they run off some speeches about how proud they are."
She added that she probably would not attend the graduation ceremony unless Cal State LA lets her have at least two guests. Ventura said she now plans on celebrating with her family at home.
"Of course the pandemic hit, but haven't we been isolated for enough time?" said Ventura.
Not knowing how other schools are allowing four guests at other venues, Ventura said that now she has to spend one of the most important accomplishments of her life alone.
Being at Cal State LA since 2016, business administration management major Luis Gonzalez said he didn't see a point in attending the in-person ceremony because of the news.
"What is the point of going to a graduation ceremony to not even walk the stage or even have our families there to cheer us on?" added Gonzalez.
Gonzalez said he has not told his family of the news yet because he knows it will disappoint them since they have been looking forward to this for a while.
When Gonzalez found out the news last night, he said he was "disappointed and upset."
Seeing that many high schools and even other CSU's have made the effort to let their students have guests at graduation, Gonzalez was frustrated.
"I do not understand why the school sent this news out very late. It's frustrating to me because we worked very hard for this," said Gonzalez, adding that he wished he hadn't ordered his regalia for graduation if he had known about the news.
Sociology major and 2020 graduate Asia Marshall said that she feels like "the moment has passed."
For Marshall, her parents never went to college and her mom didn't go past the 8th grade, so graduating was a big deal for her and her family.
"I think [my mom] was more excited to see me walk than I was," added Marshall.
As soon as she got the email confirming that commencement was to take place in person, Marshall said she immediately took the survey confirming that she would attend and bought her cap and gown, which she still hasn't received.
Marshall added it would have been more effective if the first email had included information about the guests and not announcing names.
"I wasted that money because I don't want to attend an event where my name isn't even going to be called," said Marshall.