Volleyball Loses 3-1 in a Match Against Undefeated Cal State San Bernardino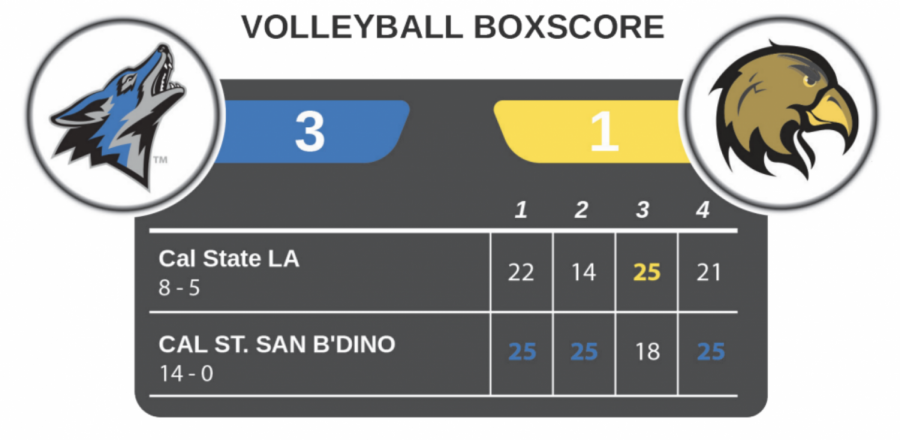 Cal State LA tried to rally back from a 2-0 hole, but fell to an unbeaten Cal State San Bernardino team in their court.
Cal State San Bernardino is nationally ranked. They are number one in the American Volleyball Coaches Association Division II poll. Cal State LA was coming off a six-game winning streak, but couldn't continue their momentum against the Coyotes.  
The "Yotes" started off the game showing why they were ranked number one. Cal State San Bernardino won the first set 25-22, and the second set 25-14. After coming up short in the early sets, Cal State LA found its fighting spirit and won the third set 25-18. In the fourth, the Coyotes overcame the Golden Eagles comeback push winning a tight 25-22 deciding set. 
The final set was difficult for Cal State LA. The black and gold nearly mounted a comeback to force a fifth set, but couldn't close it out. The women cut a 20-14 deficit into a 22-20 differential. However, the "Yotes" scored two straight and finished the game with a block.
"We had very high energy. We had really good hopes of [beating] that team, but there were a lot of errors. They made us earn more points, while we gave them points," said assistant volleyball coach Kathleen Luft. 
Outside hitter Mickayla Sherman led the Golden Eagles with a game high 15 kills, and added three blocks. Middle blocker Daisy Crenshaw contributed 11 kills and four blocks. Opposite hitter Julia Azevedo also added 10 kills and three blocks. Outside hitter Karla Santos was a defensive force with a team high 14 digs. 
Cal State LA ended up with more kills then Cal State San Bernardino at a 52-39 advantage in kills. However, the Coyotes led the eagles in blocks with a 13-9 advantage.
The Coyotes were also stronger than the Golden Eagles in the serve line. A notable statistic from the black and gold is the 15 serving errors. The serving errors will be something that the team will continue to improve upon, according to Luft. She also added, "we already are a very tough serving team. We just need to stay focused and aggressive in our serves. I feel like we steered away from that [on Saturday] and will work on that." 
Cal State San Bernardino has been absolutely dominant this season. Cal State LA joins Sonoma State as the only two schools to win a single set against the Coyotes in conference play. 
Luff said after the game, "Regrouping after the first two sets, and realizing if we kept playing the way we were playing, we were going to lose in three. We held our composure together and we made [fewer] errors."