What's up with the new benches?
When the spring semester started, students walking to and from Martin Luther King Hall, student may have noticed new benches that were installed, along with water that was filled up on both sides, due to the rain.
The seats of the benches are wooden with holes on either side.
Questions were asked about when these benches came and the water-filled bowl's purpose.
The benches were designed by the Facilities Planning Design and Construction (FPDC).
The FPDC is a facility in Cal State LA that aims to "create new campus infrastructures and facilities that promote collaborative, academic, and learning research," according to the website.
There are about 45 of these benches around campus for students to relax and take a breather before or after classes.
"New outdoor furniture was purchased over a year ago as part of the university's efforts to provide outdoor spaces for learning, resting, and socializing," said Yancey Modesto, director of FPDC. "It is an extension of our campus-built environment."
They were supposed to be on campus sooner but got delayed due to the pandemic.
"They add a modern design element to our evolving campus architecture and landscape," said Modesto.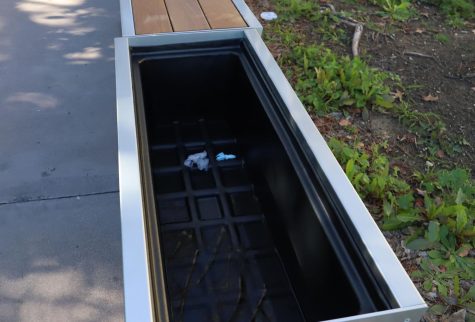 The holes on either side of the benches are for plant boxes to be installed at a later date. Plants and flowers are to be planted to promote vegetation and clean air for the campus, according to Modesto.
Modesto did not say an exact estimate of when these plants will appear.
This new outdoor furniture was placed near Martin Luther King Hall and in front of the planning, design, and construction building near the dorm in mid-December, with the rest being delivered at the end of January.