Remembering former L.A. Times news leader and University Times editor Henry Fuhrmann
Mia Alva, Editor-in-Chief
October 2, 2022
Many know Henry Fuhrmann for his Los Angeles Times work, but he told students when visiting Cal State LA that he started his journalism journey on this very campus. 
Former Los Angeles Times assistant managing editor Fuhrmann died at age 65 after a sudden illness on Sept. 14, according to his family. 
While working toward his bachelor's degree in journalism, Fuhrmann worked with the University Times (UT) for three years and was the editor-in-chief for the 1981 fall and 1982 winter quarters. 
He won a national student award from the Society of Professional Journalists with his colleagues on their coverage of the first shooting on campus. It was the first time the UT covered such a timely and gruesome event in a short amount of time. According to Henry when he visited campus, the story took all day as he and his team searched for witnesses and fact-checked details of what happened.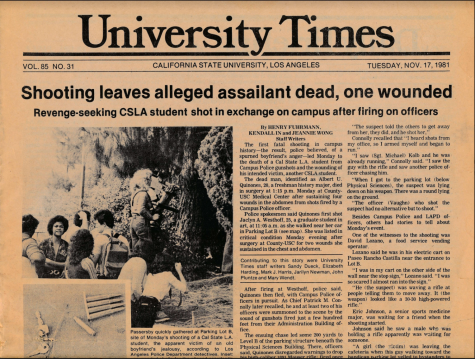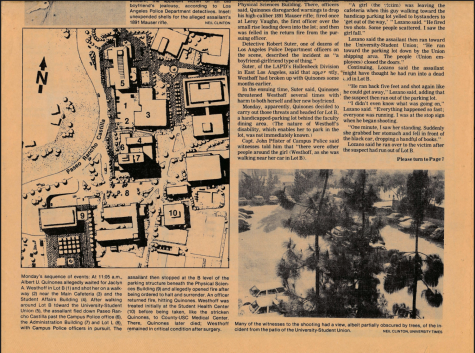 When Fuhrmann was with the UT in the 1980s, it published a print newspaper four times a week. Fuhrmann covered hard-hitting news that impacted the campus, like registration, the senate passing bills, and societal needs in education. 
In 1982, he also helped make a style guide for the UT with some of his other colleagues and it was in use for at least a decade.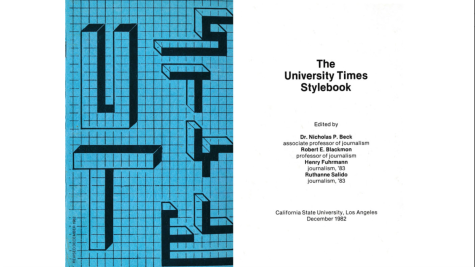 Down the road, Henry joined the L.A. Times in 1991 as a copy editor and eventually as assistant managing editor. 
In that role, he led the 60-person print and digital copy desks and chaired the newspaper's standards committee. Fuhrmann was the first chief of the L.A. Times' morning copy desk, established in 2007 to serve latimes.com, and helped develop newsroom guidelines for publishing online, according to a bio he sent to Cal State LA students when visiting in 2019. 
Hector Becerra, the L.A. Times deputy managing editor for California and Metro and one of Fuhrmann's colleagues, felt connected with Fuhrmann from the beginning because of their similar journey at Cal State LA.
Although they attended at different times, Becerra thought it was fascinating that with Fuhrmann also attending Cal State LA, they both were able to work for the L.A. Times, which at the time was a rarity. 
"He was a Cal State LA graduate like I was, and so there was that connection," Becerra said. "There are not a lot of us Cal State LA graduates at the L.A. Times. So, you always sort of felt like you were in a small but very good company. He was an expert on words. He was an expert on precision."
One of Fuhrmann's greatest accomplishments includes convincing the Associated Press Stylebook to drop the hyphen in "Asian-Americans," "African-Americans," and other terms to describe American identities. 
Becerra also added how much value Fuhrmann held as a copy editor to him. 
"I always appreciated how meticulous he was about the editing process and about individual words," Becerra said. "I think sometimes, as a line editor, you think about the big picture and all these things, and it's pretty easy to overlook the smaller details. He was an expert on the smaller details, which are very important and will often save your butt as a reporter." 
Becerra originally met Fuhrmann as a reporter with the L.A. Times and would come to him with questions and copy advice for his stories. Becerra would describe him as "extraordinarily warm, thoughtful and intelligent."
"He didn't hold his knowledge over you. I think his knowledge existed to help others. He was very much in service to others, especially younger journalists," Becerra said. "If you spoke to him, you felt like you had his complete attention. Not a piece of his attention. You felt like you had his complete attention. That goes a long way."
Both grew to newsroom leadership positions. Becerra said that even though they didn't go to Harvard, Yale or Princeton, they got a good education and learned to be skilled journalists.
"I'm proud that we're both Golden Eagles, and we both kind of graduated from the hard knocks school of the University Times," Becerra said.
Fuhrmann visited the campus at least twice in recent years, including once with one of his mentees, Sonali Kohli, who was working on Cal Matters' College Beat program at the time. 
"Henry was always there, being really encouraging and telling me that I was good enough and telling me that we would work together one day. For someone to have that confidence in you is really strong," Kohli said. 
Kohli originally met Fuhrmann at an event where the L.A. Times editor was speaking, knowing that her dream was to work there. After the meeting, Fuhrmann encouraged Kohli to join the Asian American Journalists Association. Kohli kept in contact, and Fuhrmann would become her first journalism mentor. 
"The work he supported was really fantastic," Kohli said. "At the same time, he showed so many of us that Asian Americans and people of color could be newsroom leaders who are really well respected and who lift other people up with them. He just showed that you could be a leader who was effective and also had grace, kindness, thoughtfulness and openness."
Kohli always went to Fuhrmann for advice, on one account having to do with a story she was doing on a gender non-conforming person who used the pronouns, they/them. At the time, about 10 years ago, UCLA and even the L.A. Times didn't have a procedure to accommodate such pronouns. 
"Journalism just hadn't caught up and The Daily Bruin had not used they/them pronouns in stories," Kohli said. "The LA Times had not used the pronouns, and we talked through it and he told me that he thought we had made the right decision. Then later, when the L.A. Times was under the same discussion, he brought up that Daily Bruin story."
Out of the time spent with him, Kohli highlights two moments that she will always cherish with Fuhrmann. 
"Coming to Cal State LA with him is one of my most cherished memories of Henry now," Kohli said. "The fact that we were at the point in our lives and career where he had mentored me, and he had helped me get to where I was, and we could talk to college students together about that mentorship, and about why it's helpful and why they should seek it out. That was really special for me."
Fuhrmann's love of making and giving L.A. Times mugs was also a fond memory for Kohli. The day she started working for the L.A. Times, she was given one by him, just like he said he would. 
Kohli spent the days after Fuhrmann's death re-reading his emails and producing a goodbye piece for the URL newsletter, talking about the ​​joy of having and being a mentor and the grief of losing a mentor.