As classes move online, students' anxieties shift into high gear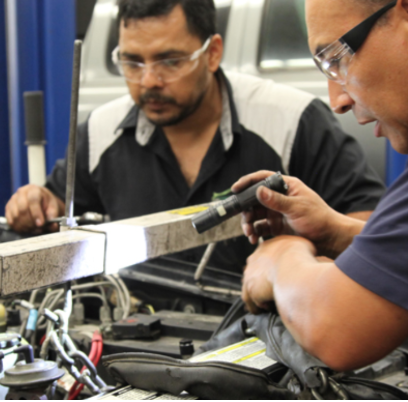 Erika Gonzalez, a fourth-year student at Los Angeles Trade-Technical College in South Los Angeles, already has a lot going on in her life: While both of her parents work, Gonzalez, a first-generation college student, juggles caring for her siblings, work and classes.
Coronavirus-related closures are making her feel as if she's close to a breaking point, especially after an email last week from the Los Angeles Community College District chancellor that said "as many classes as possible" would go online – not all.
"It's terrifying for various reasons. I put [in] so many years to transfer and now I have to put life on pause," said Gonzalez, who had planned to transfer to Mount Saint Mary's University this fall.  "It's overwhelming because it's out of my hands."
The move to online classes in light of the coronavirus outbreak has created unexpected barriers for college students, especially for students without proper work stations or technology at home or those who are tackling classes that either require tutoring outside class or hands-on learning.
Like many of the more than 2 million students at community colleges around California, community college students interviewed by UT Community News said they're worried the countless hours they have invested into their education – despite numerous barriers and with the hopes of improving their lives – are at risk.
Some of the biggest barriers to success for community college students is working, paying expenses and dealing with challenges related to family and friends, according to a 2019 "Revealing Institutional Strengths and Challenges" report. About 21 percent of students surveyed also reported that online classes were a challenge to their success.
Some classes just aren't made to be taken online, said Gonzalez, the Los Angeles Trade-Technical College student.
"Like communication – how am I supposed to do that online?" she said. Gonzalez is also worried about statistics because her face-to-face interactions have been most helpful to learning the more challenging material.
"I'm very strategic with the classes that I pick [for] online and in-person. For statistics, it can be difficult. Receiving tutoring is helpful," said Gonzalez, who is supposed to earn an Associates of Arts in Liberal Arts at the end this semester. She said she's worried the shift to online classes could delay that.
The college she attends also offers programs in subjects such as culinary, automotive technology and cosmetology, subjects that are inherently difficult to learn online.
Jessie Chan – who has an associate's degree in psychology started working to earn a living but she is now hoping to complete prerequisites for Los Angeles City College's Radiologic Technology program – also has concerns about online platforms.
"I am a hands-on learner. I've never taken an online class, nor have I ever really been interested. I need to be in class actively taking notes and speaking with my classmates to really understand the material," she said.
 Chan said she's in college because she wants a better life: She wants more for herself than working hard to earn next to nothing.
As she pursues her goal of achieving an education that would allow her to join the healthcare industry, she said the coronavirus is becoming a barrier that she did not plan for: "Honestly, the whole thing is a little frustrating…My biggest fear of the campus shutting down is us being unable to complete this class."
Another problem students reported is not having a computer, Internet service or a proper work space at home. For instance, Cristian Gonzalez, a full-time Los Angeles City College student, said he can't concentrate at home because it's usually too loud.
"When I study at home, I wait for everyone to sleep because if not I will not have a quiet space to concentrate in," he said, adding that he's a "bit nervous" about online classes. "When I attempt to learn by myself, I am not able to stitch together the necessary tools to understand all the content. Online classes require a lot of self-learning and self-discipline. It will be interesting to see how I am able to respond to the needs of an online class."
On top of concerns about classes, Gonzalez said he doesn't know when he'll be able to resume his job as a part-time math tutor for GEARUP4LA because it's for the Los Angeles Unified School District.
"All I know is that I will not be returning for work for about a month. I have been told this is subject to change," he wrote in an email. "There is no certainty."
Although his life and his classmates' are in flux, he said he understands some people are dealing with critical care issues and everyone must contribute to making the country safer: "We must trust in our systems and those people who are calling the shots."
Kimberly Estrada, a full-time student who lives near Echo Park and attends Santa Monica College, understands the decisions being made. That doesn't make the difficulties of it any easier.
"This entire process is very aggravating only because it is a big transition for many students. For me, personally it has taken a big toll in my life because it has affected how I function as a human being. I mean I can't even go to the gym," she said in an email. "Not only that, but a major part of my life is work, and as far as my family and myself goes, this has impacted the way we deal with our finances due to…cut hours" at work.
Estrada, a coordinator at Behavioral Respite In Action (B.R.I.A.) and  a sales lead at Express, said her hours have also been reduced.
"This part of the situation does outrage me because…seeing big companies and corporations fully shut down makes me think, 'Who truly cares for their employees?'" she said, adding that employers, colleges and companies should be more transparent about their policies. "[Much] of the information I have received in terms of this has been through social media and I personally think that is not right because we still have bills to pay."
Strategies for learning online, including best practices for time management and communication, can be found on Cal State LA's website.
Updated March 17 to clarify the timing of Jessie Chan going into the working world.
Community News reporters are enrolled in JOUR 3910 – University Times. They produce stories about under-covered neighborhoods and small cities on the Eastside and South Los Angeles. Please email feedback, corrections and story tips to [email protected]