BREAKING: Cal State LA's Innocence Project and district attorney attempt to clear wrongfully convicted man's record
The Los Angeles County District Attorney George Gascón and the Los Angeles Innocence Project held a news conference on Tuesday, Feb. 28, at the Cal State LA campus to announce the findings of an investigation into the factual innocence claims of Maurice Hastings, who was wrongfully imprisoned for a total of 38 years.
The "factual innocent" filing will be ruled on in court tomorrow. If the judge makes a finding that Hastings is factually innocent, it would clear Hastings' record of the robbery-homicide arrest and prosecution, according to Gascón.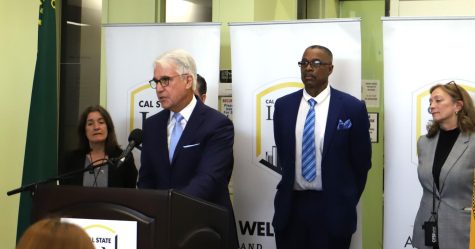 California Penal Code 851.8 PC sets the procedure for filing a factual innocence petition, according to Shouse California Law Group's website.
"If the petition is granted, the police agencies must seal and destroy all records of the arrest," according to the website.
The Innocence Project at Cal State LA is nonprofit and played a big part in getting Hastings' conviction vacated.
Cal State LA graduates and the university's Department of Criminal Justice Professor, Dr. Katherine Roberts, played a part in assisting the Innocence Project. The L.A. Innocence Project Director Paula Mitchell and Roberts collaborated to have recent graduates help on Innocence Project cases, according to Mitchell.
The L.A. Innocence Project then applied for federal grants and got approved, which has led to some successes with other DNA testing cases.
Around two to five graduates are involved in L.A. Innocence Project cases. Graduate students provide help when reviewing old cases from the 80s and 90s and provide insight to the L.A. Innocence Project on outdated or possibly unreliable testing that is involved in some cases, as well as advising what evidence could possibly be re-examined.
Recently, the L.A. Innocence Project started "service learning courses" at Cal State LA for undergraduates, too, according to Mitchell.
"We're hoping to get more undergraduates involved so that they understand some of these broader issues in the criminal justice system," Mitchell said. "They can start thinking about it in terms of their own career trajectory. Maybe they want to get involved in policy reform. A lot of times people end up having somebody in their family who's impacted by the system, and they'll come and want to volunteer. And that's always good news for us."
Mitchell said Hastings' case is an example of why the Innocence Project is so important.
"[Hastings] had contacted anyone and everyone who he could possibly think of to help him," Mitchell said. "Eventually, he came to our attention. The first thing we did is we said, 'We cannot believe that all of this biological evidence has been destroyed.' It's just as if they were trying to get the jury to set him to death. This is a really important case. There's a ton of evidence collected and a sexual assault kit. We just kept looking and not taking 'no' for an answer until they finally found the evidence from the sexual assault kit."
Once the kit was found, they used funding received from a federal grant to get an independent lab to do the testing, according to Mitchell.
The process
Hastings was convicted in 1983 and has been fighting for his freedom since.
"Twenty years ago, [Hastings] requested DNA testing and made a request to my office," Gascón said. "Prior administrations refused to test the DNA. When I became the district attorney, the Innocence Project asked if we could find the DNA. Officers, at one point, said that DNA involved in the case no longer existed. We found that DNA, it was tested and it was determined that it belonged to someone else."
The person that was identified in the DNA sample, who presumably was actually guilty of the robbery-homicide, was in prison for other crimes and died in prison, according to Gascón.
It took around three to four years total to find the evidence and test it, according to Mitchell.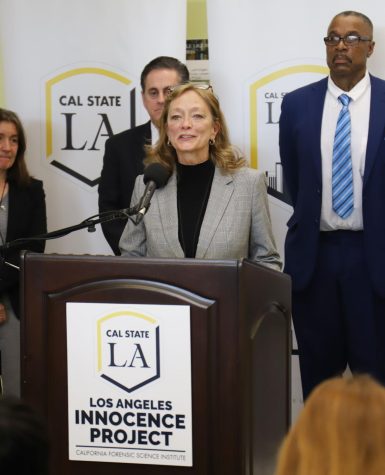 The first step in getting Hastings free was vacating the conviction, which happened in Oct. 2022, after the L.A. Innocence Project at Cal State LA worked with Gascón's Conviction Integrity Unit to show new DNA test results revealed another suspect, warranting Hastings' immediate release.
Then began a four month long investigation to find him factually innocent.
If Hastings is ruled to be factually innocent, that will restore Hastings' rights and qualify him for state compensation, according to Gascón.
There is no dollar amount released yet of approximately how much Hastings could be compensated for but there is a formula for that, according to Gascón.
"There were a lot of irregularities about this case," Gascón said. "This case had two prior mistrials initially, and they were seeking the death penalty twice. Finally, on the third trial, he was convicted."
Los Angeles County Superior Court Judge William C. Ryan vacated Hastings' conviction, dismissed the case, and ordered his release from custody.
Mitchell said a "conservative" estimate to how much the process of freeing Hastings has cost, between the Innocence Project and the DA's office is, "hundreds and thousands of dollars, easily."
A new life
When Hastings first found out there was a possibility for DNA re-testing, he was in Chino, California.
"It was very overwhelming because it's so surreal," Hastings said. "You say 'Is this real? Am I really gonna get my freedom back?' It's all the things I'd been praying for."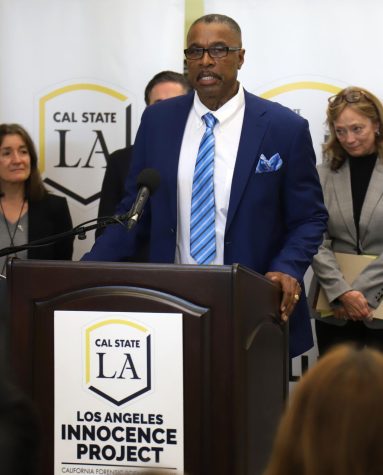 Since being released, Hastings said he is trying to get acclimated with technology and infrastructure changes that have happened over the last 38 years he was in prison.
"When I first was incarcerated, they had beepers so this is a big step from where I was at," Hastings said. "Just learning the computers, the phones and everything, how everything is done nowadays is trying at first but I'm getting there."
But, Hastings said being free is "a joy."
"At times, I felt despair and felt like it was never gonna come," Hastings said of his time in prison. "Twenty years passed by, 30 years. I used to think 'Oh man, help me.' or 'Maybe this is it.' But at one point I told myself, 'If this is it, I want to be all I could be,'while in there."
Hastings was involved in various classes while in prison and spent a lot of time in church and involved in ministry activities. He also strove to give back and began counseling younger generation inmates.
"They needed to be around mentors, people who would speak life into them, especially if they had a shorter sentence," he said. "It's important that you speak the truth to them."
Hastings said he plans to continue doing outreach work now that he is free.
"I haven't chosen a specific path yet," he said. "But I'm going to be involved in some people's lives. I'm definitely going to be involved."