Cal State LA Decorated Graduation Cap Showcase
With the 2020 Commencement date still unknown, Cal State LA Graduates continue to decorate their caps to honor their time as students.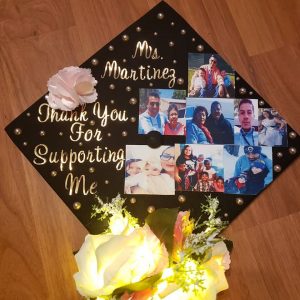 Kerry Martinez, B.A in Child Development:
These are the people that have supported me through my years in college from encouraging me to go back to school to taking care of my kids and reading my papers. I want to show them how much I love them and how much I appreciate everything they have done for me. I want to show how proud I am of them and myself. To show my boys, my nephews, and nieces that with the right support system, we can do anything we dream. Ms. Martinez is what my future students will be calling me when I become a teacher.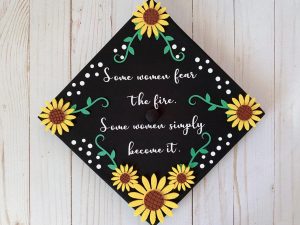 Byanka Aispuro, Phycology major:
My cap is an ode to the women who have fought hard to break the glass ceiling and pave the road for individuals like me. It is for women like my mother who came to this country and had dreams but no idea how to pursue them. My cap also reflects the support I got from my amazing husband, my biggest motivator in pursuing my dreams. He says I'm fire because I'm passionate when it comes to my life and my education. My cap is a wish for more women to tackle that which they fear most and to overcome it…to become fire.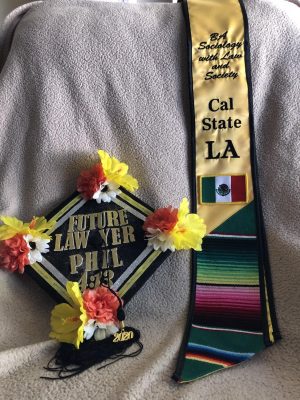 Wendy Romero, B.A in Sociology with Law and Society and Dean's List Honors Graduate:
"I can do all things through Christ who strengthens me." Phil 4:13. I was in some dark places during my academic journey but if it wasn't for my education and God, I wouldn't have found the person I am today. More importantly, I want to give my son the example of the importance of a degree in this country. I am first college generation and Im excited for my future.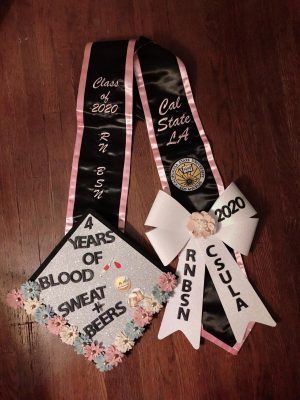 Jennifer Barillas, first generation college graduate, BSN in Nursing:
14 years ago, I came to this country with a hope for a better future for me and my family. So, for me, this cap represents the sacrifices I had over 4 years. I missed family gatherings, date nights, almost went bald during my third semester and of course I had many sleepless nights. But I would do it all over in a heartbeat, because this cap also represents my success as being a first generation college graduate in my family. I am excited my chapter as a student has come to an end and am beyond excited to start my new chapter as a registered nurse. I know I couldn't have done it without the support of my fiancé Miguel Martinez and my family's support.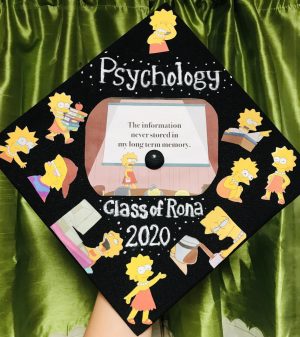 Genesis Mendoza, Psychology Major:
I find humor to be an important thing to have as a way of coping during these troubling times that are affecting many students and their families. I think about how grateful I am for having the opportunity to become a college student and be the first to graduate in my family. My cap reflects the many emotions that I have felt throughout my four years of college, both good and bad. I added a joke that shows what I have learned using the character of Lisa Simpson because she represents peace and knowledge. Besides, who doesn't like the Simpsons?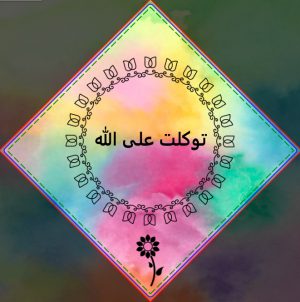 Eylaf Al-Hassani, M.A. English Graduate:
I am too positive to be doubtful, too optimistic to be fearful and too determined to be defeated."At-Tawakkul 'ala Allah" is the Islamic concept of complete reliance on Allah or "trusting in Allah's plan." The root word in Arabic is وَكَلَ (wakala) which means to entrust, charge or authorize. Allah is al-Wakeel, the Disposer of Affairs, the One entrusted, relied upon, depended upon and sufficient to take care of all matters.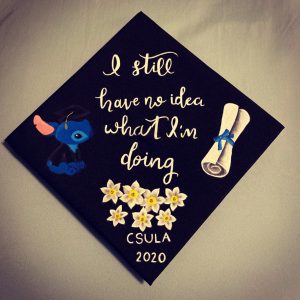 Crystal Nigo-Bravo, First Generation Graduate,B.A. Art, Graphic Design/Visual Communication:
My cap shows who I am. Although I don't always know where life is going to take me, I do know I always have the love and support of those I care about around me. From my family, my bf and my friends, they are the people who have pushed me and supported me these past five years to grow and be who I am today.
"Ohana means family and family means nobody gets left behind" -Stitch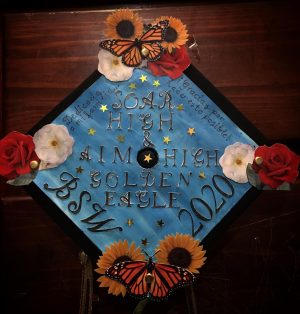 Odalis Macedo, undergraduate from the School of Social Work
These past 5 years have been a rollercoaster of emotions and I couldn't have had that experience if it weren't for my parents whom I warmheartedly dedicate my cap to. I have learned to keep soaring and not give up, to keep aiming high like a Golden Eagle!!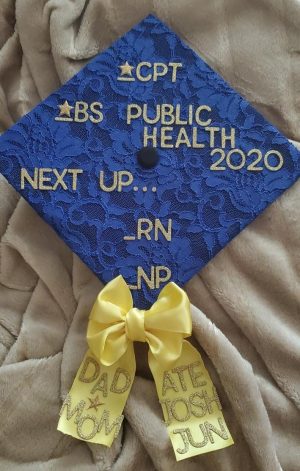 Alexandra Nicolas, B.S. Public Health
My grad cap represents the big check list for my educational career, what I have accomplished and what I will accomplish in the future! I also wanted to show thanks to my parents, older sister, younger brother, and boyfriend for supporting me throughout my journey.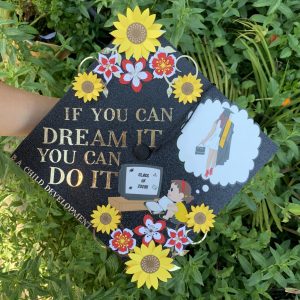 Jannelly Cervantes, BA In Child development
This is a representation of my journey, from dreaming about my future to accomplishing my goals. My mindset has always been "If you can dream it, you can do it." I may be the first Cervantes to earn a Bachelor's degree, but I know I won't be the last. I've always known the importance of education and I'm excited for my journey to continue. Thank you to everyone who's been a part of my journey, but a special thank you to my family, my boyfriend, and my boyfriend's family. It's my milestone but it's our success story.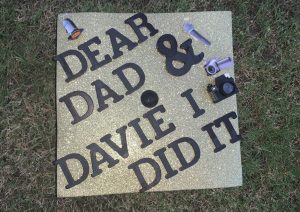 Denae Ayala, B.A. in Television, FIlm and Media Studies with an Option in Journalism:
I chose to decorate my cap in honor of my father Thomas and stepfather Davie. After their passing in 2014, school became my escape from reality. I did not want to accept the fact that they were both gone forever. As hard as some days were, I kept on pushing and pushing. I hope they are looking down on me and smiling! I finally did it, Dad and Davie!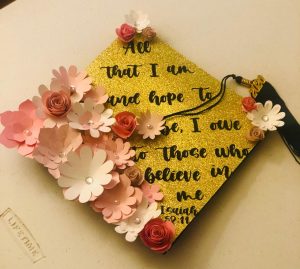 Yessica itzel Carrasco, B.A. in Child Development:
This caps means to me so much I am the first in my house to receive a degree. This cap also represent the sacrifice my parents had to help me get to where I am today.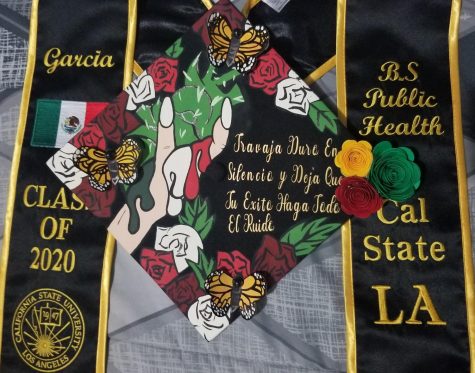 Xochitl Garcia, B.S in Public Health:
What the quote on the cap means: Work hard in silence and let your success make al the noise!
This quote carries a heavy meaning to both me and my close family. I am considered the quiet one in my family who in others eyes was on the road to drop out of school and work at a dead end job. Having this quote in mind helped me push forward and never quit. Being the first in my family to graduate high school, and be accepted into college was a great achievement to begin with, but now to say I am a first generation student who graduated college as well, is the big WIN. This cap demonstrates how I am close with my culture as well as how I did not do this accomplishment alone. I had the support of both family and friends and mentors as well. I wish I had the opportunity to show them that all the hard work they put into me was worth it, as I walk across the stage, but sadly that is not the case. That however, will not stop me from celebrating the big accomplishment that I did especially considering the circumstances. I am happy to say I am officially done with school! Class of 2020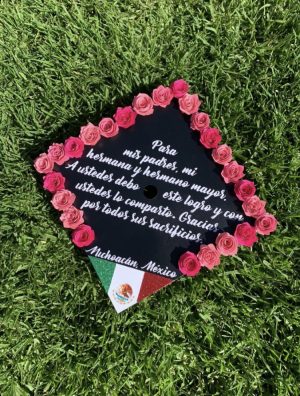 Araceli Contreras, Sociology major:
When my parents migrated to this country with nothing but their seven children my older brother and sister had to step up at a very young age and seek employment . My older brother worked a graveyard shift everyday after high school. My older sister had to work and take care of the house while my parents were at work. They sacrificed an education for the rest of my siblings and I and for that I will forever be grateful.I owe this accomplishment to them and my parents who came here with nothing but still managed to give us everything.
Click here for more information on how to submit your decorated cap.