Cal State LA students share who they are voting for in this Presidential election
In an informal survey conducted by the University Times, Cal State LA students look to be voting overwhelmingly blue for the upcoming national election.
The survey of 56 responses showed 82% of students will be voting for Joe Biden and Kamala Harris. In comparison, the second highest votes were only 14% for Donald Trump and Mike Pence.
Jacob Bradley, a junior transfer student and television and film major, based his decision to vote for Biden on the fact that he "will do a lot more good for this country than Donald Trump has or will."  Bradley specified, "I think he is a man who puts people first and genuinely cares what happens to all Americans, even his non-supporters." 
Bradley added, "I support Biden in his fight to reverse a lot of the policies that Trump put in place in regards to DACA. I think in promising to make DACA a permanent program after being elected, he has shown that he is focused on togetherness."
On the other hand, Thomas Minter, a nursing major, said he will be voting for Donald Trump because he has "been able to see where [Trump] has taken the United States and the direction we are heading" and is very happy to see that. He added how Trump is "pretty well in line with the things that [he] values."
Minter added that Trump has handled unemployment levels, foreign policy, and the military well. He also agreed with how "Trump has questioned what is [America's] stance on wars in the past and how we can withdraw from them and still maintain security." 
As a veteran himself, Minter doesn't like that veterans are pawns that move around the world to protect everybody else, but does understand that other places in the world are bad and need protection.
Students voting for Trump were asked how they felt about him contracting COVID-19 and if that affected their decision to vote for him.
Dalila Minter, a graduate student and Thomas Minter's wife, said Trump getting COVID-19 "affirmed [her] decision to vote for his Administration." She added, "Contacting the virus proves that he is as susceptible to getting sick just like everyone else. He is human, and the virus knows no boundaries." 
"I think President Trump and his Administration will get another four years in office," said Mrs. Minter. 
She also explained how Trump has done a lot of good by "finalizing the sixth military branch: Space Force." Mrs. Minter added even "signing a law that protects animals from cruelty, making it a federal felony," and "most importantly, fulfilling campaign promises like the VA hotline to help veterans." 
Mrs. Minter said that if Trump is given another four years, "without any obstruction, [he] could potentially perpetuate the United States a few decades ahead of its time." For others, deciding between the two major candidates is difficult.
First time voter Christopher Kim, a first-year and kinesiology major, expressed how the decision to find the right president has been a constant struggle, "I feel like this was a very hard decision and that this specific election is splitting out society." 
Kim feels that this election is "very overwhelming," given all that has happened these past four years, and both opposing sides add a lot more pressure into the mix. "Everyone chooses a side, if you aren't in it, then you are their enemy." 
Kim took his time to research both candidates and their policies before coming to a set conclusion. It was a challenging final decision to make, but ultimately, he chose to vote for Joe Biden because he "feels that there are many issues that need to be addressed and have not been under President Trump."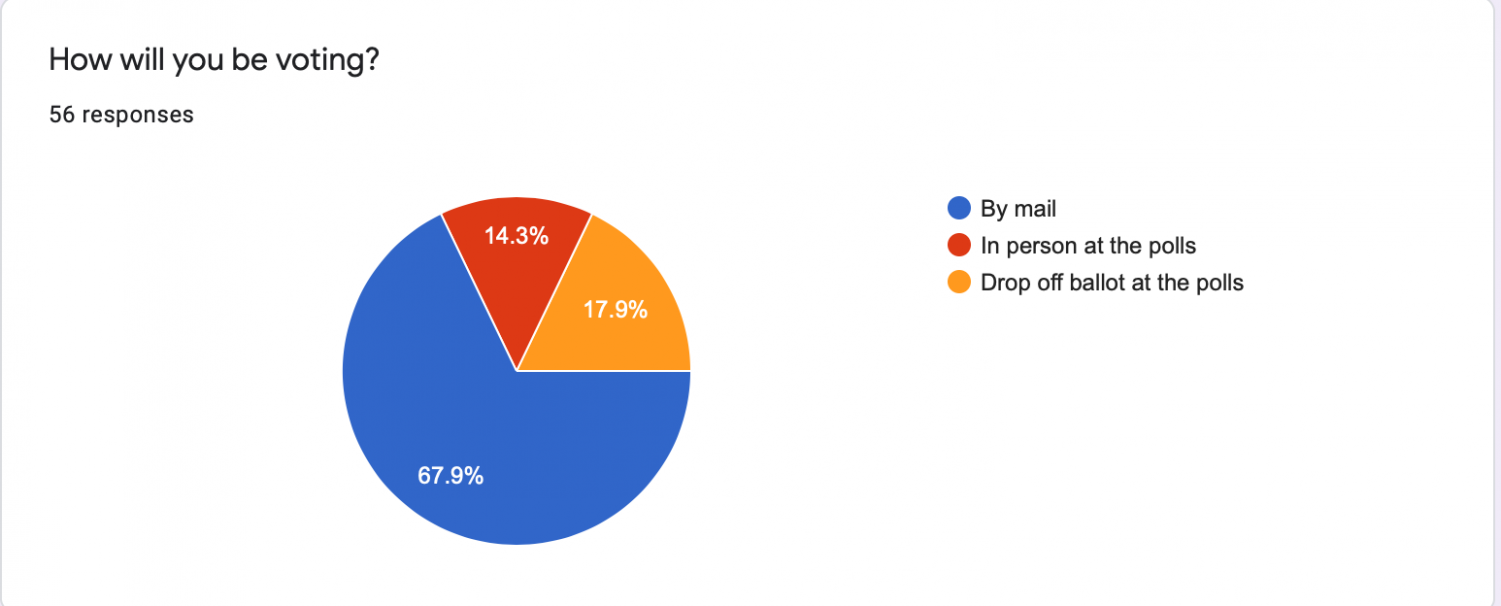 Despite the recent U.S. Postal Service (USPS) crisis on mail delays, there was a wide range of 67.9% students who will be voting by mail compared to 14.3% voting in person and 17.9% dropping off their ballot at the polls. 
Some students said the presidential debate confirmed who would get their support.
Bradley said that he "somehow lost more of [his] American pride after watching the debate, but it only made [his] decision more concrete." He felt as though the President and Vice President were "acting like children." 
Bradley added, "comparing how the two of them presented themselves during the debate, I felt a lot more confident placing my support behind Biden." 
Supporters from both sides are looking forward to a new era of change in this coming election. Mr. Minter, the nursing major, believes Trump will win and said, "obviously the polls really show that, but again, we'll find out." 
On the other hand, Bradley said, "I think these past four years have been times of constant struggle and scandal that Americans [are] frankly over it." He believes that America is ready "to see an actual leader again in the White House." 
Editor-in-Chief Joshua Letona contributed the survey for this story.