Cal State LA's Lunar New Year celebrates AAPI
Brian Lai, Multimedia Reporter
February 4, 2023
On Jan. 26, students and faculty gathered at the front of the Student Union Plaza to kick off the Lunar New Year event. The crowd enjoyed live entertainment, played ticket games, enjoyed Asian food, and had fun with other activities.
The event was organized by the Center for Student Involvement (CSI) and the Cross Cultural Center (CCC).
Anh Le, the coordinator for the Asian Pacific Islander Cross Cultural Center, reveals that the event was a massive collaboration between her co-organizer, Raymond Lu , and other student organizations.
"For a big event like this, it's wonderful to have collaboration amongst several of our campus partners," Le said. Le is the student engagement counselor for the CSI.
Community organizations were also available. CAPS and staff from different divisions volunteered to help, according to Le.
"We even had our very own Associate Dean of Students Dr. Frangelo Ayran helping to serve students fried noodles and egg rolls," Le said.
During the Lunar New Year Event, a memorial wall was placed near the stage at the Student Union Plaza. It was a sobering dedication to those who had lost their lives in the recent shootings at Monterey Park on Jan. 21, and at Half Moon Bay on Jan. 23. The victims of both shootings largely consisted of Asian descent.
These tragedies shook the Asian American and Pacific Islander communities and the Monterey Park and Half Moon Bay neighborhoods to their core. The shootings were especially traumatizing due to their occurrence during the Lunar New Year, when gatherings and celebrations are at their highest.
The memorial wall first appeared on Jan. 24, at the candlelit vigil held on campus.
Brian Castanedan, a Cal State LA student, believes that it's important to still celebrate the Lunar New Year.
"I think it's a good thing that we celebrate despite the tragedies because this shows that this doesn't stop the Asian community," Castanedan said. "This shows that they are not trying to put their own community on hold because of what happened. They are still gonna show their pride in the community."
Despite the recent shootings, Lu believes that the Asian American and Pacific Islander communities and the Monterey Park and Half Moon Bay communities can reclaim their Lunar New Year.
"For a lot of people this is a an opportunity for them, to celebrate the new year, new aspirations, new wishes and come together as family for them," Lu said. "So we still wanted to bring that to our community."
Throughout the event, festive music played on speakers as guests enjoyed several activities. Visitors were given red envelopes containing a food voucher, a fortune slip and six raffle tickets.
The food voucher could be redeemed for a bowl of Chinese egg noodles, an eggroll and scattered vegetables with fish sauce. There were vegetarian options available as well.
Attendees were given a chance to win at several raffle prizes. Among the prizes were scented candles, customized cups, movie theater gift cards and personalized Year of the Rabbit earrings. Some of the prizes were provided by local Asian businesses for the event.
Guests could also win raffle tickets at the ticket betting tables, set up at the front of the Student Union doors. The game, Bau Cua Ca, is played by betting any number of your tickets on the symbols on the board: Deer, Fish, Gourd, Crab, Lobster, Rooster.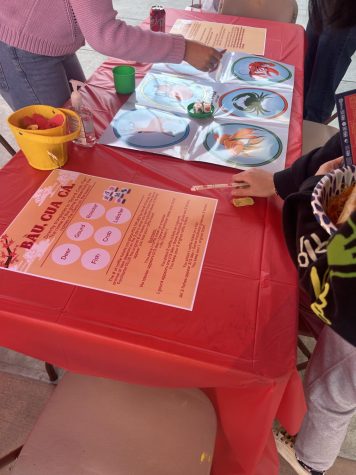 The dealer rolls three six-sided dice with the symbols on each side, and whichever symbols come up, means you win your ticket and an extra. If a symbol comes up twice or three times in the same roll, you win two or three tickets back.
The crowd also enjoyed a traditional lion dance performance, and tables where you could make your own paper lantern.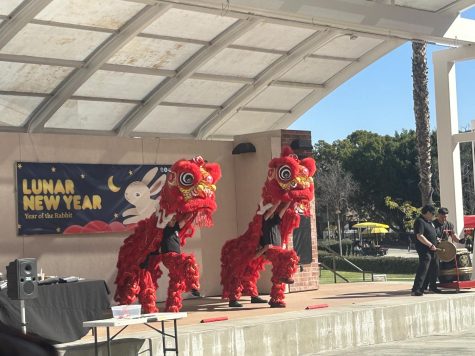 There was a stand near the stage for Healing Urban Barrios, a social services organization for young adults focusing on intervention, prevention and reentry services for troubled youth. 
Many of the attendees of the Lunar New Year event expressed fond memories of the holiday.
"My favorite part is the delicious food that my family prepares," Le said. "I think in Asian culture, food is such a comfort for many of us. It's how our elders express love and care through their cooking."
Castanedan divulged that the holiday is especially significant to him.
"I'm Mexican but I was in foster care, so my foster family was Asian," Castandedan said. "I did celebrate Lunar New Years for a couple years, so it just became tradition."
Now, the Lunar New Year represents the concept of family to Castanedan.
"It's very close to my heart because it was during a very dark time in my life. It brought me joy during that time," Castandedan said.
Others like Guilaliano Fittipaldie, a transfer student, found the holiday to be nostalgic.
"I'm an international student from Indonesia," Fittipaldie said. "I usually celebrate Chinese New Year, every year. This is my first time celebrating in Cal State LA."
Fittipaldie remarked that this Lunar New Year is different for him.
"It's doens't really.. feels like Chinese New Year," he said. "Usually we gather with my family in their big houses, and we celebrate Chinese New Year together."
Coincidentally, Fittipaldie's zodiac sign is the rabbit. 
The Lunar New Year event was also an opportunity for everyone to make their own wishes and goals for the Lunar New Year.
"I hope to blessed with a lot of luck in my search for a job. I hope to be blessed with a lot of financial luck as well," Castanedan said. "Pretty much, I just want to make this year a better year than last year."