Central Alameda residents want more parks
Residents: Children need green space, during the pandemic and beyond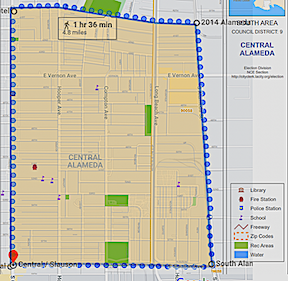 On the streets of South Los Angeles' Central Alameda neighborhood, it's common to see stretches of restaurants, liquor stores, and auto body shops.
What's rarer to see, however, are parks, playgrounds, and outdoor spaces or courtyards to sit down and have a picnic or kick a ball around.
Although Central Alameda is just 2.18 square miles, its parks make up less than 5 percent of the neighborhood. Some urban planning experts say that the ideal proportion is closer to 12.5 percent.
The four parks and recreation areas in Central Alameda are: 
Augustus F. Hawkins Park has a wetlands area and nature center.
Latham Park is effectively a small kids' play area.
Fred Roberts Recreation Center includes basketball courts, a soccer field, a kids' play area, and a community room.
Slauson Recreation and Senior Citizen Center includes a baseball diamond, a football field, playground, and community room.
After a 2016 study found some areas of South Los Angeles were "park poor," cities such as South Gate have received Proposition A funds to bolster their green space.
Some Central Alameda residents said smaller neighborhoods in the city like theirs still need help, noting that children need time outdoors to play, get exercise and improve their social skills and overall well-being.
"It is really sad to see little kids, especially my grandchildren who want to be able to visit the parks and run and play, even with this pandemic. It's made it difficult. Playing at a house is not the same as running inside a house," Rosa Duran, a resident of Central Alameda said. "Nicer neighborhoods of Los Angeles have more parks, especially in West Hollywood having Pan Pacific very nearby, which is way bigger compared to the parks around here."
Her sister, Maria Duran, who also lives in the neighborhood, said more green space could have offset the social and emotional difficulties community residents faced when they were mostly stuck indoors in small spaces. 
She said she sees the benefits of outdoor time for her own family, and the joy it brings her 2-year-old grandson when he plays outside with his siblings and cousins: "It would be nice if they made more parks for kids and anyone in the neighborhood, possibly make a soccer field, a basketball court, whatever sport or exercising younger people do nowadays."
Community News produces stories about under-covered neighborhoods and small cities on the Eastside and South Los Angeles. Please email feedback, corrections and story tips to [email protected].