Displacements divide Echo Park: 'We are fighting against each other'
Echo Park and Silver Lake residents say recent raids highlight need for long-term solutions, impact of Olympics
Echo Park residents say the homeless encampment evictions this week represent a bitter stew that has been simmering for years and boiled over during the pandemic.
Contributing to the shutdown, they say, are gentrification and the housing and homelessness crisis that comes with it; preparations for the Olympics; and most recently, the COVID-19 recession that hit many middle-class property and business owners hard — leading them to worry about property values. Still others in the community complained about the encampment because they wanted to take advantage of local parks more than ever before because of pandemic-related closures.
What surprised some, however, is how quickly it all happened.
"My friend [who lives in a van at the park] heard people coming by the lake telling homeless people to vacate by June for Olympic preparations," Echo Park resident Erin Weber said in an interview last week.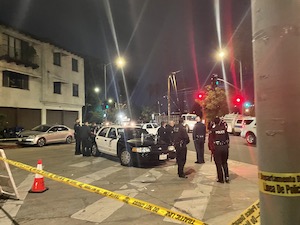 They expected relocations to happen much later, which is why she said in a follow up interview this week that her friend and others at the park were surprised since it is only March.
There is a history of preparations for the Olympics, even years in advance, leading to people being displaced in the United States and abroad.
Weber said public policy decisions in the city that allowed gentrification to spread happened slowly over time, usually without much notice to residents.
"I think the gentrification thing is the same thing as the riots" in terms of creating divisions among residents, she said. "We are fighting against each other. It's like, 'Oh, don't look over here. Look over there. But don't look here while we are…transforming Los Angeles."
Echo Park's location in a central part of the city, near downtown and with a lively arts and culture scene, draws new residents and tourists alike.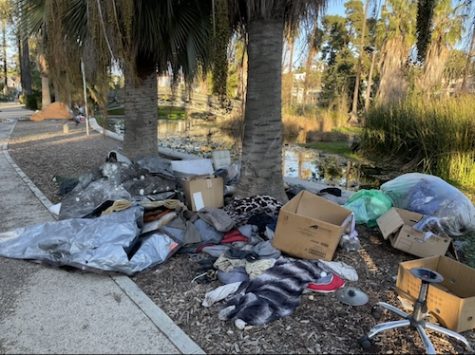 Dozens of tents in various parts of the park have drawn complaints from area residents.
"My office has been working for months to find housing for individuals at the park, and its closure will allow repairs for other much-needed improvements," Los Angeles City Council Member Mitch O'Farrell said in an email on March 18, after UT Community News had been told people were already being moved. 
At that point, he said, "120 people living at the park have been moved into transitional housing, including sites under Project Roomkey, the state-run program that offers hotel rooms."
Project Roomkey launched last year to curb the spread of COVID-19 among folks experiencing homelessness.
Weber is skeptical about the program, saying it benefits local hotels more than residents.
"It's just a joke because basically, corporate hotels got a tax write-off or some money," she said. "It's all for show. It's not really helping people" that much.
The project fell short of its goal to secure up to 15,000 rooms because of logistical issues.
Lydia Matkovich, a Silver Lake resident, said temporary housing isn't enough: More should be done to think about long-term solutions, including "wrap-around services" to address mental illness.
"Addressing these acute issues can be done in a less expensive venue. We need to start building permanent mental health facilities for those who need long-term care," she said.
Another Silver Lake resident, Kelly Strodl, said she is hopeful hearing about many affordable housing projects around the city. For instance, she said there is a proposed 82-unit apartment building in Silver Lake that would replace a parking lot on Sunset Boulevard. About 14 percent of the units are designed for very low-income households.
The Echo Park Neighborhood Council has been thinking about the housing crisis for years and on March 8, it approved a motion to recommend the city create at least 25,000 new housing units by 2025.
Community News produces stories about under-covered neighborhoods and small cities on the Eastside and South Los Angeles. Please email feedback, corrections and story tips to [email protected]