Eastside neighborhood council elections: Who's running and why
A guide to Los Angeles neighborhood elections in Highland Park, Boyle Heights, Eagle Rock, LA-32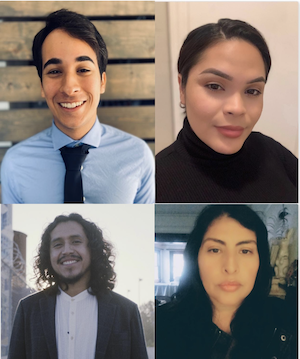 Growing ranks of residents experiencing homelessness. Public transit and traffic-related issues. And crime and public safety.
These are some of the issues affecting Los Angeles residents that the city's neighborhood councils work to address. Residents of those neighborhoods will help choose those council members in several upcoming elections on the Eastside.
Neighborhood councils were created to connect the city's diverse communities to city hall and to let the voices of residents be heard on a more local level. Councils in Highland Park, Boyle Heights, Eagle Rock and LA-32 — which includes El Sereno — all have upcoming elections. 
"What is so unique about this system and organization is that you can vote whether you are undocumented, formerly incarcerated, or a non-resident of this neighborhood," said Estrella Sainburg, Historic Highland Park Neighborhood Council president.
Sofia Anguiano, the city clerk of Los Angeles, said in an email that people can only vote at this point by requesting a vote-by-mail ballot because of the pandemic and related restrictions. Requests to receive a vote-by-mail-ballot begin February 12 for each neighborhood and the deadline for the requests is April 6. All neighborhoods will stop receiving ballots April 13 at 8 p.m., according to the city's list of elections. 
The council members serve as volunteers and are considered public officials. They are held to the local, state, and federal standards like other municipal officials and agencies. 
Elections happen in 12 different regional timelines over a six-month cycle. Board members serve two- terms but it is possible to serve four-year terms.
"They can live, work, own a business, or participate in an organization within the boundaries to qualify. Some [councils] require you to prove this claim with documentation while others ask that you self-affirm," Anguiano wrote.
Many seats on the councils only have one candidate. This guide is intended to help you decide between races with multiple candidates vying for one seat.
Neighborhood council bylaws and statements from candidates running were used to determine which seats are competitive and the statements, which can be read on the elections site, were condensed and compiled for ease of understanding and comparison. Candidates vying for the positions could not be reached because neighborhood council leaders could not share their contact information and those found on social media or elsewhere could not be reached despite messages sent.
Boyle Heights
The neighborhood is split into four areas, each with a seat to be filled.
Area One
This area has two competitors running but only one seat available.
Johnny Echavarria is a third-grade teacher who hopes to fight for affordable housing, fair treatment of local community and family businesses, Medicare for All, a Green New Deal to reduce environmental pollution and create new green jobs, according to his candidate statement. He is a coordinator for the Democratic Socialists of America.
"I understand the pain of families who are struggling to sustain their household, feed their children, pay the bills and ensure that their children are receiving a quality education," he writes in his candidate statement.
 Sharon Alvarez, his competitor, is a first-generation bilingual Christian college student with associate's degrees Administration of Justice and Social Science. She said in her candidate statement that wants to ensure the community continues to improve in developing the area, providing college preparation programs for students, raising awareness about mental health issues, creating different sports recreational programs, and helping low-income families with housing and job development.
"I was born in Managua, Nicaragua. I came to the United States at the age of 5 and was raised in Boyle Heights ever since," she wrote in her statement.
Area Four
This area has two competitors running for one seat that is available.
Brenda Martinez said she wants to help the voice of the Boyle Heights community be heard. 
"My hope is to serve the community honestly, listening to our community's voice. Our communities have been disregarded for far too long," she wrote in her candidate statement. 
Edgar Ballesteros is a high school special education teacher in Koreatown who has lived in Boyle Heights for five years now. He stated in his candidate statement he hopes to advocate, motivate and create change in his community.
"Since emigrating from Mexico when I was eight years old, I have lived in six different apartments all across Los Angeles. I haved lived in McArthur Park, Pico-Union, Highland Park and at the Wyvernwood complex in Boyle Heights for the last five years," he wrote in his statement.
Eagle Rock
Eagle Rock is split into four sub-districts and each has two seats available. Sub-district four was the only competitive race as of late March.
Sub-district four
This sub-district has three competitors for two seats.
James Panozzo, executive director of Launch LA, is currently serving as a representative of sub-district four and hopes to continue to serve, enhance, and protect the community of Eagle Rock, according to his candidate statement. 
"My wife, two children and I moved to Eagle Rock over 11 years ago. I am excited and inspired by the vibrancy, diversity and good will of this community. I see Eagle Rock as a healthy balance of a growing commercial district, an inviting and accepting incubator for creative individuals and enterprises as well as a safe, family-friendly neighborhood," he wrote.
Craig Hirsch, an attorney, moved to Eagle Rock in 2011 with his wife and three kids. He wrote in his candidate statement he hopes to serve the community and show his deep gratitude and appreciation for the community and the city.
"We moved to Los Angeles from New York City in 2008. In 2011, we settled in Eagle Rock. We immediately knew we would plant roots in this wonderfully diverse and welcoming neighborhood," he wrote. 
Richard Loew has lived in Eagle Rock for more than 20 years and served on the neighborhood council since 2019, according to his candidate statement. Loew, an attorney, also said that he has worked hard to ensure that all voices are heard and that the needs and desires of the community are being met. 
"During my time on the [council], I have sponsored a clean-up day for the Eagle Rock Trail, pushed for the creation of signs urging people to wear masks, helped provide food to our seniors, and sponsored various community impact statements filed with the city council," he wrote.
LA-32         
LA-32, which includes El Sereno, is a region that is broken into four regions and two people can be appointed to each.
Both spots are filled in the East and South region and the upcoming election will fill the West and North region seats.
West region
The West region has two seats available and three people running.
Jose Medina is the West region director and has served one full term, according to his brief candidate statement.
His two competitors are Gil Alcaraz and Anthony Lopez but no statement was posted for any of the candidates.
North region
Four people are vying for two seats in the North Region.
Charlene McDonald was born and raised in Los Angeles. She writes in her candidate statement she looks forward to helping her community by being a strong positive influence. 
"I want to help build a stronger, safer, better environment for us to all live in. People need to drop the anger and start to work together. Honesty and integrity mean a lot to me," she wrote in her statement.  
Rick Acosta has been a resident of El Sereno for 60 years. He said in his candidate statement that he wants to address beautification and the rise of crime and homelessness.
"I have been a community activist…keeping the El Sereno Library at its current location. I help organize the El Sereno unity fair on the Huntington Drive North median, bringing the community and businesses together," he wrote in his statement. 
Russel Vergel De Dios wants to make a better neighborhood by encouraging the community to work together, according to a brief candidate statement.
Tom Williams wants to help the community prosper and protect all the residents, especially the kids and students, according to a brief candidate statement. 
Highland Park
Highland Park has 10 at-large director seats available and 12 people running.
Emily Kate Spokes is a current member and hopes to continue the work she has been doing. She writes in her candidate statement the issue she is focusing on is climate crisis intervention.
"My top priorities for this next term are more trees in our environmental justice areas along 110 corridor, stormwater capture stations/plans for several neighborhoods, and work with air quality management to get more air monitors in the neighborhood," she wrote. 
Mary Allison said in her candidate statement that she and her family "love Highland Park."
"I am incredibly fortunate to be raising my own family in such a vibrant and lively community. Prior to COVID-19, we frequented the Arroyo Seco Library and the many shops along York and Figueroa," she wrote in her statement.
Charles Blumsack is a lifelong Angeleno and has seen the area change often, according to his candidate statement. 
"I am running to help keep people in their homes, support our unhoused neighbors and champion local business," he wrote.
Robert E. Diaz wrote in his candidate statement that he has learned a lot in his "short" time as secretary for the council.
"I learned about myself, and my limitations. I learned about this amazing community we have and its complexity. I learned about city regulations and protocols and city officials," he wrote.
Duncan Gregory is currently on the outreach and Public Safety Committee, according to his candidate statement.
"This neighborhood has gone through a lot of changes, but our first priority should be to empower those who have made Highland Park what it is today, and to better understand how we as a board can support our stakeholders that are in need," he wrote in his statement.
Scott Jackson wrote in his candidate statement he hopes to continue building progressive coalitions and to tax the rich and house the poor. 
"I'm committed to combating the damaging impacts of gentrification, homelessness, and displacement. I strongly believe we need our elected representatives to foreground community needs," he wrote.
Shanna Oskin bought her first home in Highland Park in 2018, according to her candidate statement. She is also a member of the Los Angeles chapter of the Democratic Socialists of America.
"I hope to be a voice for the members of the community that aren't being adequately served by the city that too often put the interests of developers, big business, and police unions first," she wrote.
Albert Ching plans to help give a voice to the stakeholders that have made the neighborhood a wonderful place to call home, according to his candidate statement. 
"I've lived in Highland Park for the last six yers, and developed a strong kinship with the neighborhood and the people and places that make it one of the very best places to live, work, and play in Los Angeles," he wrote.
Steve Crouch, Sean-Micheal Bowles, Theresa M. Elorriaga, Emily Lu Aldrich are running but no statements are posted for them.
For someone to be eligible to vote in a neighborhood council election, they must be at least 16 years old and live, work, own real property or declare a stake in the neighborhood as a community interest stakeholder.
Community News produces stories about under-covered neighborhoods and small cities on the Eastside and South Los Angeles. Please email feedback, corrections and story tips to [email protected]