El Monte native joins gaming business — weeks before pandemic strikes in the US
As a kid growing up in El Monte, Rogelio Avila, said he grew up at the local arcades.
He spent so much time at one game store in particular, even in his 20s, that a manager he befriended there taught him about the business.
He applied that knowledge when he started working at a retro video game business, Pixel Vault Games EX in Ontario, in 2018. The business was started in 2014 by Armando Rodriguez, his friend.
Earlier this year, Rodriguez gave Avila the opportunity to be a co-owner. Avila was thrilled.
The business was thriving thanks to its selection of older games and their console repair service.
"We were doing really good in making money and having a steady flow of customers. When we would do the trade events, we were able to have 20 to 25 vendors. We were able to set up a food vendor which would attract more customers," Avila said.
Then, the pandemic struck in March and their business was classified as "non-essential." The shop was closed for much of the time and when it was open, people did not want to come in.
In April, Avila, 40, was sorting through his bills at home and it hit him.
There is no money coming in, he recalled thinking. Damn, what are we going to do?
As he saw other businesses in the area shutter, he wondered if his shop would survive.
By the end of that month, the unemployment rate for San Bernardino and Los Angeles counties had skyrocketed to 15.5 percent and 20.7 percent, respectively. 
Every day, Avila said he hoped that things "get back to some normality…where we are able to continue to make some sort of a profit margin."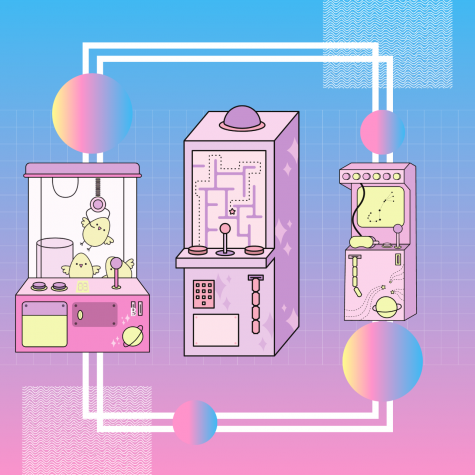 Within months, Avila and Rodriguez noticed an interesting trend: The more people were stuck indoors, the more they craved entertainment, an escape and a way to connect with others virtually. Gaming filled that void for many.
After that initial dip in sales, things turned around for Pixel Vault.
"As a video games business, sales went up during quarantine" in the long-term, Rodriguez said. As of late November, there were more than 93,000 confirmed COVID-19 cases in San Bernardino County.
The shop was recently allowed to re-open following required safety measures, and Avila and Rodiguez also host an outdoor market in the store's parking lot every few months. They set up canopies for shade and have tables featuring their own wares and those of about 10 other vendors.
They set up sanitizing stations for people to use and encourage people to maintain a safe distance from others.
At one of the events, on a Saturday afternoon in early November, the sky was murky and it drizzled on and off. It was the kind of weather where one stays home instead of venturing outdoors.
But for die-hard gamers, this wasn't an ordinary event.
What made it special is that it, like the shop, features old, niche, hard-to-find retro video games. Games that are sought after. Nowadays you would be lucky to find them at all, let alone in mint condition and inside the original packaging.
Almost an hour before closing, the crowd wasn't letting up. Most shoppers seemed not to take notice of the light showers, their eyes fixated on old-school Nintendo, Sega and other games.
The games sold like hotcakes. Avila wasn't surprised.
"Typically, towards the end of the day, people start selling like nobodies' business," he said, walking around the market, scanning the aisles of merchandise being sold by other vendors, mostly his friends and acquaintances.
As he moved to the end of an aisle, he eagerly picked up a game case, "Shadow of the Colossus," smiling because it was a popular game in his youth.
He put that one down and continued hungrily taking in the sight of the video games displayed.
Another game caught his eye: "Tekken Tag Tournament," a 15-year-old retro fighting game.
He checked the price: $5. It was a steal and he pulled out his wallet for some cash.
Even the organizer can get some deals at the event, he thought.
"Our priority is for everybody to have fun, make money, of course, but to show everyone that we are here to help the community of gaming," he said as the event was coming to a close.
Customers like Christen Montes, who attended the event, said he's glad he attended.
"These events are important because they're nostalgic. To be able to revisit your childhood by playing these older retro games, really gives me true enjoyment and I love rekindling that passion," Montes said. "Video games are one of the things everyone relies on right now. We are isolated. We can't go out. We can't party. Video games give me that freedom right now to explore."
Community News reporters are enrolled in JOUR 3910 – University Times. They produce stories about under-covered neighborhoods and small cities on the Eastside and South Los Angeles. Please email feedback, corrections and story tips to [email protected]