Healthy food, anyone?
In 1826, French lawyer Anthelme Brillat-Savarin wrote, "Dis-moi ce que tu manges je te dirai ce que tu es." In English that translates to, "Tell me what you eat and I will tell you what you are."
It could be said the other way around, "you are what you eat."
Does that mean that if people choose to eat healthy, they're healthy? Or, does it mean that if people choose to eat unhealthy food, then they are unhealthy?
Good nutrition is important to keep people healthy, according to the Centers for Disease Control and Prevention. When the option to eat healthy is not accessible, people may settle for food that is not good for them.
Gregory Cercel, a biology major, has been a student at Cal State LA for four-and-a-half years.
"There's plenty of food options to choose from on campus," Cercel said. "But, if students choose to eat something that is unhealthy, that is their choice."
College students, as opposed to high school students, have the option to eat on or off campus.
"I usually bring food from home for lunch or buy something from El Pollo Loco," said second year natural science major Maria Contreras.
Their BRC burrito is 410 calories and is packed with rice, pinto beans and shredded jack cheese on a flour tortilla.
Students can eat a nutritious meal for breakfast, lunch or dinner at Café 47, which is connected to the library and across from King Hall and the music building. They can grab a hot or cold sandwich or pastry of their choosing.
Everytable is a spot that is inside the library, with another location inside Salazar Hall that serves fresh food to students. Their chicken pesto wrap is 620 calories and 33 grams of protein.
If students are in a hurry to get to class, then they might want to stop at Juice It Up and grab a smoothie, like a Might-C Immunity Juice.
The Mighty-C Immunity Juice has a mixture of orange, pineapple, apple, red grapes and ginger. This drink is loaded with 304 grams of Vitamin C and is 190 to 410 calories, depending on the size ordered. There are more to choose from while students are waiting for class to begin or on a break.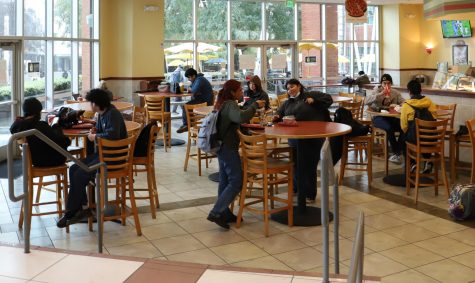 Finally, there's Sbarro, which serves Italian food like spinach, chicken and four cheese or pepperoni stromboli, New York style pizza, or pasta.
Their food items are mostly gluten free and vegan, according to Sbarro's website.
"Eating unhealthy is like picking up a bad habit," Cercel said. "People tend to blame somebody else, when it is ultimately their fault."
Students are always on the go and too focused on getting to their next class. They can be busy studying or working and tend to eat fast food since it's quick for anybody on-the-go, like most of the Cal State LA population are.
There are health problems that students can face if they don't take the time to eat a nutritious meal. Eating unhealthy can lead to cancer, heart disease, obesity and type II diabetes.