Learning hindered, memories never made
High school and college students reflect on their education during the pandemic
When a fire in Brentwood led her university to close this fall, Jasmin Chavez was bummed but she took solace in knowing she'd soon be back on the university's idyllic campus in the Santa Monica Mountains.
Chavez, who lives near South Los Angeles, figured she would make lasting memories in class and during senior activities in the final months of her college education. Most importantly, she would have the opportunity to do what her parents had not: graduate college.
That's why she was devastated when she learned that, amid the coronavirus outbreak, her university would close. Again.
"As a senior in college, this is supposed to be the biggest accomplishment for me. Instead, my senior year has mainly been remote," she said. "I have lost 99 percent of my motivation to finish because this year of college has been the worst."
High school and college students across the state are grappling with the realities of losing out on extracurricular activities and time to socialize with their peers and teachers. They are also struggling to learn from home without the resources they need and beside family members who may not understand college workloads or siblings who need to be fed and helped with their own classwork.
Nearly 30,000 people in Los Angeles County have been diagnosed with the coronavirus and more than 1,400 people have died. As the pandemic escalated in March and Gov. Gavin Newsom issued a "Stay at Home" order, high schools and universities shifted to remote learning to minimize the spread of the virus.
Classrooms are now students' own homes where their family and roommates take part in lectures, too.
The rhythm students had at the start of the semester was put on hold, which has led some students to lose their motivation. Scenarios of dropping classes, lists of at-home responsibilities, and thoughts of how to make up for the lack of needed resources run through students' minds.
Some are working from extremely cramped quarters. Although three people live in a household, on average, in L.A. County, according to U.S. Census Bureau data,  neighborhoods such as East Los Angeles and Huntington Park are closer to four people per household.
Christian Preciado, a California State University of Northridge student, said his family of five lives in a two-bedroom apartment in Koreatown. Preciado said having space to study isn't easy to come by.
"I don't have my own space to study," Preciado said. "Everything is a shared space in my home."
On campus, CSUN students can study at the library, the student union and outdoor spots around campus.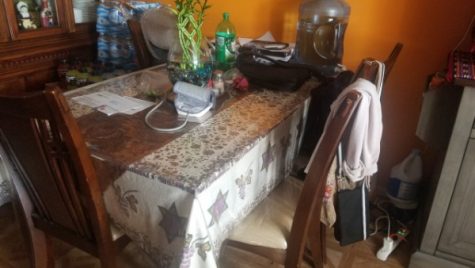 At home, Preciado said he's typically relegated to the kitchen, or if he's lucky, his mom's bedroom.
"Initially, I thought I was going to be relaxing and have fun," Preciado said. After all, he would be saving many hours per week on commuting.
But he has been busy driving his mom to and from work and when he's in an online class or studying, his family members often try talking to him and they use the kitchen often, so the noise can be distracting.
"The constant distractions from my family really prevent me from paying attention in class," he said. "It makes me feel like I'm not trying hard enough in my classes and annoyed that I'm unable to give my classes my full attention."
Cal State LA student Disha Vekaria and her family of five are in a similar situation in their 2-bedroom home near MacArthur Park.
"A regular day in the house is frustrating even during school time, so imagine now," she said. "My house is a zoo!" 
Before social-distancing, Vekaria did most of her schoolwork at the campus library.
"It's peaceful and quiet with no one yelling or shouting," she said. "Now, I just cannot handle myself doing my assignments at home." 
Vekaria, a sophomore, and her two siblings share a room where they study. She and her sister, who is also attending Cal State LA, have certain classes at the same time.
"I certainly do not have my own study place nor the space to study. It's very frustrating," she said.
She tries to keep herself balanced during social distancing by working out or doing puzzles and word searches but often, she finds herself waking up in the afternoon — with half the day gone.
"I have become lazier than ever and I truly feel I am becoming dumber day by day," she said. "Being at home all day is driving me insane…and making me feel trapped, shattering my dreams and hopes of making a difference in my life."
Besides the difficulties of studying from home, she simply misses the interaction she once had with her professors and classmates.
"The professors made it fun. They kept it interesting and not boring," she said, referring to some of her favorite classes, including Studio Production and Digital Media.
Though professors seem to be doing their best, she said, in-class interactions can't be replaced with cameras.
"They joked around with us and basically were teaching us for understanding, and not a grade," she said. 
Some high school students are dealing with similar difficulties and miss their educational support system.
Eagle Rock High School junior Pearl Buckly said she didn't realize how much she counted on her friends and teachers to help her through assignments.
"It's…hard when you don't have a class you go to every day with friends who can be like, 'Have you done this assignment?' 'Oh no, I haven't,'" Buckly said. "There's no teacher who's reminding you that you have any overarching assignments and there's no friends that you can do assignments with or anything. It's just kind of me, at home being sad with my workload."
Plus, she said being home with her dad and cat makes it "really hard to concentrate."
Not having a normal morning routine — getting dressed and ready and heading out for class — has been tough for high school sophomore Mireille Karadanaian.
"I didn't think I'd miss it," Karadanaian said. "I believe that sometimes when you dress nicer, you feel better. And it can get a little debilitating to wear the same things [even] comfy gray clothes every day."
Karadanaian said that she misses her friends from school but it's reassuring to know that her grades can't go lower than they were before the transition to online classes because of a Los Angeles Unified School District policy, according to the United Teachers of Los Angeles website.
"We're all in weird and strange and difficult situations right now," Karadanaian said. "So I think that [the grading policy] is very beneficial to people who might not have the ability to do their best and it would be kind of unfair to penalize them for that."
Students say that creating a regular schedule for themselves has helped, as does making time for exercise and downtime.
Sara Goldstein, a sophomore at Eagle Rock High School, takes 25 minutes out of her day to exercise on her elliptical or follow an exercise video.
"I find that I feel much better afterwards and I feel it's a little bit easier to focus," Goldstein said. "I've tried to develop healthier habits just because I know that I need to keep on top of my work and I know that a big part of mental health is physical health."
For students who are juggling jobs and responsibilities at home on top of school work, working out or going out for fresh air can feel like a luxury.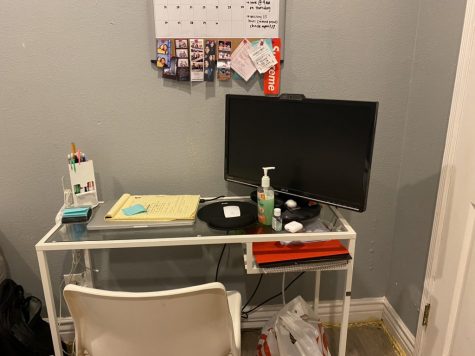 "After I'm done with my school work, even just walking to my front yard feels a lot like freedom, but it rarely [happens] because my days usually end late," like Chavez, the Mount Saint Mary's senior. "I don't leave my room all day because I work from home. So, throughout the morning, I am either in meetings or creating ideas for social media as I do work in that field."
Chavez, a business administration major with an emphasis in marketing, said she spends most of her day looking at her laptop for work then attending class for three hours on her laptop.
Six people live in her home in the West Adams neighborhood, including five who are home during the day and must share common areas.
"My housing situation is pretty crazy," Chavez said. "Someone is in the kitchen while someone could be in a meeting at the dining room table which are both adjacent to each other. You could see how that could be very distracting."
"Being at home all day can become very overwhelming, frustrating, and believe it or not tiring," Chavez said.
Part of what's exhausting is that there are always things to be done at home.
"In any Hispanic/Latino household, space isn't really a thing. Parents usually always come into rooms or ask for help with things around the house no matter the day or time. I think it's mainly because they don't understand the actual workload of a college student," she said. "Being at home just creates this urgency where I always have to be willing to drop what I'm doing to help someone at any time."
With her dad working nights for FedEx and her mom going in on weekdays for her county job, Chavez feels the pressure to make sure the sink isn't filled with dirty dishes. 
"I always find myself trying to hurry to wash dishes or clean up before they come home just so they would have one less thing to worry about," she said.
The family's hard work over the years, and the stress of recent months, may pay off soon: Chavez said her university has announced that as long as there aren't major public health concerns at the time, it will hold an in-person graduation ceremony in August.
Community News reporters are enrolled in JOUR 3910 – University Times. They produce stories about under-covered neighborhoods and small cities on the Eastside and South Los Angeles. Please email feedback, corrections and story tips to [email protected]