Men's soccer captain bounces back from injury last season to lead team to second championship in two years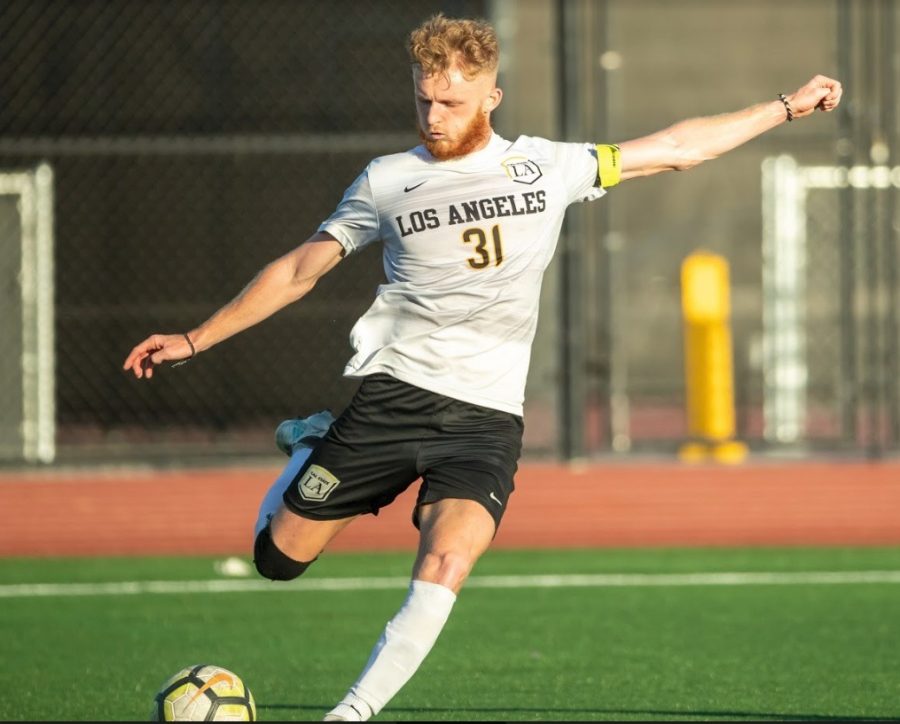 Coming into the 2017 soccer season, Cal State LA's Samuel Croucher was in high form. His training and conditioning, along with his gym workouts, kept him in top shape. In addition, Croucher kept up his skills practicing in a local summer league.
On a mild summer day in Orange County, Croucher looked forward to playing in his off season league. It should have been like any other game for Croucher, only it wasn't.
With only ten minutes left in the game, Croucher was slowing down to close in on someone. He took a step in the wrong direction and hyperextended his knee.
As he walked off the field, he knew something was wrong right away.
"It wasn't anything bad," Croucher thought repeatedly that night, trying to convince himself. Unfortunately, athletic trainers confirmed it the next morning that he had torn his ACL and would miss the entire 2017 season.
As he began accepting it, shock and despair overcame him. He said it was "the saddest and hardest situation" he had ever encountered.
It was particularly difficult coming after the 2016 season. He started all 19 games for the Golden Eagles, was third place on the team in minutes played (1,696), earned an All-California Collegiate Athletic Association honorable mention, and was named to the CCAA Championships All-Tournament team.
Croucher, who is now pursuing his Master's degree in finance and has a 4.0 grade point average, was named last month to the 2018 Google Cloud Academic All-District 8 Men's Soccer Team — along with his teammate Robin Lindahl. The award recognizes the nation's top student athletes.
"It's a lot of hard work and good time-management," said Croucher. "If I'm stressed in class, I don't take it onto the field with me. The field is my release from stress."
Originally, Croucher first came to the United States from Derbyshire, England to play soccer for San Jose State University in 2013. In 2015, Croucher transferred to Cal State LA. The decision to go from a Division I to a Division II school was simple: Croucher wanted to win.
"You only have four years to compete as a student-athlete and winning championships was something everybody dreams of," he said.
After an amazing second year, the injury could have led a downward spiral. But Croucher was determined not to let that happen.
A few days after the diagnosis, he focused on working hard to rebuild his body and keep his spirits up so he could make a comeback.

"I think this mindset really helped get me through" it, he said.
That season, the team had to shuffle players around to fill the void at mid-centerfield.
The Golden Eagles finished the 2017 season with 14 wins, 5 losses and 3 ties as they captured the 2017 CCAA Championship.
Seeing his teammates win without him only motivated Croucher even more to get back onto the field. As the 2018 season started getting underway, the Golden Eagles' team captain was ready to return.
He had been named captain in 2016 because of his ability to communicate effectively with everyone on the team — regardless if they're older and more experienced or new to the team — and because of his work ethic, energy and positive outlook, according to Golden Eagles head coach Chris Chamides.
"Of all the players we had through the years, he exemplified that on a daily basis," Chamides said.
Croucher said it was a huge honor: "I like to do the right things and I lead by example…The boys that I work with they're amazing and I love being able to lead them out on the field."
As the 9-week season was winding down, the team prepared for the finals of the CCAA Tournament at Triton Soccer Stadium in La Jolla, California — the site of its 2017 championship victory.
The opponents were none other than the Cal Poly Pomona Broncos, the same team Cal State L.A. defeated last year to win the Championship.
After a scoreless first half, the pressure was on both teams. Finally, the Golden Eagles' Robin Lindahl scored the first goal in the 84th minute.
The game was still far from over.
With less than four minutes left, the ball broke to Croucher on the edge of the goal box. He passed it to Daniel Simonis, who delivered the shot to Carlos Zarate.
Zarate swiftly kicked the ball. Goal!
Soon after, the rest of the team rushed onto the field to celebrate its victory. At long last, Croucher was able to celebrate with his coaches and teammates and hoist the championship trophy in the air.
"Being the captain and lifting the trophy, that has to be the best and most memorable experience I've had as a soccer player," said Croucher.  "It showed me that even in the toughest of times and through the darkest of moments with perseverance and commitment you can come through better and stronger."
About the Contributor
Anthony Quach, Sports Editor
Anthony Quach is a journalism major in his senior year at California State University, Los Angeles. He began as a contributing writer for the University...