First comes love, then comes marriage, then comes the COVID-19 global pandemic
A personal essay about my first year of marriage
My husband and I are planners. He's an engineer and I'm a journalist. We analyze situations far before making a definitive decision.
We decided that we wouldn't get married until we were sustainable. That was the deal.
The late nights I spent studying and working on class assignments in community college and at Cal State LA seemed to be paying off. I was editor-in-chief of my school newspaper. Daniel, my husband, was promoted as the vessel engineer at his engineering firm. We were doing it. We were becoming real, independent adults.
So, we thought we were stepping onto solid ground when we tied the knot on Jan. 3, 2020.
That morning, my mom helped me put on my wedding dress; the dress of my dreams, inspired by the Veracruz Folklorico skirt, that we designed together and was later carefully hand-made by a family friend. My sister drove me to the park, where my soon-to-be husband waited at the altar. 
It was a beautiful day. There was a chance of rain but the clouds mostly stayed away — seemingly just for us. 
We danced and partied all night not realizing that a global pandemic was just beginning to spawn overseas. 
On the day my husband and I said our wedding vows, President Trump's intelligence briefing included an alert about the COVID-19 virus, according to CNN.
After the wedding and the honeymoon, we began to recover financially. Daniel went back to work as an engineer while I continued my education and worked as a student assistant for the University Times at Cal State LA. 
We put our names on a waiting list for a corgi, our dream dog. We hoped that it'd be the lesser expensive start of our family. Though corgis are about $3,000 each, we figured it's way less of a cost than caring for a human at this stage of our lives.
Around February, Daniel's survival instincts started to kick in. The ominous news articles of the pandemic started popping up on our phones more than before. The warning signs began to grow louder and more intense. 
By March, I found myself in a supermarket watching Daniel take cans of food off the shelves, along with a giant bottle of vodka that could function as either disinfectant or as a form of stress release; we didn't know which at the time. 
I tried to hide in my oversized jean jacket, embarrassed at the idea of hoarding food and booze that didn't seem necessary. A week later, Daniel was working from home and Cal State LA had moved my classes online.
In our little apartment, Daniel and I tucked ourselves away from the world, determined to do our part in not spreading the virus. Since March we've been each other's roommate, co-worker and spouse. Some days, he is the only person I interact with.
Within the walls of our apartment, it seemed all we did was work. We worked hard. We knew that if we were going to get through this pandemic, it was going to be because we had the money to do it.
Unfortunately, I wasn't able to continue working as a student assistant over the summer and Daniel lost his job at the engineering company — both coronavirus-related losses. Unemployment became our main source of income.
We continued trying to find work-from-home opportunities. Concerned, Daniel checked the upcoming rate for renewing the lease on our apartment. It would go up $300. This meant losing our independence, our corgi and our sense of stability.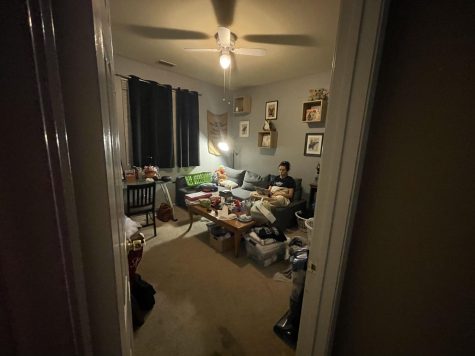 We sat on the couch together crying, knowing what he had to do next. Like I said, we always thought out our plans. We always had what we called a plan "Z," but we didn't think that it would come to this, or least had hoped it wouldn't. 
We called Daniel's parents and asked to move into their house. They agreed. 
Right when we hung up, the corgi breeder messaged me and told me we had the first pick of the litter. Our beautiful new puppy was ready to be chosen. With a steady stream of salty tears still running down my face, I declined. If we couldn't handle living on our own, we weren't ready for the expense of a dog.
We leave our beloved apartment this month. We've started packing up, knowing that home really is where the heart is. It's not confined to the walls of our first apartment. It is with my husband and our family. So long as we keep planning, we're bound to be sustainable again someday.
Community News reporters are enrolled in JOUR 3910 – University Times. They produce stories about under-covered neighborhoods and small cities on the Eastside and South Los Angeles. Please email feedback, corrections and story tips to [email protected]
About the Writer
Marisa Martinez, Audio Editor
Marisa Martinez is a senior at Cal State LA majoring in Journalism. She has served as managing editor, editor-in-chief, digital editor and now audio editor...