South Village dining employees report 'filthy' and 'hostile' work environment
Note: This story contains profanity.
For many students, and especially for those living on campus, the Cal State LA South Village dining hall is a haven of food options.
But for some employees, the dining hall is "horrible."
Two employees and a former employee told the University Times they allegedly witnessed a number of problems while working at the dining hall, including "unsafe" and "dangerous" food preparation as well as interpersonal conflict that includes racism, nepotism and grand theft auto. They said they feel these things will all impact students' dining experiences and food quality.
While the South Village dining hall is located on the Cal State LA campus, the dining hall is run by Aramark, a company that provides many services, including food service, facility management and uniform services, with headquarters in Philadelphia. Aramark serves over 275 colleges and universities, according to its website.
An Aramark spokesperson said that "nothing is more important" to the company than food safety and they're conducting internal investigations into the allegations.
"Cal State LA does not support or tolerate the deplorable behavior alleged in your inquiry," a Cal State LA Public Affairs spokesperson said. "[T]he University requires contractors to abide by state and federal workplace laws. The allegations in your inquiry have been shared with Aramark."
The kitchen
"I would advise that y'all try to walk out or strike or something," said Jack Roberts, a head line cook at the South Village dining hall, who is on leave. "The food service that y'all are getting, the quality of food, the preparation of the food—it's horrible. There's a lot of stuff going on in that kitchen and in that facility that's unheard of at any other job I've ever worked at."
Roberts said he has been on leave, by choice, from work for around two months now.
The kitchen is a mess, dishes are not being washed and cooking utensils and machines in the kitchen were seen uncleaned multiple times, for days on end, Roberts and one other employee and a former employee alleged to the UT.
One employee, Kamal Hawkins, said he checked to see if these items were cleaned each Friday, and often, they were not cleaned.
Roberts also said he regularly sees employees not wearing gloves, hairnets or masks, which he said is "nasty" and against the Health and Safety Code.
"[A]ll food employees preparing, serving or handling food or utensils shall wear hair restraints, such as hats, hair coverings or nets, which are designed and worn to effectively keep their hair from contacting non-prepackaged food, clean equipment, utensils, linens, and unwrapped single-use articles," according to the California Health and Safety Code – HSC § 113969.
Hawkins, a cook prep for Aramark, has seen this as well, even from management.
"They'll go in the office, do this and that, touching everything, and then come back and touch the meat and other food," he said. "That's fucking gross."
Food employees need to "use utensils, including scoops, forks, tongs, paper wrappers, gloves or other implements, to assemble ready-to-eat food or to place ready-to-eat food on tableware or in other containers," according to Section 113953.3.
Hawkins also claimed that the dining hall kitchen has broken many Health and Safety Codes. 
"If the health and safety inspection unit came to inspect that kitchen right now, they would fucking fail," Hawkins alleged.
While Cal State LA has been inspected by L.A. County, according to the L.A. County Public Health Inspections website, it is unclear if any of these inspections were for the South Village dining hall. The dining hall being a relatively new building on campus is a likely reason for this.
Roberts advised students to stop eating at South Village dining because he feels that for the amount students pay to go to Cal State LA, students should be getting better quality food.
South Village residents are required to purchase a meal plan, according to Cal State LA's website.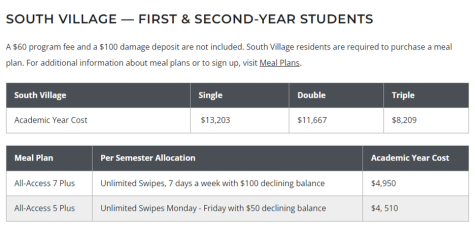 The cost of living in a dorm only increases for upper division and graduate students, but there are more options for meal plans—all of which are cheaper than the meal plans for first-and second-year students. None of these meal plan options for upper division and grad students include unlimited swipes.
Neither of these factor in the cost of tuition on top of dorm living and meal plan costs.
"That facility, that place, is something like you can't believe," Roberts said. "It's dangerous to eat there. I have never, ever had a job like this. It is really horrible in that kitchen."
Roberts claimed nothing has changed since he left.
"I don't plan on going back until some of this stuff has changed because I don't want to have my name attached to any of the stuff that's going on around there," he said. "I still technically work there but I don't really care about the job. I love the kids there and I really hate for something to happen to one of y'all because of this foolishness going on in the kitchen."
Roberts and Hawkins feel that management has not done enough to correct these issues.
The UT sent all of the claims to Aramark Food Service Director Carlo Arceo via text and email. Arceo said via text that he would forward all of the information to corporate.
A former employee, Lametria Scott, also said that the kitchen is not clean like it should be. She mentioned dirty dishes and infrequent cleaning, claiming that everyday cleaning in the kitchen is something she did not see done. Scott put in her final notice to Aramark the day before she was interviewed by the UT.
"They didn't even have a cleaning person," Scott said. "That's quite disturbing to me because those dishes you guys have now are not disposable. On top of that, they don't even have enough staff to possibly clean up on an everyday basis because the turnover is so high. Nobody wants to work there."
These claims are disputed by management that works on campus.
"Our kitchen is definitely clean and cleaned to meet L.A. County standards," Arceo said to the UT.
An Aramark spokesperson said they conduct numerous pieces of training on food safety.
"Nothing is more important to Aramark than food safety and the customer experience we deliver," Heather Dotchel, a representative of Aramark corporate communications, said. "We take all customer concerns about food quality very seriously and investigate everyone that is brought to our attention. Our food service staff is also engaged in a learning environment that includes a food safety orientation and service excellence training before associates start work, ongoing manager and associate food safety training, and job-specific training to continually reinforce safe practices."
Melissa Vega, a psychology major who lived in the dorm during the summer, alleged she experienced frequent stomach aches.
"I never had issues with food until I started to dorm," Vega said. "[I was] constantly nauseous and couldn't stomach food for long. Since I went back home for three weeks, all those issues went away."
Vega claims she saw dirty plates and smelly cups while in the dining hall and heard similar complaints from other residents.
Racism and discrimination
Both employees and the former employee interviewed by the UT described a tense and hostile work environment that involves claims of racism and discrimination.
"We have problems with major racism going on," Roberts said. "All the staff are at odds with each other over racism issues. It's causing the employees to fight and argue amongst each other." 
Hawkins shared other allegations with the UT.
"I had gotten suspended for coming in late and I was a little upset about that," he said. "This was my first suspension. Another co-worker [who was Latinx] came in late, but he didn't get suspended. I only came in late once and he came in late over 10 times. That doesn't make any sense."
The kitchen is largely Latinx and Black in ethnic makeup and Hawkins, Roberts and Scott—all three of whom are Black—feel that the Latinx people in charge at the dining hall mostly only punish the Black employees. 
Hawkins felt his suspension exemplified that, since he alleged the co-workers who wasn't penalized for being late numerous times were Latinx, like the manager punishing him.
Feeling distressed and frustrated, Hawkins said he decided to reach out to the U.S. Equal Employment Opportunity Commission (EEOC) to consult with them about his rights as a worker.
He first had an appointment with the EEOC July 14, 2022. Hawkins claims that in that meeting, he was told his complaint was admissible to proceed with the claim. From there, he was scheduled with another appointment for Dec. 9, 2022.
Hawkins said that in the December meeting, he will meet with his case manager and get more information on what happens next.
"I noticed unfairness," he said. "I noticed that they will make [Black] people do more of the work and have [Latinx] people not do as much work. You have to discipline all the employees the same way."
Hawkins alleged he was suspended on his first warning. 
Hawkins thinks Latinx people in charge at the dining hall are trying to find reasons to fire Black employees.
"You have Black employees watching [Latinx] employees take two, three-hour breaks, do what they want to do and then management cracks down on Black employees for [minor things]," he said. "They'll tell me, 'Hey, you came back seven minutes late from a break' and I'll be like, 'Did you see that other guy just walk off three hours and come back?' So it's a very racial and hostile environment. It is pretty much the Blacks versus the [Latinx people] there."
Two of the employees interviewed, Roberts and Hawkins, said that multiple Latinx people take multiple hour breaks, seemingly without punishment or attention from management.
Aramark Food Service Director Arceo didn't address these specific allegations but denied that any racism or unfair and unequal treatment has occurred.
"As far as racism, we have a very diverse location," Arceo told the UT when asked about these claims. "We have different employees from different races."
Alcohol
Both Hawkins and Roberts said they have witnessed a co-worker allegedly consuming alcohol while on the job, as well as bringing various bottles of alcohol to work.
This co-worker declined to comment on these allegations despite multiple attempts.
"We have people here who are really unprofessional, being intoxicated at work," Hawkins said. "Management won't do anything to them if they're [Latinx] but they're quick to set up a meeting for discipline if it's one of the Black workers doing something nowhere near as serious."
The UT viewed video footage, provided by Hawkins, of what appears to be an employee with a bottle of alcohol at work. All three sources claim the man in the videos is the same co-worker.
Hawkins alleged that he texted Arceo about these allegations and provided him with video evidence.
"I was sent videos but none of those that I received has an employee drinking alcohol nor drunk," Arceo told the UT.
Workplace safety
In August, Scott's car was stolen while at work.
Last Wednesday, her former co-worker, Erick Ferguson, was allegedly arrested on the Cal State LA campus, according to the Inmate Information Center (IIC) database. Scott alleged it was as a result of her car theft case.
Ferguson was arrested at Cal State LA on Sept. 28, 2022, according to Scott and the IIC database. The charge type is felony and Ferguson is currently in the court process and has not been convicted regarding this case.
He is the same employee who all three sources alleged frequently brings alcohol to work and drinks on the job.
Ferguson did not give the UT a statement regarding these allegations despite numerous attempts.
"The reason why I'm not there anymore is because my car was actually stolen," Scott said. "One of my colleagues went into my purse, took my car keys, and my car was completely stolen out of the parking lot."
When Scott discovered her car was stolen, she called campus police and filed a police report with Officer Vargas, according to Scott.
Vargas declined to comment but referred the UT to the Cal State LA Chief of Police, Larry Bohannon. As of publishing, Bohannon has not gotten back to the UT despite multiple attempts.
"The department is investigating the allegation of a car theft," a Cal State LA Public Affairs spokesperson told the UT.
Scott did not provide the UT with a copy of the police report by the time of posting. The story will be updated online if the UT is able to obtain a copy.
"We are conducting internal investigations into these allegations as well as cooperating with campus police where appropriate," an Aramark spokesperson, Dotchel, said.
Nepotism
Both employees and the former employee interviewed believe that so many issues have continued to be allegedly unaddressed because of nepotism within the kitchen and dining hall.
Roberts feels this, along with racism, is the reason Black employees are treated differently than Latinx employees there.
"[Multiple people] in management, either their child works there or a boyfriend or girlfriend works there," Roberts said. "They're not gonna say anything to their coworker's boyfriend or their coworker's son. So their kids and their spouses and everything are allowed to do whatever. Then you have a Black employee and they might have the wrong shoes on and then get written up."
There are a handful of workers who are related or in relationships within the workplace, according to all three sources.
Roberts also claimed that one of the top employees has a sister that works for HR and "that's why when you file a complaint, it goes nowhere."
A Latinx supervisor would allegedly have her son come and do easy work, according to Hawkins.
This supervisor did not provide the UT with a statement despite multiple tries.
The mental toll
Both employees and a former employee who spoke with the UT also expressed that working—in what they say is a bad work environment—has taken a toll on them.
"I took this job because the job was awesome. It's like barbecuing for kids every day," Roberts said. "The things that have transpired since then just made the job real ugly. They have low staff because people don't want to come to work. They don't want to deal with the racism, the problems, they don't want to be picked on and they don't wanna be targeted."
Hawkins expressed similar thoughts.
"This shit is crazy," Hawkins said. "I've been going through it mentally. I'll be up for hours just thinking about everything that's happened and I wouldn't understand. I've been taking a break because it's really been driving me crazy. This shit is not right."
Worse of all is Scott's mental health.
"I'm having a mental breakdown," Scott said. "Even when I brought myself to campus [after my car was stolen], when I was parking the other day, I had anxiety. My house keys are still missing."
Any criminal activity on campus should be reported to Cal State LA's Department of Public Safety at 323-343-3700.
Anyone with concerns about discrimination of any form is encouraged to contact the University Office for Equity, Diversity, and Inclusion at 323-343-3040 or [email protected].