Starting off Black History Month with the theme of Black resistance
"What is your resistance?"
This is the question that special guest, Dr. Julianne Malveaux, asked everyone at the Black brunch event on Feb. 2.
Hosted by the Division of Student Life and led by Chriztopher Johnson, Isis Stansberry and New Student and Family Engagement, this was the first of many Black History Month events on campus.
Malveaux, dean of the College of Ethnic Studies (CoES), welcomed everyone to the celebration and gave a speech that focused on Black resistance and Black resilience.
"We are the campus that could do better. We have work to do in this Black History Month," she said. "What must we do? We must stand up. We must fight and we must do our work. And the work is about social, political and economic justice."
Malveaux asked the audience to reflect on how they were making our campus whole and how they were reaching out to share collective pain.
"I need y'all to embrace resistance," Malveaux said. "Resistance to the status quo means making us a better campus, means embracing reparations, means students' success, means possibility, means embracing each other."
When it came to choosing which speakers to have at the event, psychology major Adrianna Boyd, a student specialist for the PASRC, said that the intention was to allow those with Black voices to be heard.
"Cal State LA has some very inspirational Black-identifying faculty members that showed an interest in speaking at Black brunch," Boyd said. "All individuals have a passion in general for Black History Month and creating a space for Black joy and we just knew them speaking their truth would enrich the event that much more."
Boyd assisted with finding which restaurant to cater from, documenting the event for PASRC social media pages and helping with what merch would be given out.
The first 40 students received the book "How We Heal" by Alexandra Elle for free. The event was located in the Golden Eagle Ballroom and brunch was catered by local hotspot BlaqHaus Noho.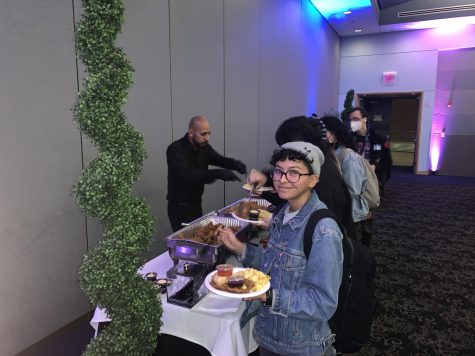 Television, film and media studies major Rosemary Ché thought the event was well organized.
"I loved how one of Maya Angelou's poems was shared at the event," Ché said. "That was my favorite part of the evening. The event was very classy and I felt welcomed as soon as I stepped inside."
Ché thought that the food and the music at the event were amazing. Her personal favorite food that was served was the greens.
"I wasn't expecting myself to get up and dance but I did anyway. I loved how there was a variety of music for people of all ages at the event," Ché said.
Boyd was not in charge of picking the DJ but she was excited at the songs played because they were mainly universal family favorites that everyone could dance to and participate in.
"The music made [me] feel like I was at a traditional Black cookout," said Tera Goodstin, a computer information systems major.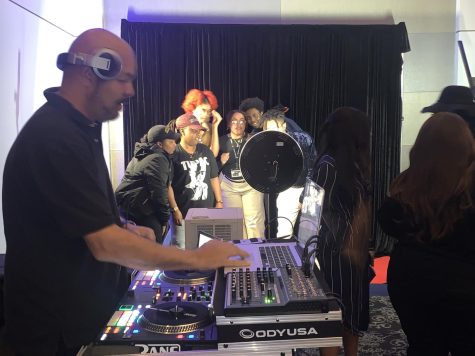 Students gather for a group picture at Black brunch. Photo by Braylin Collins.
Ché attended the event because she wanted to meet more Black students on campus and gather a sense of community while she continues her Cal State LA journey.
"I thought the event was a great mixer to meet more Black students on campus," she said. "I also loved how I could meet some new faculty while seeing familiar faces at the same time."
LeAnna Wright is a cook at Cal State LA and she plans to be a Golden Eagle in fall 2023.
"I think the event was planned beautifully," Wright said. "I attended because I love to support my culture, especially during Black History Month."
Boyd thinks that the photo booth was an amazing touch to the event and that Black brunch turned out to be amazing.
"We forever have memories of those who showed up," she said. "They are now posted in the Pan African Student Resource Center space in the CCC. I was very excited at all of the faculty and students that were in attendance. Even more excited to meet new faces."
The Pan African Student Resource Center will be working directly with every Black History Month event on campus, according to Boyd.
"I will be at all of them to connect more with my fellow Black alumni on campus because these events truly bring us all together," Boyd said.
There are many upcoming Black History Month events such as the diasporic Pan-Afrikan discourse, Black excellence at Cal State LA, Black alumni mixer, food as resistance, discover Black LA, Black joy red carpet and many more.