What can be learned from housing successes in Eagle Rock?
A conversation with activist Jane Demian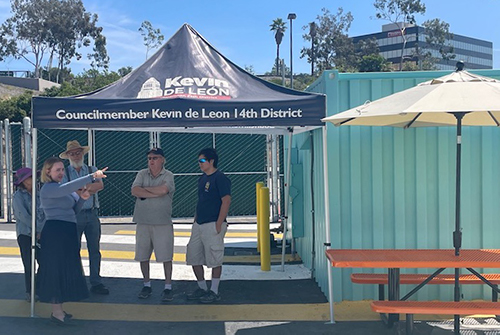 If one looks carefully, the Eagle Rock and Highland Park neighborhoods of Los Angeles have had some recent successes in the affordable housing arena that other communities can learn from, according to activists for the homeless.
There's the Arroyo Seco Tiny Homes project that opened in November of 2021; the Eagle Rock Tiny Homes project that opened in March 2022; and the proposed $24 million Colorado East supportive housing project, due to open in December 2022.
Before that, in 2019, a group of tenants in Highland Park fought to reverse a mass eviction in a building at the corner of Avenue 57 and Monte Vista after they were threatened under the Ellis Act, a 1985 state law that allows landlords to evict tenants in rent-controlled units and remove the units from the rental market.
Community members in Eagle Rock and members of the L.A. Tenants Union led a group that advocated for tenants in a bungalow court on Eagle Rock Boulevard, ultimately helping them and a 91-year-old resident reverse the eviction.
Challenges like that remain. The number of individuals who become homeless continues to outpace the number of individuals housed in L.A. County, according to the Los Angeles Homeless Services Authority.
Jane Demian, an Eagle Rock Neighborhood Council homelessness liaison, said that solutions lie in increasing access to low-income affordable housing, changing how we perceive our unhoused population, and advocating for those who need help.
Demian spoke about the underlying causes and potential solutions to the housing and homelessness epidemic in a recent interview with UT Community News.
What led to your involvement in Eagle Rock and on the neighborhood council?
"I was born in Los Angeles. I moved to Eagle Rock in 2010, and I decided to become involved in the community.  I became a member of the [The Eagle Rock Association] Board. I like digging into policy issues. In 2018, members of TERA and the Eagle Rock Neighborhood Council, were concerned about the numbers of unhoused individuals living on the street in Eagle Rock, so we organized a community discussion on homelessness to explore reasons why and find solutions."
How have you worked to help people experiencing homelessness in Eagle Rock?
It started with a community discussion on homelessness in 2018. "We used a format where people would come together, sit at tables and they would just talk to each other – It was neighbors talking to neighbors. A lot of the complaints were about the fact that people were afraid. They were afraid of these homeless people and they didn't know anything about them. A lot of the folks living on the street exhibited mental health issues and drug use, but at the end of the day, they were just regular people who were hard on their luck. From that one community discussion, we held a second one the following year in 2019 and that year we provided solutions. After that, a group of us decided to start" the neighborhood council's housing and homelessness committee.
What solutions did you and the team provide?
The committee provided options for locations and services needed such as mobile toilets, showers and short- and long-term housing and surveys participants.  "Results showed that 70% of participants who completed the survey ranked the Figueroa lot near the 134 [freeway] on and off ramps, as the best place for homeless services."
"When the COVID pandemic hit in 2020, encampments in Eagle Rock grew and the Figueroa lot became sort of a magnet for unhoused people."
City officials recommended tents not be moved based on the Centers for Disease Control and Prevention's guidelines that people living on the streets need to shelter in place.
"The city put a mobile toilet in the lot, along with other services, so tents just started showing up."
The homelessness committee members couldn't ask the area's council representative, José Huizar, for help since he was suspended so they went to the mayor to see if people could say in the Figueroa lot until there was housing for them.
In late 2021, the tiny homes project was approved and many from the lot moved into the new temporary homes.
How has the pandemic affected the way you and your colleagues address homelessness issues?
"Project RoomKey, [a FEMA-funded state housing program leasing hotels and motels for high-risk individuals], has over 800 people in four of the hotels, but Los Angeles will be losing that number of units from now until January 2023. And that's a really huge loss. So guess where they're going to end up? On the street probably, or they're going to double up into these other interim housing facilities, like Tiny Homes – and I'm really worried about that … Service providers and outreach workers lose contact with [people] when individuals living in temporary housing are moved from place to place… and it becomes hard to maintain progress."
How can we change the public perception of the stigma around homeless individuals?
"The myths are created and the media exploits those myths – articles written with the fear aspect and crime and violence written into it … Most of the people who are unhoused are just regular people who lost their way, got kicked out, evicted, whatever. They may be victims of domestic violence, or young people who aged out of foster care.  A number of individuals are drug users and have mental health challenges that need to be treated. The one message is that there is no one type of person who is unhoused … Unhoused people are individual people with their own stories. And once you realize that, you'll approach each person differently – with respect for whatever they went through in their lives and for where they are right now. They may be struggling with trying to get out of a situation. So just approach each person where they are and with as much compassion as you can muster."
What does the future of housing look like to you in Eagle Rock and beyond? 
"People understand that homelessness is being driven by evictions and by the lack of affordable housing, which is why L.A. city enacted tenant protections during the pandemic. We don't have really affordable housing in Eagle Rock per se, except for housing that is rent-controlled. With the new Colorado East development and Tiny Homes, there is a chance that low-income housing will be available."
Updated Sept. 27, 2022, to correct Demian's title, the timeline of events, and to include additional information from a follow up email she provided.