323 Market Features Alumni Entrepreneurs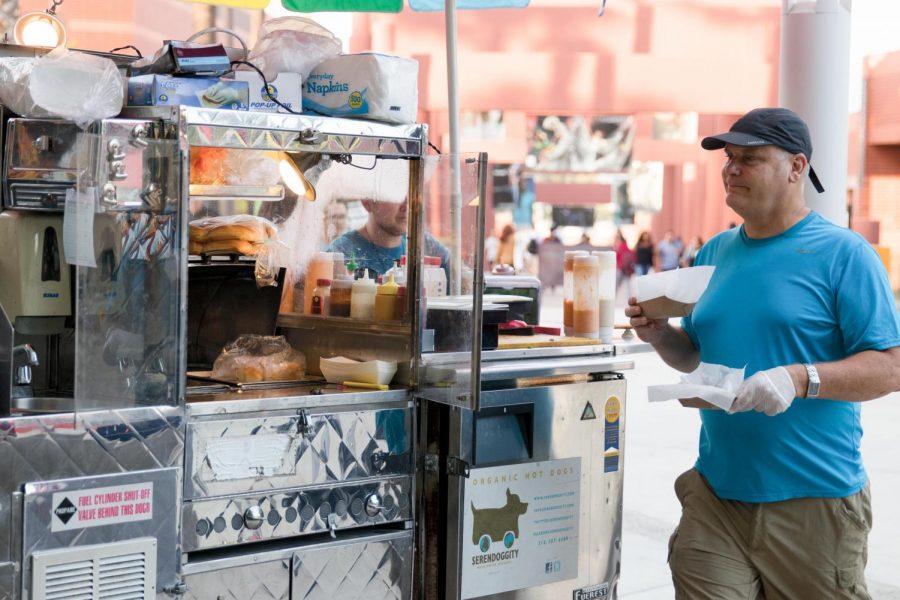 This past Wednesday, Students and alumni gathered for the chance to enjoy the local flavors of the Los Angeles area and connect with a variety of artists within the community. Near the Student Union, the walkway was filled with crowds of curious patrons drawn to the smells of freshly prepared food, the vibrant artist booths and the live music performed by the talented Ghoul Kids and Animals in the Attic.
Hungry 323 Night Market-goers flocked to the food trucks and stands to fuel-up before taking their time to view and shop at the artist booths. Long lines of people extended across the walkway in all directions as each food vendor had something different to offer.
Those who craved fiery flavors were met with the satisfying red-hot and breaded Southern-style chicken from the vendors at the Bred Hot Chicken stand. Rivaling in popularity and in hot flavor, the Rice Balls of Fire Food Truck offered Night Market-goers Korean fusion cuisine ranging from Sushi burritos and rice balls to kimchi tots and bulgogi bowls. After a hot meal under the LA sun, the Nomad Ice Pops cart served up some sweet and refreshing icy treats handmade with all natural ingredients.
Crowds cluttered around the artisan booths featuring handmade jewelry, crafts, plants, painting and prints. Many of the featured artisans present at the 323 Night Market were former Cal State Los Angeles students, such as the enchanting Pooja Bhangay Rajpurohit, a former communication studies graduate student who became a passionate and talented intuitive artist as a way to channel her emotions.
All of Pooja's art emits a personalized and from-the-heart aura, which has drawn in variety of people that have all connected to her art in diverse ways. Pooja's artwork can be seen all on her Instagram, @yourstrulypbr, in a wide spectrum of medians from charcoal to acrylic paint.
Other artisans came exhibiting their stunning craftsmanship, which for them, art was a way of bonding with their families. Shop Lulucita, run by Lulu and her grandmother Lucrecia, began first as a way for the two of them to spend time together making jewelry. Lulu and her grandmother sell and hand-make their jewelry all on their website at Etsy.com/Shop/Shoplulucita and also are open to making custom pieces.
Near Shop Lulu were two artisan booths called Dobai Art and The L.A. Garden, who are father and daughter, both selling their handmade crafts. The L.A.  Garden is run by Dianna Martinez, another former student with a background in entrepreneurship, who was inspired by her father to start making cute pins, stickers and colorful pots as well as sell adorable succulent plants.
Dianna's father, Francisco Bautista is the man behind Dobai Art's gorgeously intricate Mayan and Aztec jewelry. Francisco's handmade jewelry is represented of his culture, which he has preserved both in his family and art.
As the sun began to set towards the end of this semester's 323 Night Market, vendors and patrons walked away with some handmade pieces or a satisfied stomach. If you missed out on this past 323 Night Market, below is a list of venders that were present during the event.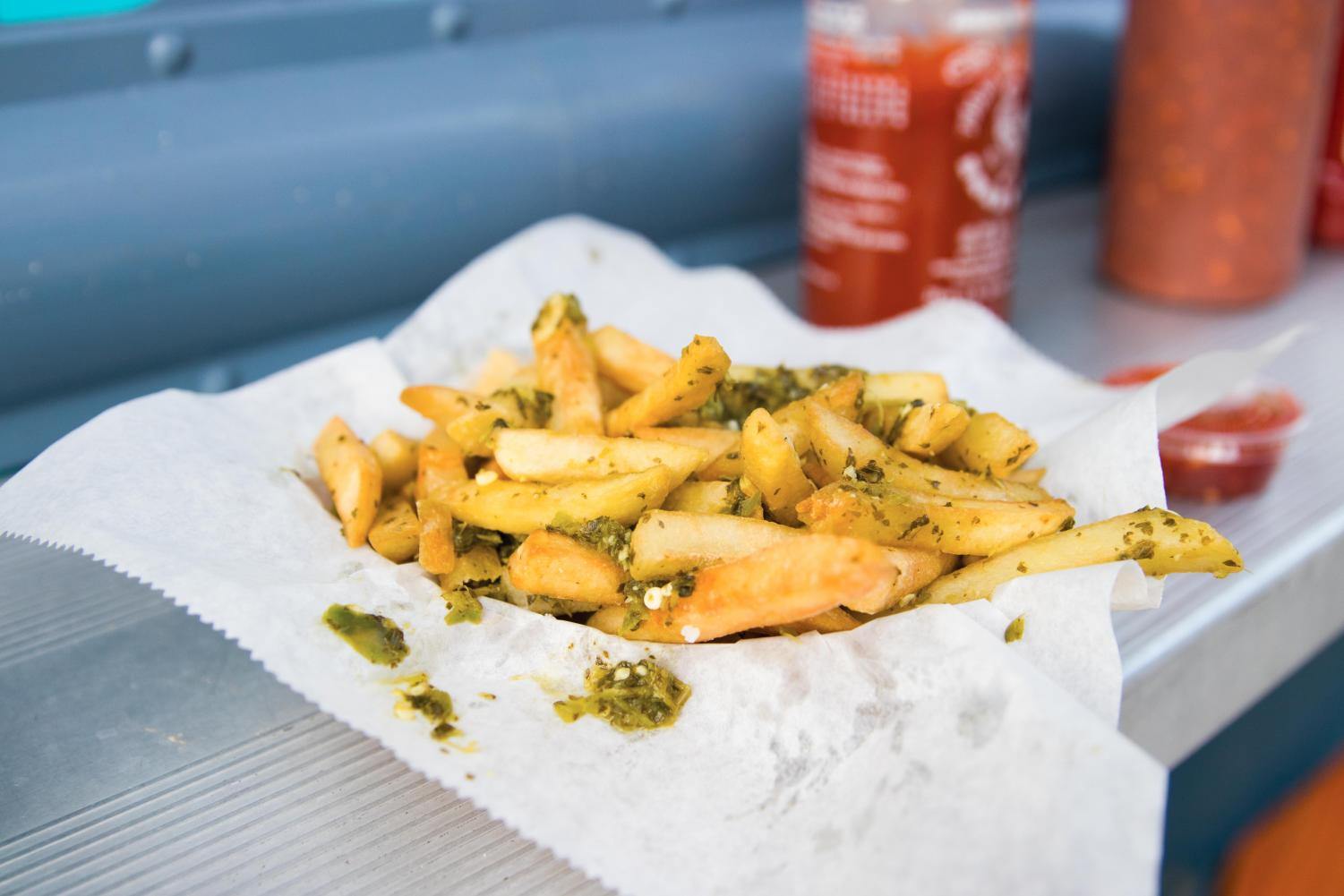 Artist Vendors:
     Yours Truly by PBR (@yourstrulypbr)

     Shop Lulucita (@ShopLulucita and etsy.com/shop/shoplulucita)

     The L.A. Garden ( @thelagarden and thelagarden.com)

     Dobai Art (@MikuryArtesanal)

     Passenger Buttons (@passengerbuttons)

     Artemisia (

www.artemisianursey.com

)

     Creations by Leti

     Cafecito Pins & Latinx Lifestyler
Food Vendors:
     The Freezin Point

     Hula Popkettle corn

     Serendoggity

     Rice Balls of Fire

     Falasophy

     Bred Hot Chicken

     Nomad Ice Pops