Will Alhambra's Lunar New Year fest be canceled for the third year in a row?
While cities across Los Angeles County prepare for New Year's celebrations, Alhambra is known for organizing a Lunar New Year festival about one month later. Whether that would happen this year remained unclear to residents for months.
"Unfortunately, due to the pandemic and the goods supply chain crisis, we will not organize the [the event] in 2022," Frances Lee, the Alhambra Lunar New Year Festival director, wrote in an email to UT Community News Monday.
The festival is typically sponsored by the city and organized by the Alhambra Chamber of Commerce, according to Mayor Katherine Lee. When reached several times, the Chamber referred questions about the fest to Frances Lee, as did city employees.
However, in an interview Nov. 2, Alhambra Chamber of Commerce chief executive officer John Bwarie clarified that the event will happen.
The Lunar New Year celebration is key event in Alhambra, which has about 42,977 Asian residents who make up nearly 52% of the city's population of 82,868 people, according to data from the 2020 U.S Census Bureau. 
The Alhambra Lunar New Year Festival typically takes place on Valley Boulevard and draws thousands of people. About 250 booths participate and honor Asian culture through Kung-Fu demonstrations, lion dances, live music, traditional food, and cultural activities, according to the official Alhambra Lunar New Year website.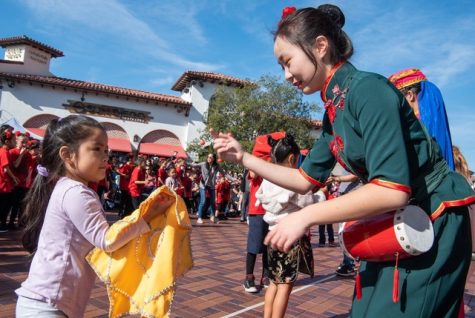 Alhambra residents interviewed were surprised or disappointed about not hearing updates about the event, considering other local cities have already announced planned festivities, including the Los Angeles Chinese Lunar New Year celebration on Jan. 25 and Monterey Park's Lunar New Year Festival starting on Jan. 22.
As of last week, Lee, the mayor, had said she was still hopeful the event could occur.
"As of now, gathering is allowed due to less restrictions," Lee said. "The Alhambra Chamber of Commerce has a contract with the city of Alhambra so every year we approve a contract with a certain amount" for the chamber to spend on organizing.
As questions swirled about a possible cancellation, several Alhambra residents expressed disappointment.
"I would really like to know their motives for doing that because it seems like everyone likes to go to it. I went to it and there were a lot of people there so I think a lot of people are going to be bummed out," said Sarah Lopez, who has lived in Alhambra her whole life and attended the celebration growing up.
Alexis Cado, who has lived in Alhambra for almost four years, also had hoped it wouldn't be canceled. 
"I've seen how it's one of the highlights of living in Alhambra. If [the cancellation] is due to the pandemic, then maybe it's okay but if they're obviously doing other celebrations then it's really important to make it happen, especially because Alhambra has a really high Asian population here, so it's really important to keep the celebration alive."
Richard Yung, an Alhambra resident, said he has happy memories from attending the event as a high school student.
"There's a lot of cultural things," Yung said, "I do remember the food, that was my favorite part."
After Alhambra's city council meeting on Oct. 11, City Manager Jessica Binnquist had said the 2022 Lunar New Year celebration was still a possibility: "We don't have any information that would lead us to cancel that event so unless there is county guidance that would prohibit a Lunar New Year again this year, we would anticipate that we would be having one."
Updated Nov. 2 to correct that the event will happen in 2022.
Community News produces stories about under-covered neighborhoods and small cities on the Eastside and South Los Angeles. Please email feedback, corrections and story tips to [email protected]