Back to school fraught with questions and worry for some La Puente parents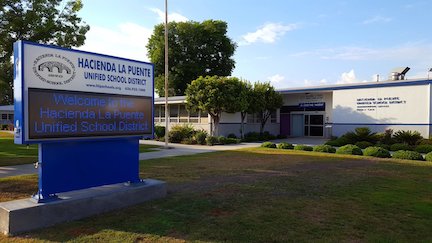 With her daughter back at school in person this fall, La Puente resident Christine Frontanez got the call that no parent wants to get.  
Her daughter had been exposed to someone who tested positive for COVID-19.
"Getting the call that my daughter was exposed to someone who tested positive for COVID-19 was scary because she had to get tested to see if she was positive," said Frontanez. "Thankfully she wasn't, but that was one of my biggest concerns with her going back to being exposed to so many people."  
Frontanez isn't the only parent who has been worried. Even though schools are requiring masks and enforcing social distancing, it is still possible for students to get the virus because vaccinated people can still spread it and many students are too young to get vaccinated.
Marissa Munoz, whose daughter is entering the fourth grade, thought long and hard about whether she was going to homeschool her daughter or let her go in person.
The deciding factor for Munoz was that she needed to go back into the office for work.  Therefore, homeschooling was no longer an option. 
"I knew it would be hard to homeschool her, but she really wanted to go back in person after being all online last year and not being able to see her friends," said Munoz.  "She wanted to have some normalcy again."
Her main concern about in-person learning is whether kids in her classes would keep their masks on the entire time.
Munoz knew, for instance, that it would be hard for her daughter to do. But she had multiple conversations with her on the importance of always keeping it on.
Another concern was that she and other parents would have to rely on the school to inform them about any possible infections, safety measures, and other issues.
But Munoz said that so far, she's pleased with the communication between the school and parents.
For instance, the district has reported that it has installed ISO-Aire purifier machines in classrooms and electrostatic foggers to disinfect classroom surfaces daily.
Parents like Munoz say they knows the district is going beyond some other districts, which puts them a bit more at ease — as does the fact that vaccines for children under 12 may be available as early as November.
Community News produces stories about under-covered neighborhoods and small cities on the Eastside and South Los Angeles. Please email feedback, corrections and story tips to [email protected]