Library's archival exhibit celebrates university's 75th year
A multi-decade history saw its commemoration in full effect last Thursday during the opening of the university library's new exhibit, "We Are LA: Uncovering 75 Years of Legacy in the University Archives."
The entire span of the first floor's "Golden Hour: Moments in Our History" gallery tells a story of Cal State LA chronologically, with emphasis on elements that have historically not always been celebrated.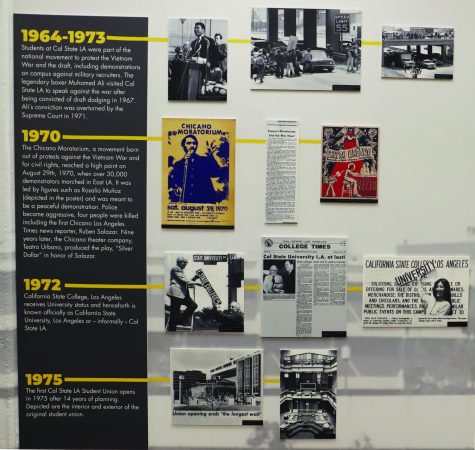 A photo of Muhammad Ali visiting Cal State LA in 1971 to speak out against the Vietnam War adorned the timeline on the library's wall. Below that is a poster of the Chicano Moratorium that occurred the year prior.
The history on display also included mentions of campus demonstrations and protests surrounding The Watts Riots of 1965 and, more recently, Cal State LA faculty and students taking part in the Black Lives Matter protests of 2020. Plaques on the wall were supplemented by newspaper clippings and photographs of these actions. 
Elements like protests and activism were "a big thing we wanted to highlight," said Azalea Camacho, one of the exhibit's curators and Cal State LA's archivist and special collections librarian. "So our timeline is more centered on people rather than, you know, when buildings went up."
The Palmer wing also held dozens of photos and local artifacts related to STEM and a section dedicated to Julian Dixon and Mervyn Dymally; two of "California's Black Unsung Heroes of Politics."
"LA Looks" is the fashion-centered part of the downstairs display. Archival photos from the 1950s to today can give viewers a taste of what campus fashion trends looked like in prior decades.
University alumni came to the opening to view photos, yearbooks and other archival items available on display.
Janet Mazon, an alumna who attended Cal State LA from 1965 to 1970, said parts of the gallery were a reminder of happenings throughout her time in college.
"[The exhibit] reminded me a little bit of what was happening in East L.A. and the Chicano Moratorium," she said. "Just historic things like that, that impacted the university."
Among several speeches, student assistants also received recognition for their contributions to the project.
"I didn't know a lot about the history," said Elijah Bille, a student archivist who helped curate the exhibit. "I thought I did, but I didn't realize how deep it went." 
For Bille, being part of the team and helping put things together was illuminating.
"We learned [about] the starts of the departments," Bille said, referring to the early days of the Chicano studies and ethnic studies departments. He also mentioned the beginnings of student organizations on campus and why they're important for  Cal State LA.
"Learning this and learning that people care has been really awesome," Bille said. "You don't always get that. We're a commuter school."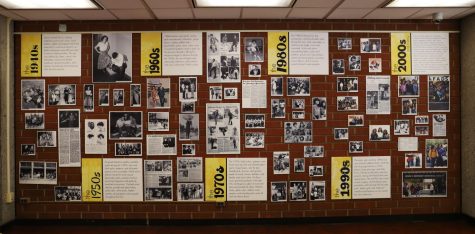 Since this was the case during the time Mazon attended the university, her experience was a consistent back-and-forth between work, school, and home.
"I didn't have any social life connected with the university," Mazon said. "I look back and wish that I had some kind of college life."
The library staff and faculty aim to create a deeper connection among students and Cal State LA.
"We get, on average, about 8,000 to 10,000 students coming in through the door every day," said Carlos Rodriguez, dean of the university library. "Many of the students are from the area, so this really is their history as well."
"This is [the students'] library, not Cal State LA's library … so we want to make them feel like this belongs to them and reflects them," Rodriguez said. "I want them to see themselves in the building. We want to do that by having exhibits like this."
Until the end of the Spring 2023 semester, the campus community can peruse the first and second floor's extensive galleries of over 250 archival Cal State LA photographs and other special items on display, made possible by library staff, faculty, and student assistants.