Newbie firefighter earns his stripes in his first fire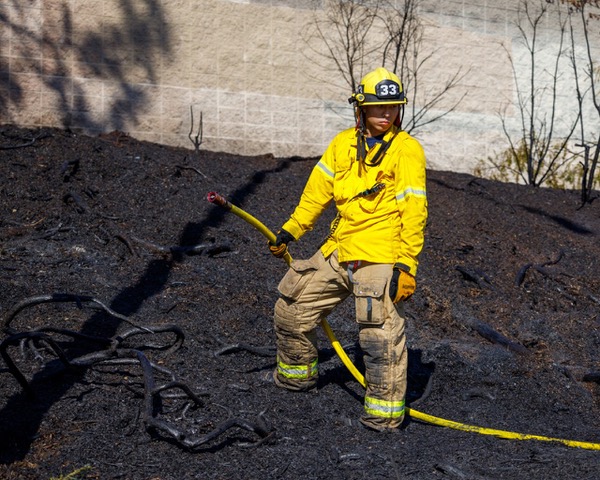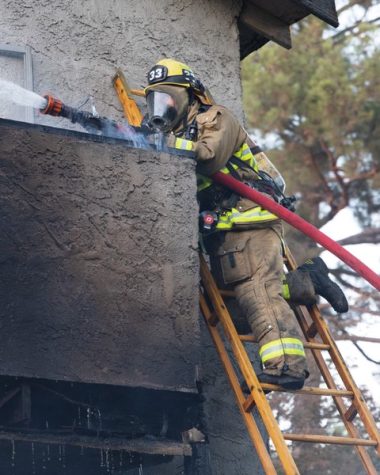 They say not all heroes wear capes. Pasadena Fire Department probationary firefighter Evan Merced wears a 75-pound protective suit.
But Merced didn't always dream of working as a firefighter in Pasadena. He was born and raised in the Philippines and immigrated to the United States with his parents when he was 9.
He, his little sister, and his parents lived in a one-bedroom apartment in Granada Hills, California, until he graduated high school. His father was a laser welder for pacemakers at the time and his mother was a pharmacy technician.
"I don't think I struggled at all due to the hard work that my parents put in their jobs," Merced said.
Merced imagined someday he might become a psychiatrist. He joined the Army National Guard hoping to avoid being in debt while pursuing a college degree.
Over the six years that he was in the National Guard, he grew to love being a combat medic in a light infantry unit, especially the new experiences and the camaraderie.
"I just liked…the diverse set of people — just different ideals — but the cool thing is everyone has a common goal. It's just trying to help people, " Merced said.
Merced was also a paramedic in the San Bernardino area and also previously worked in an ambulance company called McCormick Ambulance Service where he ran 911 calls with the LA County Fire Department in the Willowbrook and Compton area. 
That is where the story of Merced's new career begins.
Merced said he did not expect to trade his EMS uniform for his 75-pound firefighter uniform until he met his longtime friend and biggest influence, Ozon Higgins.
The two struck up a friendship while working together at one of McCormick's 24-hour stations in the Willowbrook and Compton area. They were regular partners.
"I liked Ozon due to his constant optimism, passion for helping people, and his work ethic. He is one of the main reasons I got into firefighting. He informed me about the details and intricacies of the job," Merced said. "I kind of realized that this is very similar to the army and the military lifestyle. Providing your presence to someone in need — I feel like that's such an honor." 
The decision to become a firefighter in California can't be taken lightly with climate change leading to bigger and deadlier fires over the years. There were 8,536 fires that burned a total of 2,569,766 acres so far in 2021, according to Cal Fire's website.
Still, Merced said he didn't have reservations and has not yet been deployed in any wildfires.
"I know the dangers of the job and the lasting effects it will have on me for the rest of my life. It is important to be cognizant of those things but I joined for the love of helping people in general, encountering a variety of interesting situations, and the camaraderie," he said.
With the decision made, Merced went through a rigorous training academy with the Pasadena Fire Department for six months and he's now in the 12-month probationary period. 
"It's pretty much a fast-paced thing because as a firefighter we are an 'all hazards' type of department. So there's a multitude of emergencies that we encounter so there's a lot to learn," he said.
Merced's routine at Pasadena's Station 33 is a 48-hour shift schedule, which usually starts at 7 a.m. and ends the next morning.
Some of his duties consist of checking if there's any equipment used, if there's anything broken, raising up the flags, printing out his schedule for his captain, making a cup of coffee, and cleaning up the station. 
"That's the cool thing about the job: We don't know what we're going to get. At the same time though, we do training, we have towers there that we train on…to be prepared for the worst type scenarios and then, we check everything to make sure everything is in good working order and as the day progresses, if anything was used or anything is broken…we're supposed to fix it," he said.
Merced said he'll never forget his first fire.
"We were there within two minutes and 20 seconds and right when we pulled up, it was a room and board where multiple people live," Merced said, adding that it appeared they were recovering drug addicts.
The crew could see smoke coming from the back of the house, so his captain and senior firefighter went ahead to find out the best place for Merced to pull the hose out. 
It was at a one-story residential house and because there were a lot of items in the backyard, the fire had spread outside, also threatening a two-story duplex in the back.
In a few seconds, the fire picked up and became almost six to eight feet high and Merced's captain and senior firefighter needed his help. There were eight people and three dogs inside and at that point, it appeared his colleagues were trapped inside by the high flames.
Merced had trouble initially getting the water to run through the hose and controlling the pressure.
"Keep in mind, this is my first fire," he said. "Your heart rate is up, you're sweating under all that gear that we have, you know. It was very daunting because my captain and senior firefighter who went up ahead, they got trapped in the corner where the flames were at, so you feel useless, you feel helpless and you can see through the flames…they were trapped and they were going, 'Water, water. Where is it?'"
That's when he focused on what he learned in the military to cope with stress: Fall back on your training.
"Everything is muscle memory: putting on our PPE, putting on our SCBA, climbing a ladder, everything was literally through repetition and that's the thing in our department and what we emphasize," Merced said.
After he dampened enough of the flames to allow his colleagues to go into the house and to cover the backyard, he said another issue arose: "The houses were starting to ignite around it, too, and I started hitting it with water, and then I hit the room where the fire started."
Finally, the fire was out and he climbed up a ladder with his team to make sure there were no trapped victims inside.
That was a task in itself: They used the engine's 24-foot, 105-pound extension ladder, which firefighters are expected to control all by themselves while wearing their 75-pound suits, helmets, masks, and turnouts.
All of the people and two of the three dogs were safely evacuated. His colleagues were OK, save for second-degree burns on one of the firefighter's thighs because the flames burned through his PPE.
Merced said he was proud but at the end of the day, he is one of many firefighters who work hard: "I just look at myself as a public servant."
Community News produces stories about under-covered neighborhoods and small cities on the Eastside and South Los Angeles. Please email feedback, corrections and story tips to [email protected]