Plans in play to renovate Rio Hondo Park
Pico Rivera's $8.5 million proposal includes new playing fields, courts, fitness area and playground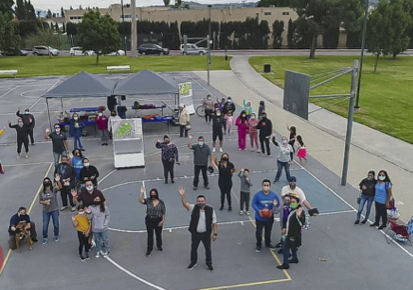 Pico Rivera's Rio Hondo Park has acre after acre of grassy fields, a playground, handball and basketball courts, soccer and baseball fields, a rec center, and a distinctive colorful mural depicting the Virgin Mary, the area's native ancestors and more recent community members.
But the 13-acre park is also showing signs of wear, with slides full of scratches and graffiti and a crumbling handball court missing chunks of concrete. Also making the park less inviting, say residents, are occasional flare-ups of gang violence.
That's why the city plans to apply for an $8.5 million grant with the California Department of Parks and Recreation grant to renovate the park. The grant comes from Proposition 68, which was passed in 2018 to address disparities in park access, among other things, and provide lower-income communities and those with less green space with more parks.The city has applied for 
This will be the fourth round of the grant submission. In 2019, the city of Pico Rivera applied for the competitive grant that is with prop 68. Pico Rivera was a runner up against 400 cities. Pico Rivera was number 70. Pico Rivera has applied years before but never received the grant. 
"We can go to the park but it feels like there's a curfew. Once you see the sunset, it's time to go," said Susan Raya, resident of Pico Rivera for 19 years "A park is supposed to be a place for fun and relaxation. We shouldn't fear our park."
The park has its own Sheriff Office Deputy to patrol the park but that isn't enough to get the residents to feel safe and enjoy the park. That's partly why the City of Pico Rivera would like to refurbish the park.
"The infrastructure has started to deteriorate. If you go to the handball court, they don't look good. In my opinion, everything looks really nice but when you look closer, everything is broken. Everything needs fixing," said Pamela Yugar, director of the city's parks and recreation department, through a phone interview.
With Yugar, who arrived in Pico Rivera in October,  taking charge of the grant, taking charge of the project, she involved the residents of Pico Rivera to choose what they would like the playground to look like.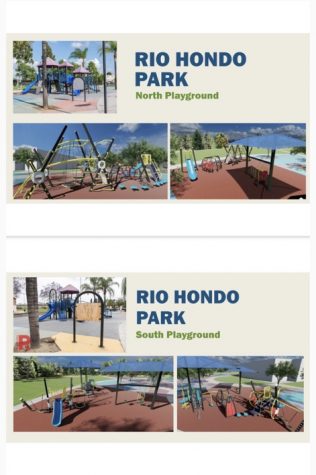 On Jan. 31, Pico Rivera residents got to see the final idea for the playground and provide feedback. 
On top of that, Yugar said, "We did more engagements. We went out to the community. We talked to the community. We…did surveys."
Residents of Pico Rivera chimed in to say they wanted a new, more accessible playground: One that can be used by every child, including those with special needs.
That is why the park design includes features like interactive options and sensory options that will allow children with autism and sensory issues to enjoy the park. 
The renovation plan includes installing two new playground structures with new pour-n-play surfacing, three wheelchair accessible ADA stations, construction of a 58,000-square-foot U12 regulation synthetic turf field including two U10 regulation fields, new LED field lighting,  outdoor exercise stations, renovating the baseball and soccer field, redoing the basketball courts, and planting approximately 30 trees. The project will also include a new water-efficient sensor irrigation control system. 
Pour and play is a rubber material that makes the floor softer for children and has a longer lasting life. It is one of the best surfaces for ADA accessibility. 
The U12 turf is artificial turf that is regulated and approved for soccer. The U12 and U10 regulation field will be overlapped with each other and have its own space of 58,000 square feet. 
The new water efficient sensor irrigation system will allow the city to determine how much irrigation is needed for the landscape. The technology will use the weather data or soil data to determine the irrigation. 
City officials will likely hear if they are awarded the grant in mid-September. In the meantime, they are starting some of the renovations. For instance, residents can look forward to a new playground being installed this summer.
Community News produces stories about under-covered neighborhoods and small cities on the Eastside and South Los Angeles. Please email feedback, corrections and story tips to [email protected]