Prop. 31: Measure would uphold ban on flavored tobacco products
Critics say the products lure kids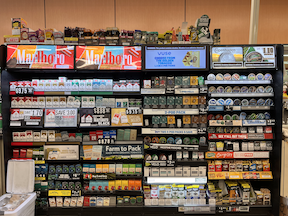 Melon twist. Cherry crush. Very vanilla. Bubble gum.
These sound like candy flavors but they're actually the kinds of tobacco products that critics say are marketed to kids.
"As a kid, if you are already looking to get into cigarettes or into nicotine products or there's something that drives you into using nicotine products, then it's only going to encourage you further if there's something that's flavored because that just seems to give it more hype," said Leo Urquilla, adding that when she was in high school recently, some vaped. "And they don't just use regular nicotine products — they do go for the flavors."
That's why a 2020 state law bans the sale of flavored tobacco products.
Opposition to the law has led to Proposition 31, which would uphold the law. If voters turn it down, it would effectively repeal the ban.
Gov. Gavin Newsom says he supports the ban on flavored tobacco products because they represent an attempt by Big Tobacco to hook children on its products — and the marketing often targets people of color disproportionately, according to ballotpedia.org. The use of flavored tobacco — in hookahs and electronic cigarettes, for instance — has been linked to cancer and lung problems.
Opponents of the measure — those who want the ban repealed — say there are better ways to discourage children from using tobacco products and the ban largely prevents adults who want them from doing so — since tobacco is already illegal for those under 21.  
"Prohibition has never worked. It didn't work with alcohol or marijuana, and it won't work now," according to three business representatives and consultants in a commentary in the San Diego Union-Tribune. "And Proposition 31's prohibition would impact minority neighborhoods more than any other neighborhoods, criminalizing the sale of menthol cigarettes, which, according to the Centers for Disease Control and Prevention, are primarily the choice of adult tobacco consumers in these communities."
Most people interviewed said they agree with the legislation and would like to see it upheld.  
Cooper Palmer, who lives in Koreatown, said he's inclined to vote "yes" on the measure.
"I've seen a lot of kids in recent years, my friends for example, who get addicted easily. I don't really know how this can affect the newer generation of smoking and I don't really want to find out," he said.
Cal State LA student Eric Lopez shared similar concerns.
"Kids are more targeted by that," Lopez, a pre-computer science major, said. "I have a little brother and I wouldn't want him [to] get into that, or be more affected by it."
Jonathan De La Torre, who lives in Alhambra, said the measure is a no-brainer.
"I would vote yes without even thinking about it," he said, recalling how popular vaping was just a few years ago. "My senior year in high school everybody was using vapes in the restroom, during passing periods, and I always found it so annoying. I can only imagine it now."
Some opponents worry about the potential revenue that would be lost without the sales of the products since the state has many programs and services that need to be funded.
"I would vote 'no' only because I don't really like voting when it comes to things like this. But if I had to pick, I would vote against it since California would lose so much money so it would most likely cause more issues," said Laura Solis, who lives in East Hollywood.
Some opponents said adults should be able to make their own choices.
"I don't think it should be banned because adults should be able to enjoy it," said Anthony Gonzalez, a business major at Cal State LA.
That logic evades Urquilla, who said she worries kids can get access to the products through older friends.
"People who say that it is already illegal for children to get tobacco products [are] assuming that people aren't going to break these laws already or people aren't going to try to break these laws to get money or more consumers," Urquilla said. " I don't think there are any adults that are really going to try to get flavored tobacco products because that's not what they are after."