Quarantine complaints: Students address issues like body aches and weight gain
The University Times conducted a Google survey which gathered 70 responses of students' thoughts and reactions during quarantine.
The survey found 57 percent of students said they started to experience back or neck pains, and legs falling asleep after extensive Zoom meetings. "I do get back pain but sometimes neck pains, too — depends on how I'm positioning myself while doing Zoom [meetings]," said Estrella Isamar Moreno, a senior majoring in child development studies.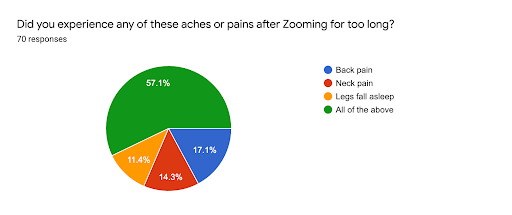 There were three top pet peeves students from the survey had during summer: not being able to go out, encountering various issues with Zoom, seeing people post about going out and not following the CDC guidelines.
Survey answers included complaints such as, "Not being able to fully interact with other people," and missing "the homies."
Other answers explained issues students had with Zoom like "buffering or losing connection when attending class/doing class assignments."
Pet peeves regarding people not following CDC guidelines varied from, "Seeing other people not taking precautions!!!" or "Pretending like COVID disappeared because it's summer," to "People not wearing masks."
One answer said that just "everything" was annoying for them.
Moreno, the child development student, explained that she didn't like not being able to go out and see her friends, "I was, like, locked down, so I couldn't do anything else, it was very boring. I felt very impatient [being] at home."
Despite the quarantined summer, Moreno said she was able to distract herself by finding new hobbies: "I started making Minnie Mouse ears. I was making them handmade. I was trying to paint, I did puzzles, I kept reading books [and] I was trying to learn how to skateboard."
Like more than half of those taking the survey, Moreno, too, experienced both back and neck pains after Zooming for too long. "I have [my meetings] on my bed since I don't have a desk in my room and I can't use the kitchen since I have my family here," said Moreno.
On the other hand, Andrew Estrada, a music major and a senior, did not experience any back pains or neck pains after Zooming for too long. However, one of his biggest pet peeves while quarantining was "not getting classroom instruction." 
"You just can't really work in an environment where it's just a mess… I find myself cleaning my room and then eventually cleaning the living room, then [it goes] back to my room being a mess and I really wouldn't be able to study," said Arely Gil, a recent Cal State LA graduate with a civil engineering degree. 
Before, Gil said she was able to take her books and notebooks out on a library table and clean everything up before her next class but now with at-home learning, things get messier without the clean-up.
"At home, I just leave my open books on my desk at the end of the day without putting them back in my bag," said Gil.
Gil spent the summer "just being home and being unproductive," as many sheltering did, but staying home often caused her room to get too messy at times.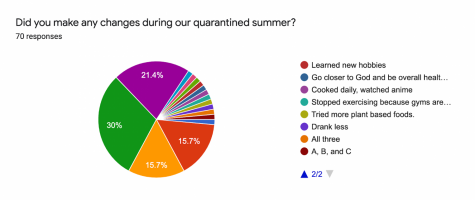 Combined with a "bad habit" of eating snacks in her room and leaving wrappers, cups and plates, it became a challenge to maintain day to day activities. 
To fight the feeling of not being productive, Gil took it upon herself to learn Korean through a free online course that was available to her. 
"I [used] Coursera, an online educational platform that offers free online courses and certificates for specific classes," said Gil. "I [also] decided to enroll in a sustainability class with the University of Illinois and a Korean class with Yonsei University."
Being forced to stay home caused as much as 60% of students to gain the "Quarantine 15," similar to the "Freshman 15," but in this case, it's weight gain caused by quarantine and the closure of gyms.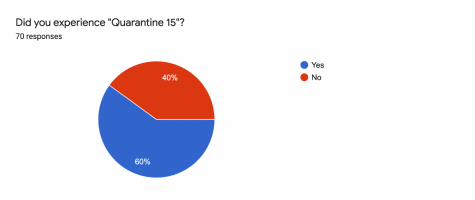 The "Freshman 15," which is most commonly heard of, is when you gain weight during the first year of college. The name is sometimes changed to "Senior 15" for weight gained during your last year of college.
Gil fell into the same boat amongst these students, experiencing the "Quarantine 15".
"Before the semester ended, in my free time when I did start working out, I was really motivated. I was like, 'Oh, now I have a lot of free time to work out,' but that eventually died out and now yes, I have become the victim of 'Quarantine 15'," said Gil. 
She added, "It's funny because I was telling my classmates that the 'Freshman 15' didn't hit me, but the 'Senior 15' did hit me with the quarantine."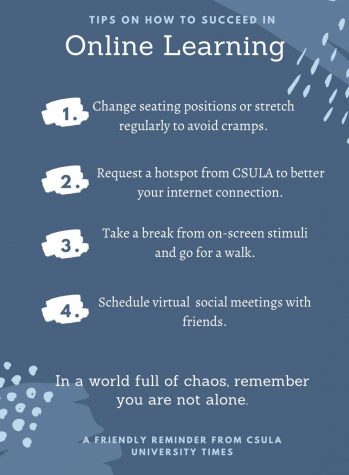 To help fight some of these issues during this semester, the CDC recommends taking breaks from watching, reading or listening to news stories, including those on social media. Also, getting plenty of sleep, and taking deep breaths, stretching, or meditating to relax you and help your mental health.
Harvard Business Review took a look at "Zoom fatigue" and pains caused by extensive Zoom meetings. The "Zoom fatigue", "stems from how we process information over video. On a video call the only way to show we're paying attention is to look at the camera," says the article.
Tips on how to help reduce these pains include avoiding multitasking, taking small breaks from having your video on and making virtual social events opt-in. 
About the Contributor
Tahiti Salinas, Editor-in-Chief
Tahiti Salinas is the Editor-in-Chief of the University Times. Tahiti has previously been the managing editor and a staff reporter. She is a senior at...