South Gate residents question water quality issues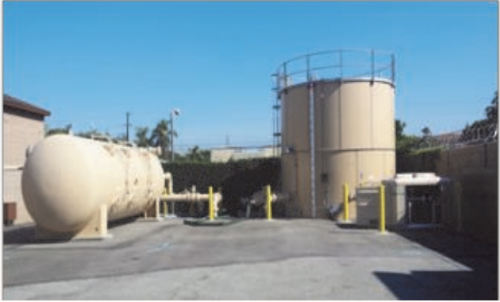 Water quality reports from the city of South Gate obtained by UT Community News show that three wells and a park reservoir have levels of Tetrachloroethene, or PCE, higher than the maximum levels recommended by the state.
In addition, one of these wells, Well 19, has a higher than acceptable level of Trichloroethene, or TCE.
Long-term exposure to PCE, combined with other factors, has been linked to bladder cancer while TCE has been similarly linked to kidney cancer, Non-Hodgkin lymphoma and cardiac problems, according to the Centers for Disease Control and Prevention.
Ron Hernandez, the city's water operations foreman, said Southgate is taking action to combat the chemicals and is regularly monitoring the situation.
"The city constructed a spray aeration treatment facility in 1993 to remove PCE and TCE from these three wells," he said. "These chemicals are volatile organic chemicals (degreasing solvents). The well effluent is treated to remove these chemical constituents, chlorinated, and then sent to the distribution system."
He also said that the water from the wells "is sampled monthly and the treated water is sampled weekly to meet" to state requirements.
This is a list of each of the locations in question and the corresponding levels of TCE or PCE and the maximum level that is considered safe by the state. (It's worth noting that in the limited set of documents provided, five other wells and two other reservoirs were within levels deemed safe by the state.)
Activist Maria Estrada, who provided the lab results on the water quality in South Gate, said she did so because she noticed the levels of the chemicals at some individual sites seemed much different than the overall levels in South Gate's annual water quality report, which covers results over several years.
Estrada said she worries that "there are no safe levels of carcinogens."
Estrada, who recently lost her bid for a state Assembly seat to incumbent Anthony Rendon, said she believes that "this is how the government allows the public to be poisoned legally and protects the polluters from prosecution."
Isela Rodríguez, a South Gate resident for 21 years, recalled having issues with water quality in her home for years.
"My junior year of high school, I remember that our shower water would come out kind of light brown so we would try to shower [before the] hours that it would kind of look like that," Rodriguez said, adding that it's a "bit concerning when we see the shower water look a little bit brown because we just want to make sure that it's safe to use."
Recently, she said her toilet water has been discolored.
"We noticed that it's a light brown, we flush it, and then it reverts back to the regular color," she said.
South Gate resident Robert Montalvo also reported seeing "brown water" in his home, so he just got a filtration system in his house.
"We use filters, [and] we use bottled water" to be on the safe side, he said.
Montalvo said he'd like city leaders to be more transparent with the water quality in South Gate.
"Let us residents know what's exactly in the water from the wells that we're drawing from because [in] South Gate, we get our water from underground wells," he said.
One city official pointed to annual water quality reports as evidence of the city's transparency about the issue.
Random events happen in the city that can disrupt the water system and cause "water discoloration," said Arturo Cervantes, the assistant city manager and director of public works.
These events typically impact "a few customers," said Cervantes. "Though such events are outside of our control, the City typically resolves water discoloration issues within hours after it is reported."
Cervantes added that "the Public Works Department is not aware of any current issues of discolored water."
If residents experience water quality issues, they are encouraged to report it directly to the Public Works Department by calling 323-563-5790 during normal business hours of Monday to Thursday, 6:30 a.m. to 5:00 p.m.  After business hours, residents can report incidents by calling Police Dispatch at 323-563-5436.
Community News reporters are enrolled in JOUR 3910 – University Times. They produce stories about under-covered neighborhoods and small cities on the Eastside and South Los Angeles. Please email feedback, corrections and story tips to [email protected]
About the Writer
Tahiti Salinas, Editor-in-Chief
Tahiti Salinas is the Editor-in-Chief of the University Times. Tahiti has previously been the managing editor and a staff reporter. She is a senior at...