Struggling to adjust to online testing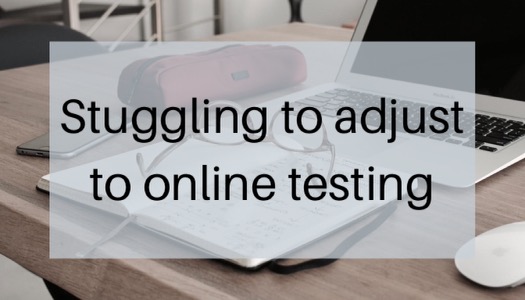 Mia Alva , Intern Reporter
November 12, 2020
With midterms over and finals around the corner, testing has morphed into a different animal under the pandemic. In-person exams are out of the question and online exams have become the norm.  
Lauren Mercado, a second-year student, said that online testing has gotten harder. She has to take extra time to organize her notebook to take a test when having to "look through weeks of work" and be more attentive to what she is learning in her classes. 
Mercado described her experience with online testing as akin to "survival of the fittest" since students are not in a classroom anymore. She said they can't ask the person next to them if they understand the question or ask the teacher about it and expect a quick response. 
Mercado said that classes unrelated to her major are "more difficult" to study for, and it's not uncommon for her to grab her notes or Google something during an online test. She added that using her notes or Google helped her understand the material better.
Regarding online testing, math professor Foad Dizadji-Bahmani said that the main thing for him has been to "figure out how to make things like multiple choice questions not be so obvious," where one answer is obviously the right one and you can easily throw out the other answers. 
He added that he found himself "devising questions in such a way as to try to guard against the idea that someone could just be sitting there with their notes and just copy." 
Dizadji-Bahmani said that he has had to make his test offer more suggestive choices that could be right, but students could only get to the right answer if "they carried out the calculation." Rather than testing his students on what was on the lecture slides, he would mix it up a little by "taking the concepts that [he] has explained and test them." 
For Rafael Hernandez, a second-year student, and Mercado, they both agreed on how an honor system does not exist. "Although professors hope their students do not cheat, they know that it is inevitable," added Hernandez. 
Dizadji-Bahmani said he trusted the honor system right now as students are doing their best and they have the integrity to do so. 
Some students argue that online testing and learning is more suitable for them, Jennifer Alfaro, a third-year, being one of them. 
Alfaro said she has had a better experience learning online because she feels like her professors are being "more considerate with their students."
Hernandez said having notes readily available made testing easier.
On the other hand, Hernandez also said that everything he is learning "passes through [his] mind and does not stay." He added that this might be because students can quickly go back to the lecture that most professors have made available on Canvas, so there is "no need to study or pay attention." 
Dizadji-Bahmani said that his tests are now "adjusted to where students can use their notes" and test whether students understand what they are learning. He explained how it is one thing to memorize and learn but a more valuable way to test whether his students understand and what it means. 
By changing his test, he could see the "benefits of having open notes during exams, even in-person" to test both content and concepts rather than memorization. 
Dizadji-Bahmani also said he made things easier for students to get points and accommodated his students if they cannot go to Zoom meetings due to internet problems or simply because students like to keep to themselves. 
Feedback from some students also isn't the same now that we are online. Dizadji-Bahmani added that small visual cues from students are the difference from knowing if they are paying attention or the lecture pace is too fast or too slow: "You get so much from people in person."