Two tuneful teenagers thrive at Cal State LA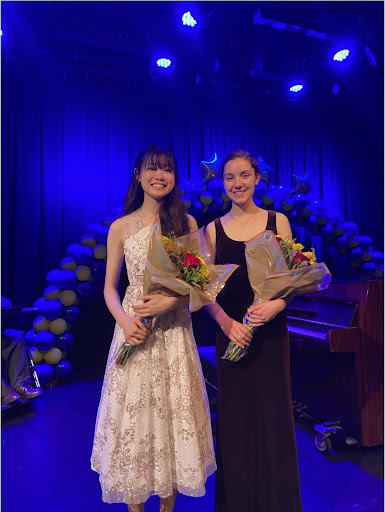 Walking around the sunny campus grounds of Cal State LA, you've passed thousands of fellow Golden Eagles on their way to class. Chances are, you've strolled through the music building courtyard on a Monday and relished the lovely tunes that Emily Chen and Erin Sercel create as part of the Cal State LA wind ensemble. But there's more to these two music majors than meets the eye. 
A senior piano major, Chen first sat on the piano bench with her fingers grazing the keys when she was three years old, but she feels she was practically born to play. As a piano teacher, her mom constantly had students coming over, so Chen was exposed to music as soon as she came home from the hospital. 
Sercel, a senior clarinet major, first took a liking to her instrument as part of the school band in fourth grade. Immediately, she felt a connection to the music she could create. The clarinet became her main hobby, and when she got to college and started imagining what her life would look like afterward, being a musician was what appealed to her most.
"I have always loved music," Sercel said. "Music is what makes me the happiest." 
What makes the stories of these two musicians even more unique is that they didn't even finish high school. Chen dropped out, and Sercel didn't go at all. They're both students from the Early Entrance Program (EEP). They didn't go to high school because they chose to skip ahead to college.
There was no Mozart in the marching band, which didn't nourish Chen's skills as a classical pianist. She applied to Cal State LA at 15 and began studying music, at a college level, in 2019.
"I'm very happy here," Chen said. "I come to school, and all my classes are music related. I feel very fulfilled."
Sercel believes the point of EEP is to study something she's passionate about, so she can fully engage with the enriching college curriculum. For her, that's full-time clarinet. 
Chen and Sercel relish their time in college by taking advantage of all the resources offered through the College of Arts and Letters at Cal State LA. They can take practice rooms and many compelling classes, like composing and conducting. Within the broad music department, they appreciate the ability to expand their social network because "music is all about connections." 
"I have a much stronger social life that I would have had in high school because [EEP is] such a closely knit group," Sercel said.
After they graduate, Sercel and Chen plan to pursue master's degrees in music. Sercel dreams of being a professional classical clarinetist—making orchestral work and chamber music, recording for film scores, and teaching.
Chen looks to a similar future but in the pianist capacity. While she loves teaching the younger children now, "it's not always the best time when your five-year-old student is rolling on the floor… it does happen!" She looks forward to expanding her teaching experience to older, more advanced students like her mother.
Chen and Sercel are full of gratitude for the dedicated professors at Cal State LA. Sercel's "biggest inspiration" is her clarinet teacher, Helen Goode-Castro.
"She's just so cool to me," she said. "Her career is so inspiring; she's the goal of the perfect clarinetist."
Chen admires her piano teacher, Zachary Deak. "He's so knowledgeable and inspiring," Chen said. "He knows what to say to get a certain sound out of my playing."
Deak once asked Chen to imitate a volcano on the piano, and at first, she was cynical, but then it amazed her how well it worked.
If you're wondering how you can engage with the musical community at Cal State LA——and you have some experience with an instrument, Chen and Sercel recommend joining an ensemble. If you sing, enlist in the choir. Contact the department chair, Dr. Caldwell, if you have any questions.
Achieving a bachelor's in music takes a lot of persistence and devotion (and a mom who makes you practice even when you don't want to). Chen and Sercel practice every day, not including ensemble, orchestra, classes or private lessons. They practice so much that if they don't, "it's like if you don't brush your teeth and you go to sleep…something's off." While they both admit how physically tiring it is—they sweat, they ache, and they wake up because their wrist hurts so much—they are studying music because they love it. Chen said, "I had many chances to quit, and I'm still here."