BREAKING: Cal State LA student shot and killed near campus
On Monday, April 3, a campus-wide email revealed that a Cal State LA student was the victim who was shot and killed on Saturday, April 1, near the Golden Eagle Apartments.
Edgar Aguirre, the victim of the shooting, was a 38-years-old student majoring in communications. Aguirre was a junior and was also part of Project Rebound, which "assists formerly incarcerated individuals seeking to enroll at Cal State LA with support," according to the Cal State LA website.
"I am saddened to share the heartbreaking news that the victim in Saturday morning's shooting was a Cal State LA student," Cal State LA President William A. Covino said in the campus-wide email. "This is devastating news. Our hearts are with Edgar's family, friends, and those in our community who knew him."
According to Covino's email, Aguirre was shot and killed just after 3 a.m., as he was riding a scooter.
At this time, no arrests have been made, according to the email. The Los Angeles Police Department (LAPD) is investigating this case.
"[Los Angeles County Sheriff's Department] responded to the call and pronounced Aguirre dead at the scene," LAPD Public Information Officer Tony Im told the University Times.
LAPD has provided no information about the shooter, according to Covino.
This latest crime follows a string of other crimes near Cal State LA, including another two shootings and a stabbing.\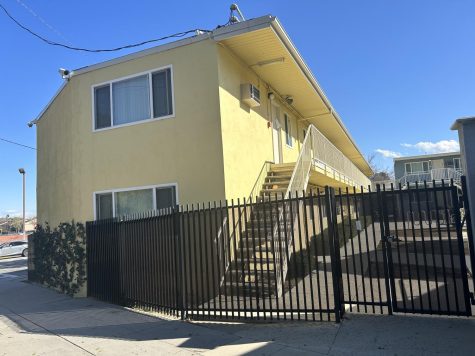 Students like Fernando Gomez are fearful of all the recent crimes.
"I've been checking my emails everyday because there has been so much crime happening near campus," Gomez said.
Gomez is a computer information systems major who lives on campus in the dorms.
"I get nervous when I step out of the dorms," Gomez said. "Knowing it could be my friend next, it could be me, who knows? I didn't expect the victim to be a Cal State LA student. It's very alarming."
Cal State LA's Department of Public Safety is increasing patrols in the wake of this incident, according to Covino. LAPD has also increased its presence in neighborhoods surrounding the campus, according to Covino.
Public Safety offers a 24/7 walking escort service, a safety app, and other safety resources. For more information about the escort service, please call 323-343-3700.
Cal State LA's Counseling and Psychological Services (CAPS) will be at the Residence Life Office in South Village's Tower Two, room 2130, today until 6 p.m. Drop-in counseling will also be provided for students on the second floor of the Student Health Center Monday through Thursday from 8:30 a.m. to 6 p.m. and Friday from 8:30 a.m. to 5 p.m.
For employees who may need psychological services, counseling assistance will be available through the Employee Assistance Program, LifeMatters, by calling 1-800-367-7474 or visiting the LifeMatters website.