El Sereno fatal shooting remains a mystery
Family members pray for answers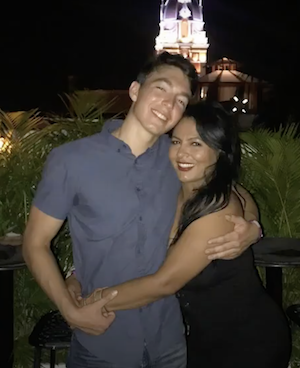 Updated Jan. 20: An arrest has been made.
Dominic Holden was 20 years old when he was tragically shot and killed in El Sereno on July 23, 2020.
He was found in his mother's car at 4227 Lowell Ave., according to the police report.
The report was provided by his mother, Kissy Martinez, who said she has no idea why Holden was shot.
She said her son left Oceanside that day to visit his father, who lived in San Fernando Valley, and used her car because his was at the shop.
He didn't mention that he was making any stops, she added. She said it's possible he was visiting a friend on the way.
She said that Holden was very private with his personal life and she doesn't know if her son had a connection within the El Sereno neighborhood.
The Los Angeles Police Department could not be reached for comment despite an email and phone call but the police report Martinez provided indicates that charges are pending and that Holden allegedly worked for a marijuana grower and was in the middle of transporting the product from Bakersfield to Los Angeles.
Martinez said she is still searching for answers and won't give up. Any information about what may have happened can be provided to the Hollenbeck Community Police Station at 323-343-8900.
Community News reporters are enrolled in JOUR 3910 – University Times. They produce stories about under-covered neighborhoods and small cities on the Eastside and South Los Angeles. Please email feedback, corrections and story tips to [email protected]