From "Mei Ling" to "Marilyn"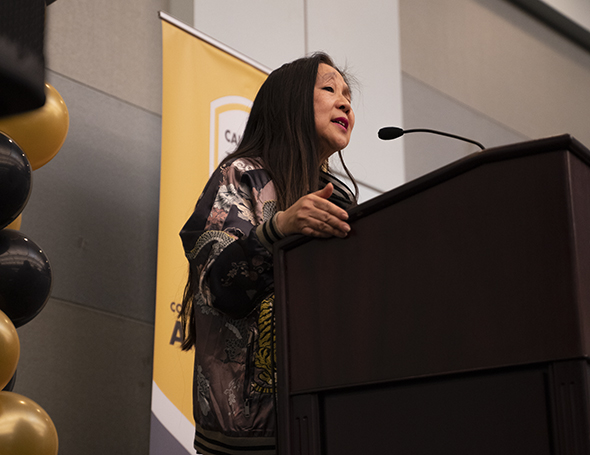 This year's Jean Burden Poetry Series special guest Marilyn Chin enlightened the Golden Eagle Ballroom, celebrating the immigrant identity by bringing to life some of her most famous poems.   
Lauri Scheyer, director of the Center for Contemporary Poetry and Poetics (CCPP), announced the Henri Coulette Academy of American Poets Prize winners: Cal State LA Graduate English students Andrew Verdekel and Michael Reyes. 
The contest rewarded the winners with a $100 cash award and a one-year membership to the Academy of American Poets.
 "It's a big honor to have Marilyn Chin in the audience…It feels a little unreal and hasn't at least sunk in yet. [I'm going] take some time to think about it and be proud of it," said Reyes as he described his experience of reading his literary piece.
His winning poem, titled "Aubade," captures the soul of the immigrant struggle as it recreates a conversation between his grandmother and mother before his mother's journey to the US.  
"When I'm at home in the kitchen, my mom is always telling stories about her childhood, so a lot of the stories – they eventually become my own," Reyes commented about the inspiration behind his work.
Sheyer saw the work and expanded the vision the CCPP has to promote poetry on campus.
"We think that poetry cuts across all boundaries. We think it brings people together, that [It] is soulful… something human and fundamental that is able to reach people in a way that not all forms of communication can," said Sheyer.
Chin's performance commenced with her illustrious poem, "How I Got That Name: An Essay on Assimilation." After a moment of applause, the performer confessed that the piece was intended to be read as a dramatic monologue instead of spoken word.  
The poem shares a vivid testament to the immigrant identity and reality with the classic line: "When my father, the 'paper son' in the late 1950s obsessed with a bombshell blond, transliterated 'Mei Ling' to 'Marilyn.' And nobody dared question his initial impulse."
Chin recounted the context behind the transformation of her name, "You know that Marilyn is from Marilyn Monroe, [because] she's a bombshell that my father was obsessed with… she was beautiful, so she is the American dream – to be blonde and beautiful."
  "I don't know why we keep anglicizing our names. Are we ashamed of our ethnic identities?" asked Chin about the need for immigrants to Anglicize names.  
"We have to embrace our ancestry, embrace our bilingualness and our mother tongue. We are in California. It is a very diverse state and we should embrace our Chinese-ness, our Latino-ness or Mexican-ness… celebrate our multiplicity," expressed Chin.  
After reading selected works from her repertoire, including "Blues on Yellow" and "Twenty Five Haiku," the speaker addressed questions from the audience.
The event was not limited to poetry enthusiasts. Gisele Sanchez, a third-year history major, pointed out the poet's versatility and determination.
"She was really diverse in her work. She did Haiku, she did this, she did that, she looks at other poets, she still keeps reading, saying that she still needs to be involved," explained Sanchez. 
Sanchez revealed the poetry will always sit with her: "As someone, you know, who does things outside of school, that motivates me to kind of just still be creative and still be passionate about other things; to have drive to do things."
Chin advised the audience to attend writing workshops. She described them as helpful resources and asked students, who are not in the humanities field and find an interest in writing, to take part in them. "Go find a group and write whatever. Make some music, make some noise."