Lady Golden Eagles are ready to battle for NCAA Tournament spot
The Cal State LA women's basketball team is on pace to have their best regular season record in the past six seasons. The team is 'firing on all cylinders' and plans to let their momentum and experience carry them to a deep playoff run.
The Lady Golden Eagles have been playing some of their best basketball in recent school history, winning nine of their last 12 games. All of those wins have come by double digits, averaging about 77 points per win during that stretch.
One of the key reasons for the team's success so far this season is their preparation. The team started the season with a very challenging preseason schedule against Division I schools USC, Arizona and Pepperdine University.
Team Captain Nicole Flennaugh believes that those games helped this team figure out their identity.
"Those pre-season games really challenged us and taught us a lot about our team," Flennaugh said. "We have really high expectations and that experience will benefit us going deeper into the season and tournament."
The team's versatility, mix of experience and youth has complimented their play on the court tremendously.
So far this season, Flennaugh has been right on track with her amazing career at Cal State LA. She is averaging almost 16 points a game while shooting 39 percent from three and 87 percent at the free throw line. This is her best season to date in her career, and she even tied her own school record of nine made threes in a game.
Flennaugh vows that hard work and focus are important for success with the team during the long season. She carries that approach into her leadership style, and wants it to spread throughout the team.
"As a teammate and captain it's really important that I pay attention and am approachable," Flennaugh stated. "I always want to lead by example with my work ethic."
An important recent matchup that the Lady Golden Eagles faced was against one of the top 10 teams in the country, Cal State Dominguez Hills. The game ended in favor of the Toros, with a final score of 76-59.
However, the team believes that tough matchups like that are necessary for the growth needed in this team down the stretch this season.
During the game, the Golden Eagles were out-rebounded 45-37 and struggled getting shots to fall on the offensive end. With a big run caused by turnovers in the third quarter, the Toros were able to pull away and hold a lead the rest of the game.
Late in the game, tension on the court started to rise as Dominguez Hills was called for a shooting foul on freshman forward Olivia Hodges.
The foul caused a response from the Lady Golden Eagles, as the teams had to be briefly separated. It resulted in a technical foul being called on the Toros, fueling some of the frustration from the tough game.
Head Coach Torino Johnson believes those moments are needed for the team's mentality.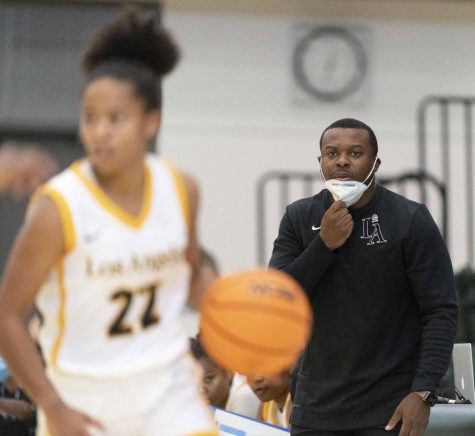 "They need that," Johnson said. "They need to learn how to compete, within the guidelines. It's important to know how to respond to those moments of adversity. It's our job to make sure it's done the right way."
The team is looking forward to the rest of CCAA conference play, with six of their last ten games being at home. They look to keep their momentum going and make a deep playoff run this season.
"This is the moment we have been preparing for, now it's time to grind and see how good we can really be," Johnson said.
The Cal State LA Golden Eagles women's basketball team will be back in action Thursday, Jan. 26, a home game against rival Cal State San Bernardino.