Golden Eagles Dance Like Korean Pop Stars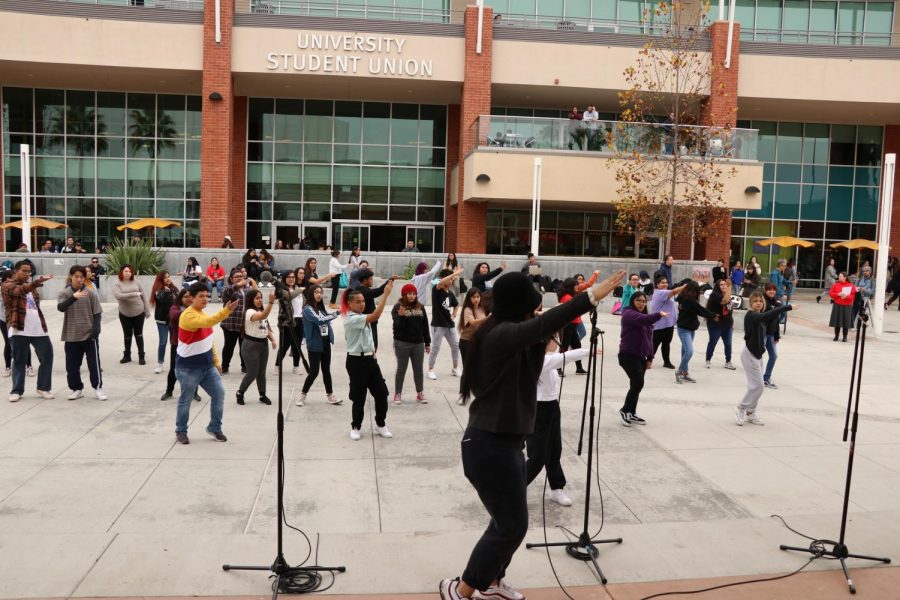 Cal State LA students who are dedicated Korean-pop fans got a chance to perform on the Student Union Plaza stage, just like their favorite idols.
Students were uplifted with the exciting beat of K-pop music and dance performances. A crowd gathered around the plaza on Tuesday for the K-pop Dance Workshop and Competition sponsored by the Korean Language program.
The two-hour  event provided students with snacks, entertainment and K-pop posters. Students received dance lessons and participated in a closing dance competition to the track of "Kill This Love" by the South Korean girl group, Blackpink.
Some students said they loved the dancing, while others said the support among each other was the most rewarding component of the event.
"Seeing everyone coming up [on stage] and wanting to dance, and be involved; it's cool," said Mariela Lara Robles, a sociology major who's been a K-Pop fan for five years. "It's refreshing to see other people in the same school who are also interested in the Korean community."
Among students who participated in the dance competition, Mesoma Echesirim, a nursing major, was drawn to the uniqueness of K-pop. Her decision to participate was spontaneous.
"It was kind of nerve-racking, but I kind of went with the flow," said Echesirim. "I liked the cheers, that helped me."
Mario Agsaulio, a kinesiology major and a board member of the on-campus Korean Student Association (KSA) club, volunteered at the event alongside other KSA members.
"I just want Cal State LA students to have a chance to appreciate Korean culture. Especially now since K-pop culture is contributing to the world a lot," said Namhee Lee, a Cal State LA Korean language professor and event organizer.
According to Lee, the event was made possible by the combination of students' interest in Korean culture and the Korean government who equipped Lee with a grant to cover the cost of the event. 
Cal State LA already offers Korean language classes, but for the first time a K-pop dance class will be offered in the upcoming Spring semester. No dancing experience is required, according to a flyer promoting the future class.
Students interested in the dance class can enroll by searching the class catalog for "DANC 4540P." The class will be held on Mondays from 4 p.m. to 5:40 p.m. and will count as one unit.