Golden Eagles Fly High Over California State Dominguez Hills
The Undefeated Streak Continues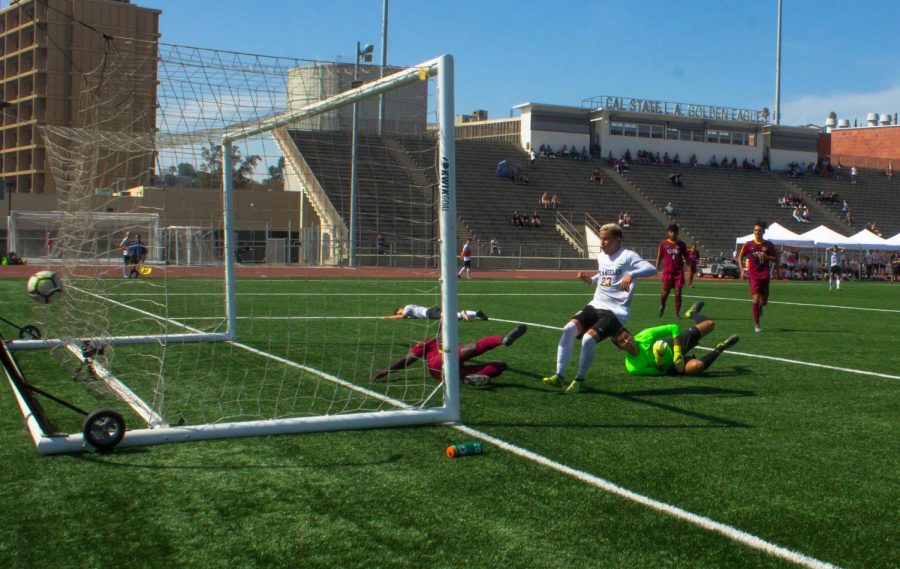 Michael Greigo, Multimedia Journalist
October 1, 2018
LOS ANGELES – – Last Wednesday, California State Los Angeles Men's soccer team, entered their first CCAA league game at home since breaking in the top 10 for the first time since 2015 and ranked at #8 in the country. They played against California State Dominguez Hills where pulled off a 5-0 victory to remain undefeated through league play.
In a game filled with goals, saves, a red card, and a penalty kick, the #8 Golden Eagles were able to hold off their opponent from scoring by recording their seventh shutout of the season. This is all due to their non-stop physical play, kicking in the first two of their five goals in the first half, and sealing the win with three more in the second.
The Men's Soccer team, who are 8-1-1 in the season and sit on top of the conference standings with 16 points, found themselves in a heated battle with Cal State Dominguez, who sit third in the standings, with 9 points.
Both teams were going back and forth till, CSULA started their scoring frenzy in the 36th minute with a penalty kick goal by midfielder Tim Kelfisch. They did not look back and continued scoring four more, including one by last weeks "player of the week", forward Robin Lindahl, in the 62nd minute.
With gaining a big lead early in the game, the Golden Eagles did not seem to lose their focus or intensity on the pitch, including junior goalkeeper Alexander Brems, who had four big saves on the day.
"Today, I was focused all the way… It's always fun winning a big one, Coach [Chamides] wants us to win big and wants us to be focus all the time," said Brems, in a post-game interview.
Even though things were going right for the Golden Eagles, they found themselves down a man for the last 20 minutes of the match, when midfielder Jorge Orellana received a red card, for his drop shoulder foul on a CSUDH player in the 70th minute. The foul didn't seem to slow the team down one bit as they kept the pressure on the ball.
Center forward, Leonardo Nogueira, was able to kick in the final goal of the day, off an assist from Lindahl in the 73rd minute.
The reason for their success Nogueira explains, "we take every game serious… We don't look for ties or losses."
After their monster win, Head coach Chris Chamides still believes that every aspect of his team needs to continue to get stronger in order to achieve their highest goals.
"We're trying to work on our game and be strong on all areas, we want to be strong in the attack, we want to be strong defensively, we want to be strong on restarts, we want to be strong in transitions. All the parts that go into being a good team, we're trying to work on that," explains Chamides, as he walked off the field.
Watch the Golden Eagles continue to soar at their next home game this Thursday, October 4th at 7pm, against Cal State East Bay.