No better time to be a nerd: Eagle-Con makes sci-fi a reality
Sci-fi, fantasy and comic books. What do these all have in common? Why, they're all at Eagle-Con, of course.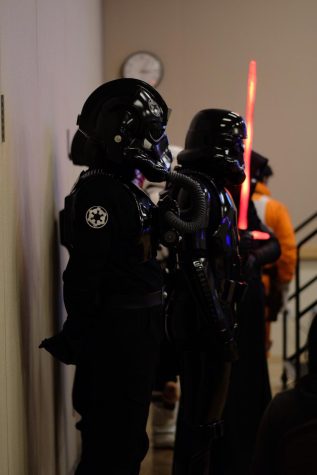 A mixture of virtual and in-person guests assembled over a weekend long series of panels during Cal State LA's ninth annual celebration of Eagle-Con.
The panels offered unique entertainment industry insight from working professionals, as well as fanatics, cosplayers and experts in a range of topics pertaining to different fictional universes.
In "Concept Illustration for Costumes," panel members described their experiences with designing outfits for some of the most memorable fictional characters like Superman, Wonder Woman, Pennywise from Stephen King's "It" and other fan favorites.
Panelists from "Breaking Bad, or into the Art Departments in Hollywood" discussed the value of imagination and how it ties to one's career path.
"Think of something that makes you really excited," said Kendra Dawkins, an art director and Eagle-Con panelist.
Dawkins told guests to think of their "Barbie dream job" when imagining career possibilities.
Imagination was a theme that ran throughout many of Eagle- Con's events. Alice Irvin, a speaker on a panel of cosplayers from the Star Wars themed 501st Legion cosplay troupe, encouraged self-expression by telling guests that "there's no better time to be a nerd."
Irvin, surrounded by her crew of stormtroopers and tie-fighter pilots, celebrated the "nerd"  label.
"Most people have it down there somewhere," she said. "Let your inner-nerd shine. Be it. Love it."
Along with imagination, diversity in entertainment has been a driving force in Eagle-Con's mission since its start.
Director of New Student and Family Engagement Chriztopher Johnson is also a co-founder of Eagle Con. He said the yearly event began with the goal of "taking a look at comic books, fantasy, science fiction and all the different media, but looking at it from a lens of equity and diverse representation of characters, creators and artists." 
"In the past, bodies of color were represented as the alien 'other' or as props in the background within science fiction," said Lando Tosaya, a speaker at the "Afrofuturism" panel. "Science fiction is mirroring how society is represented currently: as diverse, colorful and accepting. Afrofuturism has always looked forward by expanding the possibilities of Black science fiction and fantasy."
Many panelists at the weekend's events were represented by the Art Directors Guild (ADG), which has a partnership with the organizers of Eagle Con. 
ADG is a labor union that represents art directors, illustrators, set designers and several other professions. The union is an affiliate of the International Alliance of Theatrical and Stage Employees.
ADG's partnership with Cal State LA simultaneously supports the entertainment world with projects like Eagle Con by providing an educational connection between up-and-coming students and industry professionals.
"The partnership is for us to reach to the future, which is students," said Casey Bernal, director of education and special projects for ADG. "Another goal is to make sure students coming forward into this workplace will have the current technologies to be able to work with us."
Eagle Con's message of diversity and imagination has seen a bigger reach since the pandemic due to gathering restrictions. 
"We had people from Australia last year because it was all online," said Jill Guidotte, an Eagle Con curator, production designer and art director with the ADG Local 800. 
Eagle Con 2022 marked another year of allowing students' "inner-nerd" to come out and play, while also learning the ins and outs of the industry that keeps the fandoms fresh.