The abused child who grew up to be a popular model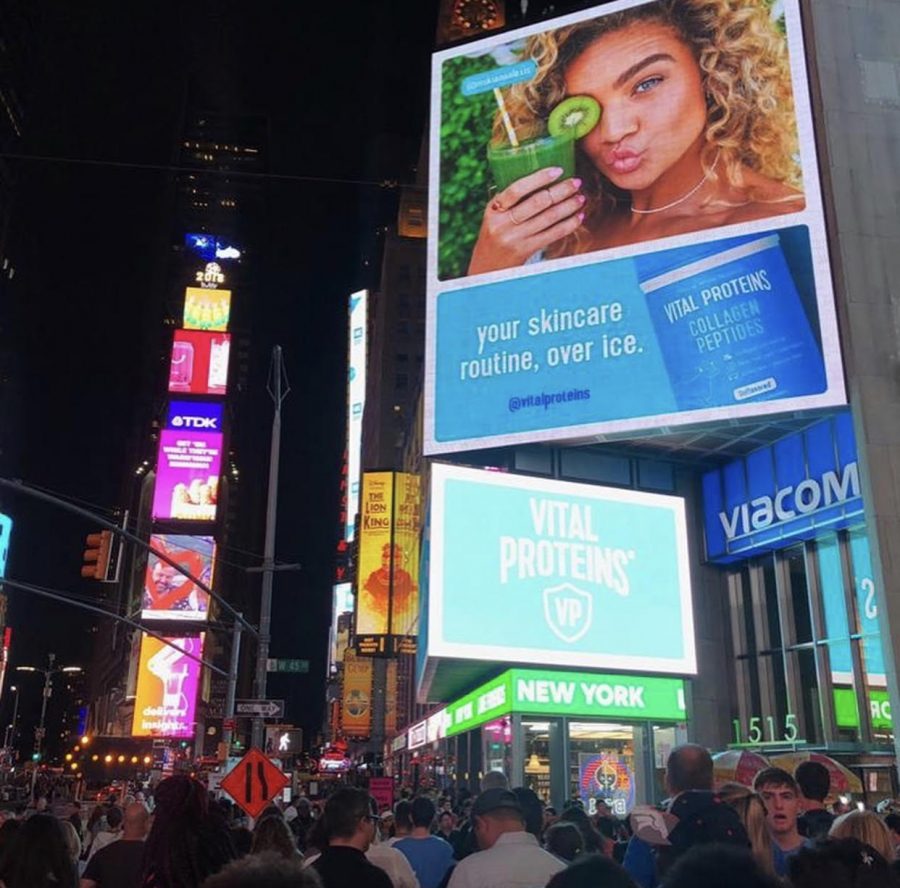 Jordan Rodriguez, Contributing Writer
December 4, 2018
Kiana Alexis, 24, is a face you may recognize. It's plastered on billboards in Times Square in New York City and on the Beverly Center in Beverly Hills. Her eyes are projected on the top of the Cosmopolitan hotel in Las Vegas. And she's in nutritional beverage ads posted at public transit stations in Chicago and elsewhere.
With her bluish gray eyes and big mop of curly hair, she's clearly beautiful.
But her childhood was anything but picturesque.
"Our mother is an amazing woman but she was addicted to crack cocaine. Whenever she ran out of medicine, she would beat the [life] out of me," Alexis said.
Alexis, who lives in Burbank and grew up near Columbus, Ohio, was rated the 17th most famous model to come out of Ohio as of late November,  according to Famous Birthdays, a website that ranks celebrities based on user "boosts."
As a child, her younger brother, Derrick Blakey, recalled waking up every now and then to the sound of screams.
One morning, their mom was beating his sister with shoes.
"She would be beaten down in the living room and then be made to go to the grocery store…Now she's on billboards and walking to the Hollywood sign like nothing happened," Blakey said, after a morning hike he took with her in the hills.
Being put on Adderall at a young age, she was skinnier than the other kids because she was never hungry, according to her blog. By the age of 12, she was taken off of the medication and was receiving criticism from family members and peers about how skinny she was, how thick her eyebrows were, and how big her hair was. By the age of 18, she weighed 200 pounds.
"I've been abused mentally, sexually. The whole nine yards. My true value within myself has come from what it is, what it was, and what it could be," she said.
When she was 19, Alexis stood in front of a mirror and realized that she was not just unhappy because of the extra physical weight she carried, but because of the emotional burdens she allowed herself to carry from all the torment of her childhood and physical destruction as a teenager. "I wasn't going to let what other people did continue to affect me…I had a choice. To do right or to do wrong. And the wrong way was to kill myself," she said.
As she began getting healthier inside and out, people noticed.
She said she was scouted when she was almost 21 by Segal Models in Columbus, six months later by Ford Chicago, one of the top agencies globally, and soon after, Wilhelmina L.A. and Next Models Miami. She was signed with Wilhelmina in London, One Model Management in New York and MGM in Germany.
It still surprises her when she runs into her face somewhere.
On a recent afternoon, she was at the Nike Store at the Grove retail center with her friend, Alex. She saw a mannequin dressed like her and stood stone-faced next to it.
"Look. I really look like this mannequin," she joked.
They went upstairs and saw a familiar face when they looked up.
"Oh, that's me," she said.
Alexis said she has learned a lot in her journey to healing and hopes to give back by trying to inspire others: "The key to life is being kind to yourself and being kind to others. That's what God wants, and I'm going to deliver that."
Community News reporters are enrolled in JOUR 3910 – University Times. They produce stories about under-covered neighborhoods and small cities on the Eastside and South Los Angeles. Please email feedback, corrections and story tips to [email protected]