The Art and Politics Exhibit Takes a Stab at Today's Political Climate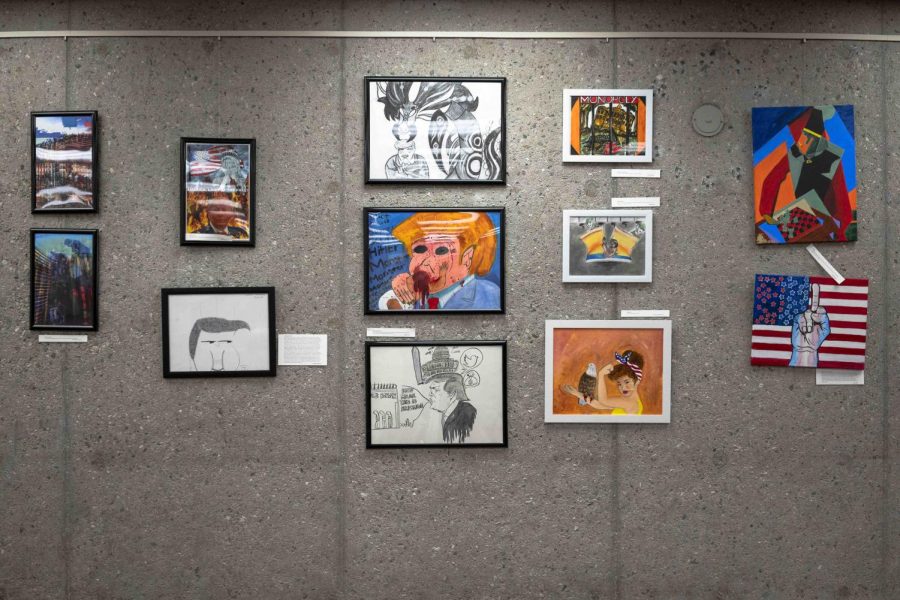 As partisan tension continues to fuel the divisive fire running rampant across the country, the Cal State LA community vents its anger, fear, and passion through the Art and Politics Exhibit.
The exhibit opened last Wednesday on the first floor of the northern wing of the library and will run until Friday.
The series features artwork of several media including charcoal, watercolor and digital photo edits. A fair amount of the art targets President Donald Trump, including one titled "Lost Society," which features a gory image of Trump biting a baby's head off. 
"Lost Society's" description, provided by the artist of the work, Makayla Centeno, stated it's everything she feels "is wrong, disturbing, and twisted in today's society," along with her perception of today's politics.
Pandian Rajaram, Associated Students Inc. civic engagement officer curated the exhibit. He admitted the process was tougher and more time-consuming than he expected, but was determined to allow artists to express themselves without a "filter." Any faculty member or student was free to submit their work; the first 20 submissions would be rewarded a $25 Visa gift card, according to the submission webpage.
"The hope for this exhibit is I want everyone to see their [fellow] student's emotions," said Rajaram. "I'm expecting everyone to check this [out] and understand the pain of students and [the] climate in our country."
Rajaram approached the Art Department to collaborate on the project. Rebecca Davis, the department chair, said she thought "that it sounded really timely." 
Davis explained such artwork can convey feelings that may not be sufficiently expressed in text. "There are some either feelings, experiences, or concepts that may be felt in a different way conveyed by an image rather than by words… and sometimes it can be more impactful." 
She added art also has the advantage of communicating across cultures and languages.
Another featured artwork is the "Monopoly Swamp House" by Laraine Delcano, a graduate student majoring in art history. Crafted with watercolor and ink, the piece depicts an alligator and rat-filled swamp with a MAGA hat and a lopsided White House all behind bars and under the "Monopoly" board game logo.
"It deals with multiple issues we have today. It could be about economics, law and the environment," wrote Delcano in an email.
She said her artwork is a reference to one of Trump's campaign slogans, "Drain the Swamp," but added the president is "turning the White House into a swamp." Delcano said alligators live in swamps, but it's also a reference to Trump wanting to place alligators at the border. The "Monopoly" concept came to her from the Trump-themed edition of the game.
Not all of the artwork had a theme of protest. "Tough Love" is meant to be an uplifting work that empowers women. The art by James Hernandez-Socop pays homage to Rosie the Riveter, this time the young woman sports a U.S. flag bandana with a bald eagle perched on her arm. 
Blood drips down from where the eagle's talons pierce her skin. She's unbothered by it as she flexes her other arm.
About the Contributors
Joshua Mejia, Multimedia Editor
Joshua Mejia is a fifth year TVF Major in the Film option, who has been with the University Times for six semesters. He is a filmmaker-photographer who...