The Girl who Rules the World with Music
A Look into the Billie Eilish Craze and the Effects on the Current Generation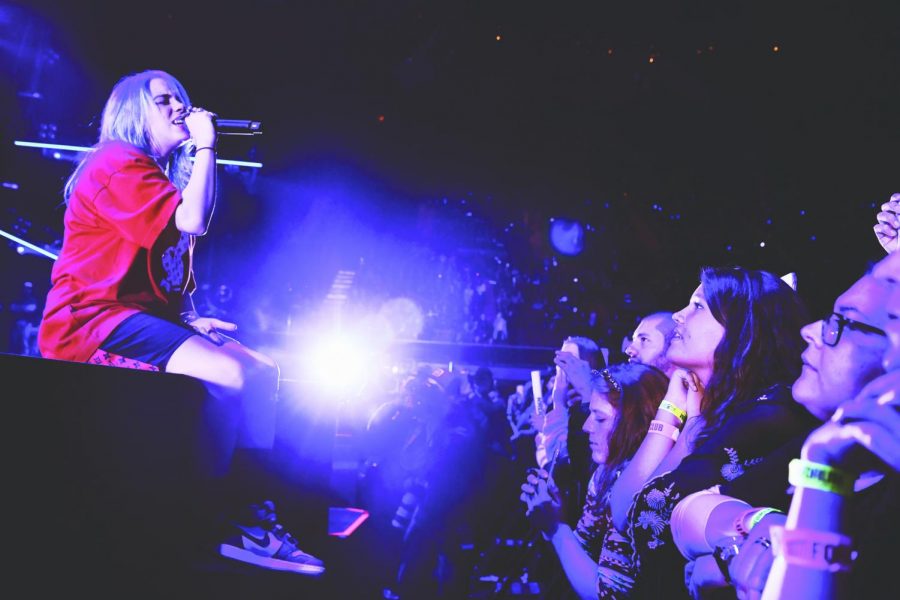 Kayla Misa, Contributing Writer
September 24, 2019
Billie Eilish, the world's chart-topping 17-year-old popstar, has drawn in the world to her music whether it be nonsensical, melancholic or addressing climate change. 
At the age of 14, Eilish started her music career when she uploaded her first song "Ocean Eyes" to Soundcloud for the simple intention of having her dance teacher listen to it. Since then, she takes on a range of social issues from toxic masculinity, in her song, "Bad Guy," to singing about the whispers that goes through one's mind when depressed in the song, "Listen Before I Go." 
According to a recent article by Vox, Eilish is the first artist born in the 21st century to top the Billboard 200. Twelve of her 13 songs from her debut album charted the Billboard Hot 100, the most for a female musician. Eilish also holds the second-highest first-week album sales of 2019, behind Ariana Grande. 
Eilish's song, "Bad Guy," hit number one on the Billboard Hot 100, displacing Lil Nas X's "Old Town Road," which has dominated the charts for 19 weeks. It is one of her most successful pieces of music she has released thus far, with over 823 million streams on Spotify. 
Eilish is a huge catalyst in culture building for anyone between the ages of 11 and 19, and this includes the recurring themes in her songs about love, depression, societal expectations that women face, the perceived self and many other emotionally-toiling topics that many Generation Z individuals can relate to.  
Cindy Nguyen, a 16-year-old Early Entrance Program student, expressed her appreciation for Eilish's song, "All the Good Girls go to Hell," and how it addresses climate change.
"Even if it's all over social media, Eilish, a cultural figure, can have an effect on the younger generation, and that's really crucial in getting preteens and teenagers involved with the community and global issues overall," said Nguyen in an interview. 
While some have criticized Eilish on using her music to romanticize depression and other heavy themes, Eilish herself has spoken about self-harm, depression and anxiety in her own life, and how she is able to grow and cope with her mental health by, "…seizing the awkward… and seeing a therapist," said said in an interview with Rolling Stone. 
Eilish uses music as a way to reach out by expressing her innermost feelings, and offer ways for other Generation Z individuals to connect, whether that be through creative works in dance, music or art. 
"She's able to share something so personal. Something seen in her private life that others are able to relate to, and even if it can normalize dark themes, at the same time, it's allowing more to hear about the struggles people have," said Nguyen.