Woman on the Rise
A Question and Answer Session with ASI President, Nia Johnson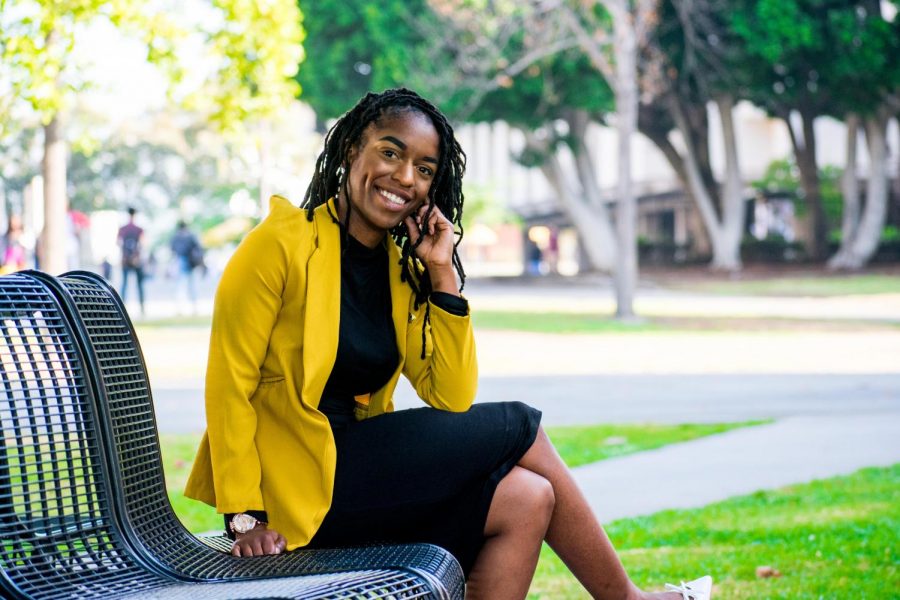 It is the question every 5-year-old wants the answer to: how do I become president? Truthfully, the answer isn't so simple.
The position has no set pathway to success and no predetermined model for minting. Many back down from the challenge before election season, but Nia Johnson was an exception.
Johnson has always been one to seize opportunities as they come. On the Speech and Debate Team, when she competed against other California schools, and occasionally, across state lines, Johnson never failed to secure herself a coveted spot in the award ceremonies. When Johnson later moved on to involve herself within her department, she didn not stay put at joining the Political Science Association. She snatched up the vice presidency within weeks of her initiation.
Johnson is a woman on the rise, never settling for second best. And, at this time, she is just what Cal State LA needs.
The following is a Q&A session with Nia Johnson, Chief Executive Officer of Associated Students, Incorporated.
Q: What's your educational and personal background?
A: I am going into my fourth year and hopefully my last here at Cal State LA. I spent the past few years studying political science and communications.  I grew up in Oakland, CA and am accustomed to living in a fast paced city environment. I come from a big family and I am the middle child in my household. Coming from a big family conditioned me to be compassionate and have a strong sense of community.  I believe I am growing as a student leader because I have always received the love and support from my community.
Q: Why did you choose Cal State LA? Are you a commuter or do you live on campus?
A: Even though I am not born and raised in LA, Cal State LA has become my home away from home. Cal state LA is placed in a residential area with a much more relaxed ambiance. I chose Cal State LA because I wanted to be far away from home enough to the point where my family couldn't pop up unannounced but close enough to home to where the flights back would still be in my price range.
Q: What do you hope to accomplish in the next school year?
A: Currently, I am continuing to empower the voices of the community and locate platforms for members to voice their experiences with the local and national political shifts that take place. In doing so, ASI has created several events highlighting the importance of civic engagement, political participation, and service.
Q: Are there any projects you are working on?
A: On September 25th    ASI will be hosting the National Voter registration day where we are encouraging the campus community to get registered because midterm elections are right around the corner and there will be the opportunity to vote on both representatives and bills that could significantly influence our campus community. ASI is also collaborating with the Patt Brown institute and Metrolink to host the Transportation Mobility Fair on October 5th where students can come out and talk to their local transportation agency stakeholders to discuss what concerns or improvements can be made to our transportation system. Lastly on October 25th, ASI will be hosting the Art and Politics Student Exhibition, where there will be a political art display and an open mic open to the campus community to discuss their experiences and emotions regarding the current political climate.  Externally, my fellow ASI members and I are representing Cal State LA at the Cal State Student Association where we discuss students' basic needs and advocate for an increase in resources given to CSU students. Thus far, we have been working to build and enhance campus partnerships and we currently have ASI members working to echo student voice and address concerns regarding matters such as food insecurity, academic policies, and parking.
Q: What are your hobbies/interests (what do you do on your free time?)? What book are you reading now?
A: Advocacy and lobbying are two of my main focuses right now but in my spare time I like to write, exercise and play chess. I am currently reading Plato's
Socrates
and Sophocle's Antigone (playing at the CSU State Playhouse in November).
For more information on the Associated Students, Inc., go to www.calstatela/asi.