Full-Time Reporter, Part -Time Professor
Celebrated journalist Steve Lopez inspired by Cal State LA.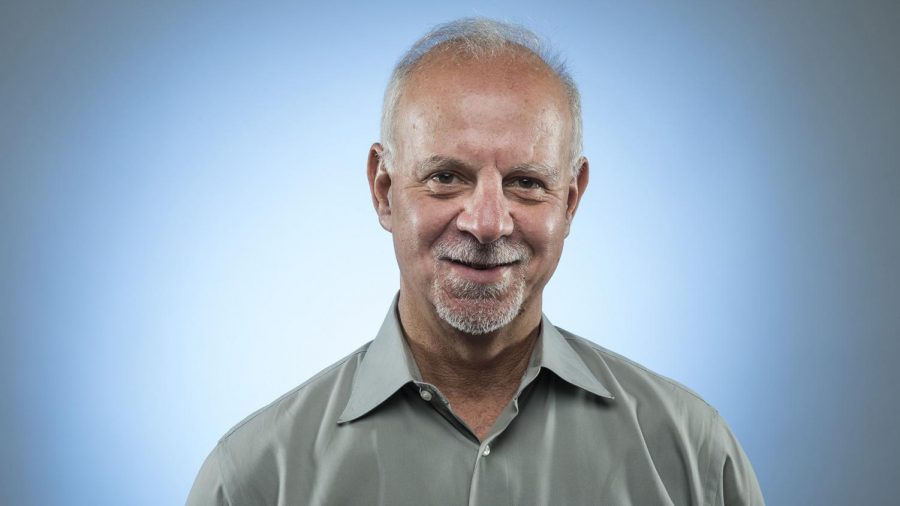 Steve Lopez is a journalist for the LA Times and part-time professor at Cal State LA. He has won numerous awards for his journalistic pieces, spanning seven newspapers and four news magazines, including a 2011 Pulitzer Prize finalist for his columns on elder care. He also wrote three novels, two collections of columns, and one critically acclaimed non-fiction work, "The Soloist," published in 2008, which discussed his acquaintance and relationship with Nathaniel Anthony Ayers, a gifted classical bass student ejected from the high road after struggling with schizophrenia. The book was a LA Times and NY Times best-seller, winner of the PEN USA Literary Award for non-fiction, and formed the basis of a 2009 DreamWorks movie starring Robert Downey Jr. and Jamie Foxx.
Q: How has the experience of teaching been so far?
A; Well, it's been great and this is maybe my fifth class. What I like most about it, I'm a storyteller and the students all bring stories into class. Many of them have been going to school for years because they are juggling so many different things, work, taking care of family, they're doing this, they're doing that, and I just like that they have decided that this is something important. Many of them come from working class families, I've had students who were the first in their families to go to college. It takes me back to my own days in college, when I got out of high school with not much of a plan, so I went to community college and spent a couple of years there and then went to a Cal State University and that was how I got into the work world. So I really believe in the Cal State system. It's a pathway to upward mobility, which means that people who want to get ahead have so many opportunities to learn a trade, to learn a discipline, and get out into the work world and prosper.
Q: Do you feel that you've learned from your own students?
A: Yeah I always do, I pick their brains for stories. That's what I love about the students, I can pick their brains for my own cause. The stories, to me, are an inspiration. My job is to write about L.A. and the people in it and their hopes and their dreams and challenges. I feel like I understand those things better by teaching here because that's what these student represent.
Q: What do you hope to accomplish through your classes?
A: It's one thing and it's pretty simple: whatever level the students are writing at when they come in, I would like for them to leave here feeling a little more confident, their writing a little more elevated, challenging themselves, and understanding what they're capable of. Whether they decide to go into journalism, law, or marketing PR, writing skills can really come in handy. We're studying where the stories come from, how you construct them, and the elements that make stories interesting: the narrative arc, you need a character that has a desire, and the tension and conflict that draws readers in. Whatever they get into, we just want to teach them how to construct stories and write a little better.
Q: Is that what keeps you motivated to continue teaching?
A: Yeah, I'll tell you after the first class that I taught, I grew so attached to those students that when the semester was over, it was kind of sad for me. Because I went in there really worried about can I do this, do I want to do this, do I have any idea what I'm doing? And then it became a little bit of a community and I loved their stories and I still talk about some of their stories. And then when the second class started, Dr. Olsen said, "How's it going?" And I said, "I miss my last students." He said, "What do you mean?" And I said, "Well I grew attached and I don't know any of these students yet." And he said, "That happens to every teacher and you'll get over it in a couple of weeks. You'll be really into this class." And that's just the way it goes. And he was right. Another thing that keeps you going is you have some great thinkers and great writers. And they've inspired me all over again.
Q: How do you balance a full-time reporting job and a teaching position.
A: You have to compartmentalize a little bit. I've gotten very heavily back into writing my novel. So that's every day. It's set in Los Angeles in the 1960's. It's what I hope to be the first of a trilogy, three novels set in the '60s, taking readers from Watts through the Century City Vietnam War protests to the Sunset Strip Curfew riots to the Manson murders. It was a defining time in the nation's history and all of those things are happening in L.A. So for me, it's a great time to focus on and write about things like alienation, because from one generation to the next (perhaps more than ever), music was an alienating force. You had part of L.A. into Frank Sinatra and Dean Martin, who appeared at clubs on the Sunset Strip. And then it went to jazz and then "The Doors." You had open drug use and rebellion and culture shift. It's a time when you had the civil rights movement, the anti-war movement, and the cultural revolution all in one city. There's so much potential there for conflict, for loneliness, for searching, for confusion, for figuring out what your loyalties are. There's a lot of great fodder for fiction.
Q: How do you gain a following on Twitter?
A: The paper helps with that. The paper helps because you write something and we got a social media division. And you know, it's online when you write it. The marketing folks will tweet my column, and then somebody will retweet it and then I'll retweet the retweet. So I don't know that I did much to gain these followers, but I think it's over twenty-thousand? But that helps to be able to use social media.
Q: What part of the job do you enjoy?
A: I don't know of a city like L.A, which is this collision of cultures, people, great assets, insurmountable problems, all this yearning, huge income inequality (a place where someone buys a $35 million house to tear it down because they don't like the kitchen and a half-mile away, there's forty people living out under an underpass). And everything in between, there are different kinds of columns. You can write an essay column from your desk, but I'm not good at that, I'm not interested in that. For me, the joy of the job is to get out and about, to feed off people and their energy.
Q: Is there a threat to the newspaper business?
A: As it exists, there will always be news and journalism. But I think institutions like the LA Times are probably a dying breed. We have a very robust website, but like a lot of other newspapers have not figured out very well how to monetize it. We have more readers than ever if you count the eyeballs on the website, but people are not willing to pay subscriptions like they did when it was in print. More critically, advertisers don't want to pay as much. It used to be that Macy's would pay like $100,000 for a full-page ad in the paper. And there weren't many options for Macy's. What else were they going to do? It was maybe KTLA, put some pots and pans up there between sports and the weather, but they didn't have a million options, like they do now. And every business has a million options. When you pump gas and there's an ad on the screen over the pump. In some men's urinals, there are some ads over the urinals. Newspapers used to have a monopoly on advertising and now they don't. And they'll never get back. So there's this fear that the print business will continue to shrink and I think that's a threat to democracy, I really do. Because there are standards that apply, standards and ethics for all the yammering about fake news from people in Washington. What I see is people getting their news from some of the most biased sources in the history of news and using that bad information to conclude that the most fair and balanced reporting is somehow the lie. And I think that's a threat to democracy.